NEWS ARCHIVES
Ultraman Belial Action figure redesigned by Ryu Oyama available for pre-order
The Hong Kong figure company "threezero," known for making high-end collectible figures, has announced the "threezeroX Ryu Oyama Ultraman Belial" action figure.
For this project, Japanese sculptor Ryu Oyama has redesigned and made an original sculpt for a figure of "Ultraman Belial," who is the arch enemy of Ultraman Zero, the son of Ultraseven. Belial was once an Ultra Warrior of the Land of Light, but he turned to evil due to his desire for more power. The concept of Oyama's redesigned Belial for this project is that "he is evil, but still an Ultraman." Thus, Oyama has intentionally avoided making the details of the design overly creature-like in order to keep the aspect of each Ultra Warrior being "a god-like entity which is beyond human understanding."
The "threezeroX Ryu Oyama" Ultraman Belial collectible figure stands approximately 34cm (13.5″) tall and is fully articulated, with over 87 points of articulation including the finger joints of the Kaiser Belial hands.
The head and hands are interchangeable between two alternative designs: one based on Belial's first appearance in the movie Mega Monster Battle Ultra Galaxy: The Movie (2009), and the second based on Kaiser Belial from the movie Ultraman Zero: The Revenge of Belial (2010).
There are two pairs of fixed-pose hands for standard Belial: one pair of opened hands, and one pair of hands for holding his weapon. The hands for Kaiser Belial feature enlarged claws with fully articulated finger joints. The "Giga Battlenizer" weapon is included for standard Belial, and a cape made partly of fabric is included for Kaiser Belial. LED light-up features are installed in the eyes for both of the heads and also in the Color Timer on the figure's chest. Detailed paint treatments have been applied to highlight all the artistic details of Oyama's sculpted work.
Available for pre-order at the threezero store (https://www.threezerohk.com/product/threezerox-ryu-oyama-ultraman-belial/) and threezero worldwide distribution partners, starting July 30th, 2021, at 9:00am HKT. The figure is priced at USD298. (Free shipping is available for some regions.) Shipment is scheduled for the first quarter of 2022.
* In development/Not final. Promotional images may differ from final version.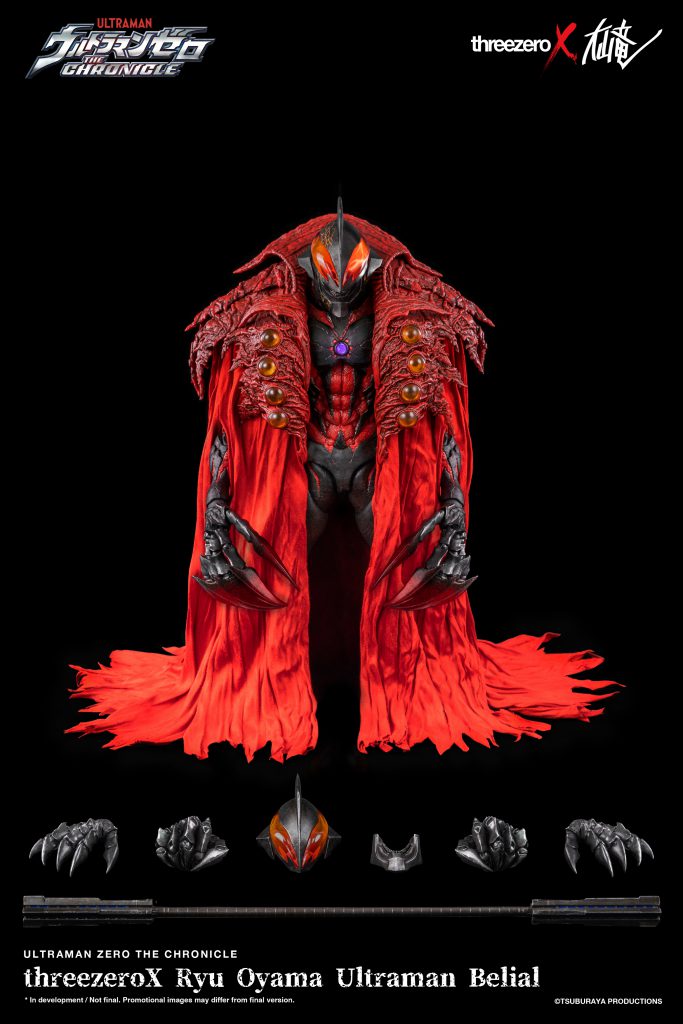 ・Product Name: threezeroX Ryu Oyama Ultraman Belial
・Price: USD 298 / HKD 2,320 / RMB 1,990 / JPY 33,000 / TWD 8280
・Shipping Date: 1st quarter 2022
This is TSUBURAYA PRODUCTIONS' Official Global Website.
Official information of Ultraman, Kaiju, Movie, Anime, Comic books, Tokusatsu etc.
Discover the latest official news on the Ultraman series and other works by TSUBURAYA PRODUCTIONS