NEWS ARCHIVES
A Lovely Plush Series from "THE KAIJU STEP" Announced by Beast Kingdom!
In a distant galaxy lies the Little Planet of Nebula K10. Today is another day of fun for the Kaiju kids. They cry, they laugh, they run in circles, causing mayhem. They can even go underground and breathe fire.
Little Pigg has come to the planet and set up a"Kaiju Shop" with Little Kane and Little Dada to help everyone. When it seems they've run out of courage and are stuck, they shout, "Wandabada!"
Tsuburaya Productions is joint by the world-renowned Beast Kingdom, who will launch a series of plush collectables from the varied series of Ultraman characters. Two sizes will be available for collectors, a smaller 6-inch variant, with a chain to be attached to a keyring as well as a larger 12-inch version. For collectors there are four ultra-famous supporting characters including to take home in both sizes: Little Gomo, Little Dada, Little Kane and Little Pigg. For fans of Ultraman and soft collectables, this is a collaboration not to be missed!
THE KAIJU STEP Series Little Gomo
Try Little Gomo's tomatoes!
Little Gomo likes growing flowers and vegetables.
He is usually nice, but is scary when he gets mad. He lives underground.
THE KAIJU STEP Series Little Dada
Little Dada wants everyone to say he's cool!
He loves inventing things and his dream is to build an amazing robot.
THE KAIJU STEP Series Little Kane
"I want to have fun!"
Little Kane is always cheerful and loves to play. He loves shiny things.
THE KAIJU STEP Series Little Pigg
"I want to be friends with everyone!"
Although Little Pigg cries sometimes, he is a friendly kaiju. He loves balloons.
Product Info
・Product Name: KAIJU STEP Series Plush Doll 6inch / 12inch
・Release Time: Q1, 2022
・Available Territory: China, Hong Kong, Macau, Taiwan, Korea,
 SEA (Southeast Asia), EMEA (Europe, Middle East and Africa),
 USA, Canada
・Pre-Order: https://www.beast-kingdom.com/Sales/Global
*Actual product may slightly differ from image shown.
*Product details can be subject to change without prior notice.
*Delivery of products are subject to change.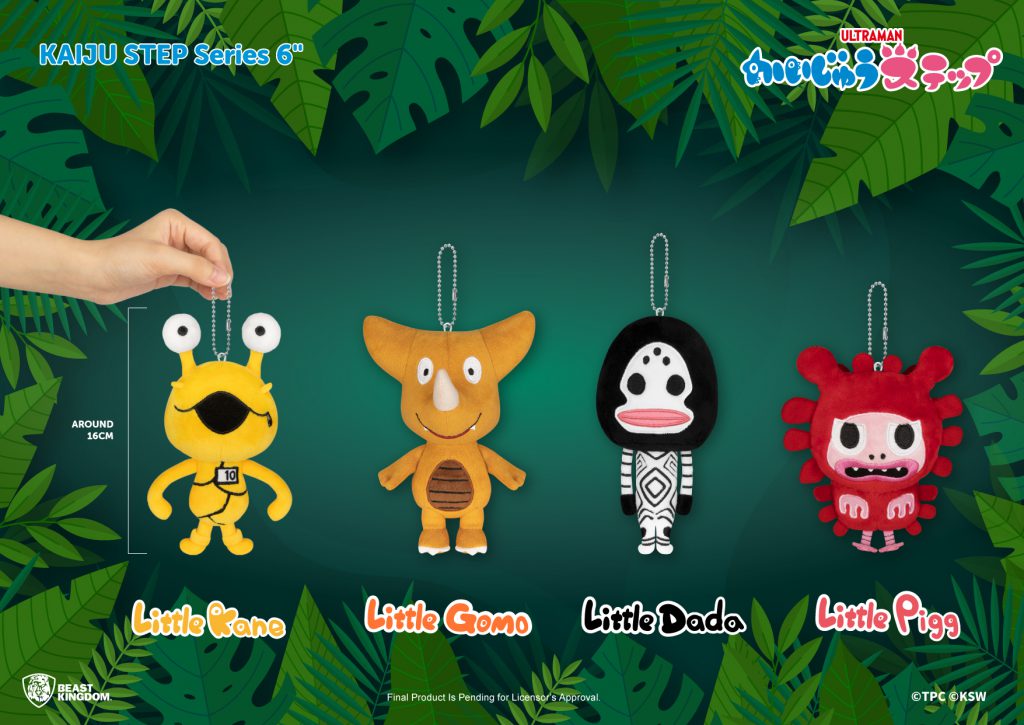 This is TSUBURAYA PRODUCTIONS' Official Global Website.
Official information of Ultraman, Kaiju, Movie, Anime, Comic books, Tokusatsu etc.
Discover the latest official news on the Ultraman series and other works by TSUBURAYA PRODUCTIONS