NEWS ARCHIVES
Baltan the store manager appears right in front of you!? KAIJU SAKABA in Kawasaki will renewal open!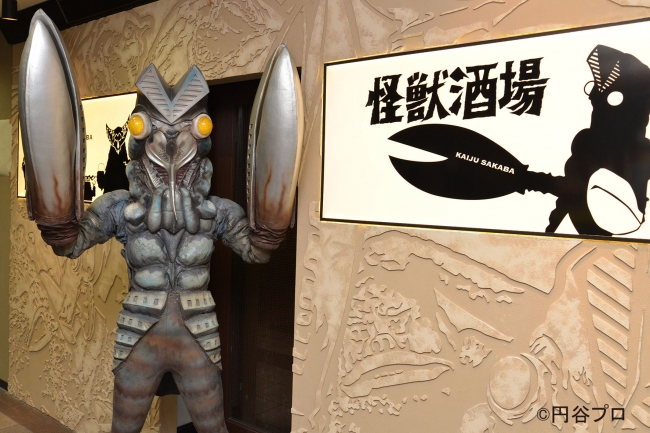 KAIJU SAKABA, the first entertainment izakaya on earth featuring kaiju as the protagonist, will power up gorgeously and renewal open on Friday, April 6, 2018!
In the renewed KAIJU SAKABA, not only Kaiju in the box seats of the "secret room" and "kaiju area" will be changed, the appearance of kaiju at the events will also be efficiently upgraded!
To celebrate the renewal opening, a "Take a photo of Baltan the store manager!" campaign will be held with the cooperation of KDDI and FIELDS CORPORATION. Guests can take a commemorative photo with Baltan by the AR app.
"Take a photo of Baltan the store manager!" Campaign details
By holding a smartphone with a rental fee of 1,000 yen (tax excluded) that includes the AR app in the restaurant, Baltan will appear right in front of you, and you can have fun with his teleportation, cloning ability, and light beams emitted from the scissor-hands.
It is also possible to take photos of the situation. The photos taken will be available for download via the QR code displayed after the experience is finished.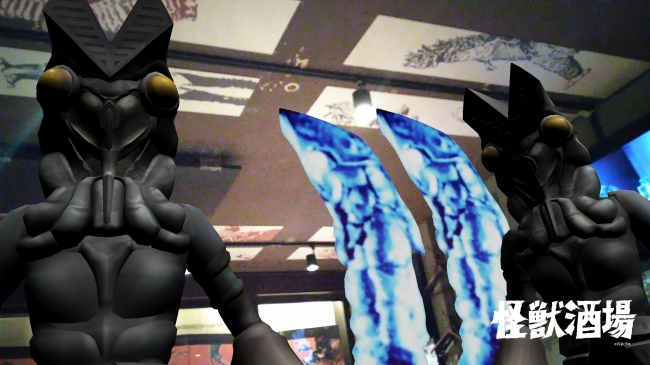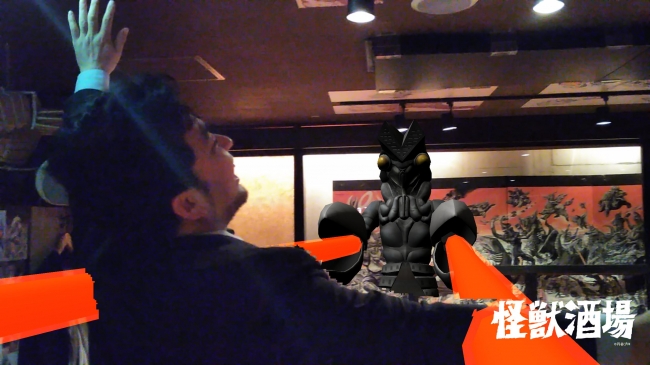 Campaign Duration: April 6 (Fri) – May 31 (Thu), 2018
Venue: inside KAIJU SAKABA, Kawasaki
Experience Fee: 1,000 yen (exclusive of tax)
*The campaign will not be held during "Kaiju appearance time".
Restaurant Information
Name of restaurant: KAIJU SAKABA
Address: B1 NMF Kawasaki Higashiguchi Building, 3-1 Ekimae Honcho, Kawasaki-ku, Kawasaki, Kanagawa
TEL: +81-44-210-5565
Opening hours: Weekdays 17:00-24:00 / Saturdays 15:30-24:00 / Sundays and Holidays 15:30-22:30
Last call: Food 1 hour before closing time / Drink 30 minutes before closing time
Regular closing day: according to the commercial facility
Free Wi-Fi available!
Website (Japanese): http://kaiju-sakaba.com/kawasaki/
KAIJU SAKABA official Twitter stared!
The official Twitter account of KAIJU SAKABA has started! The latest information about KAIJU SAKABA, including new menus, product information and more, will be delivered to you by the staff. (In Japanese language)
@kaijusakaba https://twitter.com/kaijusakaba
This is TSUBURAYA PRODUCTIONS' Official Global Website.
Official information of Ultraman, Kaiju, Movie, Anime, Comic books, Tokusatsu etc.
Discover the latest official news on the Ultraman series and other works by TSUBURAYA PRODUCTIONS