NEWS ARCHIVES
Anime ULTRAMAN Season 2 Global Streaming Begins on Netflix!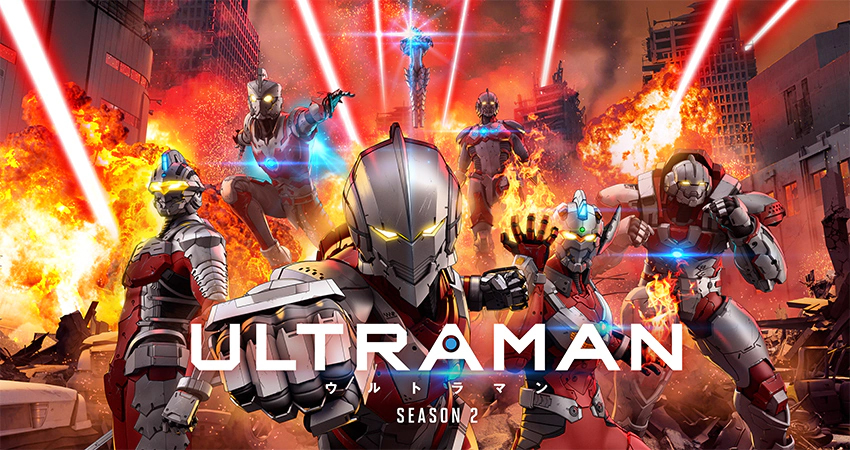 Worldwide streaming of anime ULTRAMAN Season 2 begins today, April 14th JST on Netflix!
The Story of Anime ULTRAMAN Season 2
In this season, centered around Shinjiro Hayata (son of Ultraman), the 6 Ultra Heroes that inherits the spirit of the legendary 6 Ultra Brothers – ULTRAMAN, SEVEN, ACE, ZOFFY, JACK, and TARO – gather together and face a galactic-wide enemy.
Young photographer Kotaro Higashi gets entangled in the mysterious "Mass Disappearing Event" when he captures photographic proof that aliens are behind it. He and his girlfriend Izumi reach out to the SSSP… but an accident turns him into a superhuman with the supernatural ability to wield an immense flame.
Finally, a giant, familiar space weapon stands before our human-sized ULTRAMAN heroes…
Streaming Link
https://www.netflix.com/title/80231373
Enjoy More ULTRAMAN Season 2 Content on our YouTube Channel!
On the ULTRAMAN OFFICIAL YouTube Channel, we are uploading content related to anime ULTRAMAN Season 2 so you can enjoy the series even more.
3-Minute Special Recap of Season 1
Before watching Season 2, some of you may want to recall the events of Season 1, so we prepared an easy-to-follow recap video.
Season 1's popular antagonist and immigration agent Alien Adad (Japanese voiced by Kenjiro Tsuda) summarizes and condenses the major story points in 3 minutes.
Web Radio Show "UltRadio"
We are currently presenting a web radio show "UltRadio," presented by the personalities of Seiji Hokuto's voice actor Megumi Han, and Shinjiro Hayata's voice actor Ryohei Kimura.
The pair look back on the show and get into heated discussions all about ULTRAMAN. Be sure to get involved and share your thoughts with the show on Twitter using the hashtag #UltRadio!
ULTRAMAN Season 2 Character Trailers
We are releasing trailers to highlight the charming points of the new characters appearing in Season 2 of anime ULTRAMAN.
Take a look before you sit down to enjoy Season 2!
Character Trailer Playlist
https://www.youtube.com/playlist?list=PLwDaeL3aOb-yMT5LjpV8oQGCwxcRLCbAz
ULTRAMAN Season 2 Overview
Title: ULTRAMAN (Season 2)
Episodes: 6
Original Story by: Tsuburaya Productions, Eichi Shimizu & Tomohiro Sakaguchi (Comiplex/Heroez)
Directors: Kenji Kamiyama & Shinji Aramaki
Music: Nobuko Toda & Kazuma Jinnouchi
Producer: Production I.G. & SOLA DIGITAL ARTS
Official Site: https://anime.heros-ultraman.com/
Cast: Shinjiro Hayata/Ryohei Kimura, Dan Moroboshi/Takuya Eguchi, Seiji Hokuto/Megumi Han, Shin Hayata/Hideyuki Tanaka, Jack/Ryota Takeuchi, Kotaro Higashi/Tomoaki Maeno
Rena Sayama/Sumire Morohoshi, Ide Mitsuhiro/Ken Uo, Edo/Shigeru Ushiyama, Adad/Kenjiro Tsuda, Shiraishi/Minoru Shiraishi, Bemular/Kaiji Soze, Izumi/Maaya Sakamoto, Maaya/Ayane Sakura, Alien Pedant/Junichi Suwabe
Opening Song: "3" performed by NOILION
Ending Song: "Transcending Time" performed by Void Chords
This is TSUBURAYA PRODUCTIONS' Official Global Website.
Official information of Ultraman, Kaiju, Movie, Anime, Comic books, Tokusatsu etc.
Discover the latest official news on the Ultraman series and other works by TSUBURAYA PRODUCTIONS