NEWS ARCHIVES
"We are the six Mr. Ultra-Matsu brothers!" The Six Matsuno Brothers from Mr. Osomatsu and Ultraman Team Up for a Super-powered Collaboration!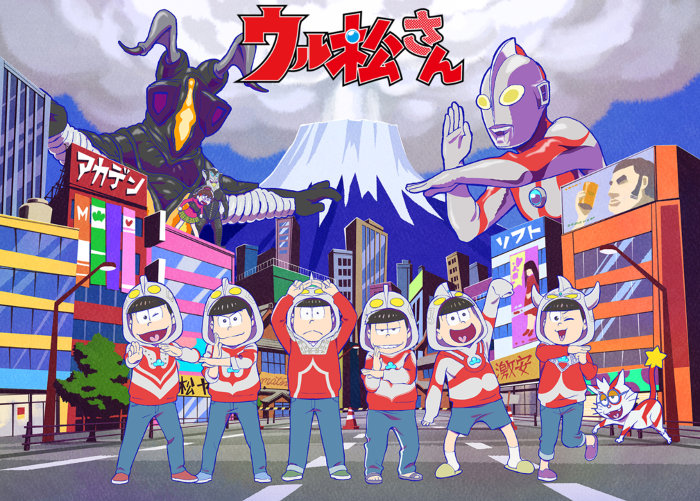 Ultraman, and the anime series Mr. Osomatsu, which first aired in Oct. 2015 earning wide acclaim, and is now in its second season; both share a common theme of six brothers, naturally leading them to an ultra-collaboration!
Set in the world of Mr. Osomatsu's fictional "Akatsuka Ward" in the city of Tokyo, what lengths will the Ultra-Matsu brothers go to protect their peaceful lives as NEETs?
Mr. Osomatsu's character designer, Naoyuki Asano, created the character illustrations for this new collaboration. It features the eldest brother, Osomatsu as Zoffy (Osomatsu-Zoffy), second born Karamatsu as Ultraman (Karamatsu-Man), third born Choromatsu as Ultraseven (Choromatsu-Seven), fourth born Ichimatsu as Ultraman Jack (Ichimatsu-Jack), fifth born Jyushimatsu as Ultraman A(Ace) (Jyushimatsu-A), and youngest brother Todomatsu as Ultraman Taro (Todomatsu-Taro). The six brothers each wear an Ultraman-themed hoodie, and strike distinct Ultra Beam poses.
In addition, the famous strong supporting characters in Mr. Osomatsu have been transformed into Kaiju from the world of Ultraman for the new collaboration. Iyami, Totoko, Dayon, Chibita, and Hatabo, respectively, are fused with Alien Baltan, King Joe, Kanegon, Jamila, and Pigmon, to create Iyami-Baltan, Totoko-King Joe, Dayon-Kanegon, Jami-ta, and Hata-mon. Illustrations of these characters in costume have also been released.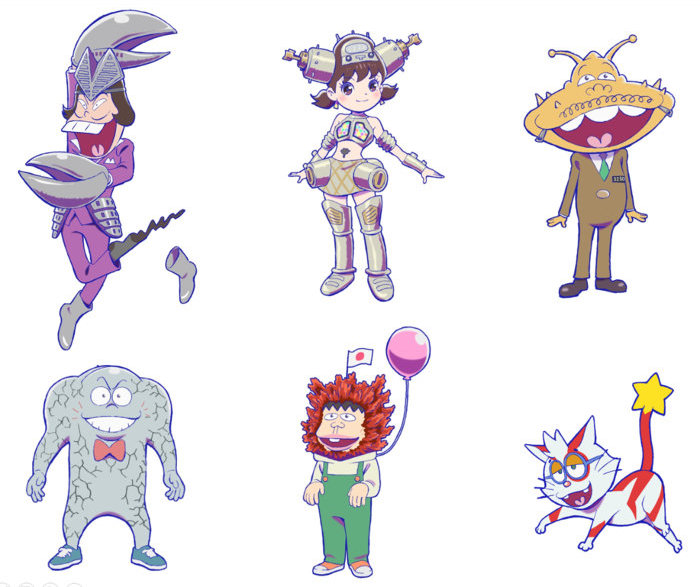 ◆ Mr. Ultra-Matsu @ Dash Store Branches now open!
Starting at Ikebukuro's P'PARCO in December 2017, Mr. Ultra-Matsu @ Dash Store locations to commemorate the collaboration with merchandise sales will be set up at four Animate Café locations nationwide.
*Campaign duration and business hours may vary depending on the location.
Please check the official Dash Store site(http://www.dashstore.net/) for details.
◆Mr. Ultra-Matsu × animate cafe in GOOD SMILE × Animate Cafe
At the collaboration event with Mr. Ultra-Matsu × the Animate Cafe, along with a Mr. Ultra-Matsu theme inside the shop, you can enjoy menu items based on the anime characters, like the "Orthodox Osomatsu-Zoffy Napolitano" and "Ultra-Matsu Kaiju Dessert Plate".
* For details on the collaboration please check the official Animate Cafe website (https://cafe.animate.co.jp/event/urumatsusan1801/).
◆ Mr. Ultra-Matsu × SWEETS PARADISE
What's more, Mr. Ultra-Matsu collaboration cafes will also be held at selected SWEETS PARADISE locations.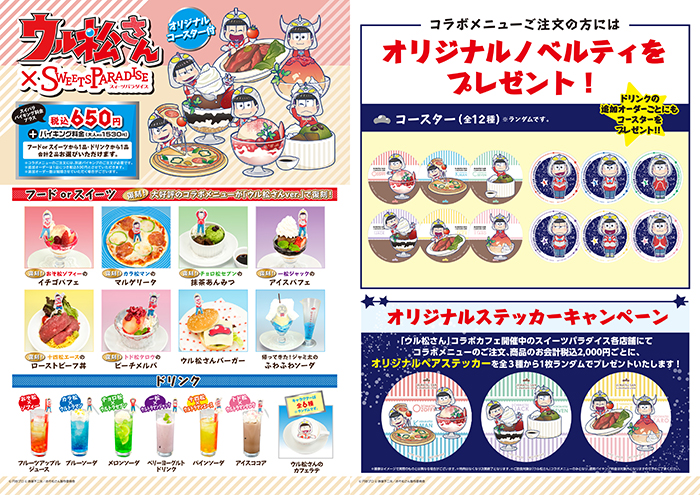 The menu will be made up of popular items from a previous collaboration with Mr. Osomatsu, brought back as Mr. Ultra-Matsu versions. There will also be new items like the "Mr. Ultra-Matsu Burger", and, "It's back! Jami-ta's Fluffy Soda Float."
SWEETS PARADISE will also offer original, limited design goods like the, "Acrylic Fastener Charm Set –SWEETS PARADISE Version". Also, while supplies last, the "Trading acrylic stand key holder" and "Trading can badge". In addition, SWEETS PARADISE will hold a gift campaign where they give out original stickers that can't be found anywhere else.
* For details about the collaboration, please check the official Sweets Paradise website (http://www.sweets-paradise.jp/news/2017/12/sweets-paradise-6.html).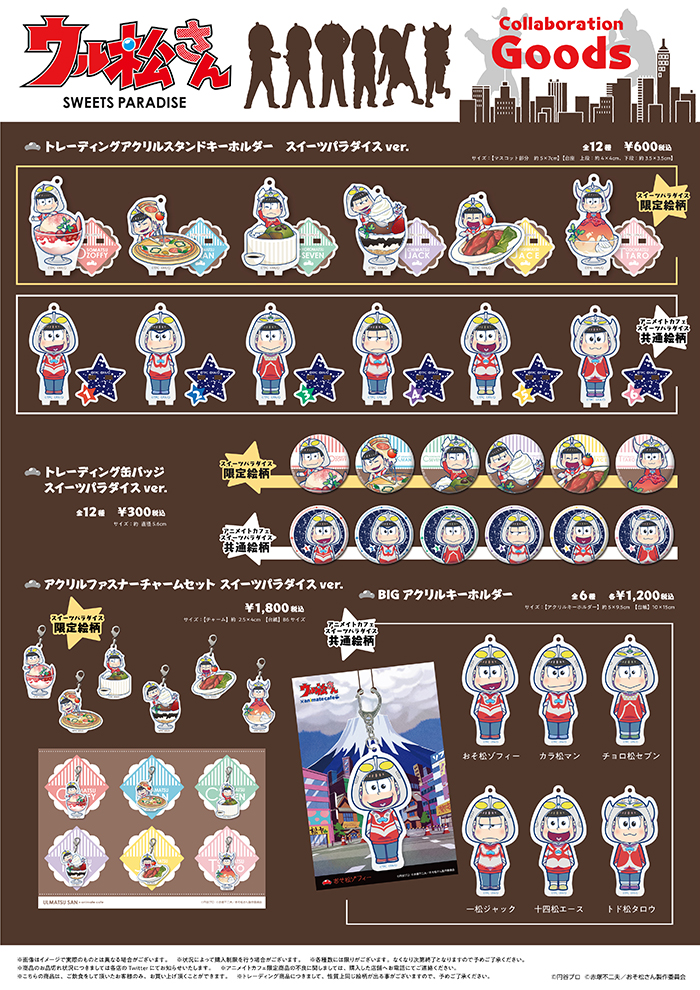 ◆About Mr. Osomatsu
The television anime, Mr. Osomatsu, is based on Fujio Akatsuka's original comedy manga, Osomatsu-kun, featuring the six brothers as adults—now good for nothing, lazy, NEETs. The first season aired from October 2015 to March 2016 on TV Tokyo, and the first volume DVD sold an extraordinary 120,000 copies. In 2016, it was nominated for Japan's "Buzzword of the Year Prize," and became a huge nationwide hit. The highly anticipated second season began airing on TV Tokyo on October 2, 2017, at 1:35 AM.
©TSUBURAYA PRODUCTIONS ©Fujio Akatsuka/Mr.Osomatsu-Project
For the newest information, stay tuned to the official Mr. Osomatsu website (http://osomatsusan.com/), and Tsuburaya Productions' SNS account (http://m-78.jp/sns_account/)
This is TSUBURAYA PRODUCTIONS' Official Global Website.
Official information of Ultraman, Kaiju, Movie, Anime, Comic books, Tokusatsu etc.
Discover the latest official news on the Ultraman series and other works by TSUBURAYA PRODUCTIONS