NEWS ARCHIVES
The Mini-Series SEVENGER FIGHT Joins Tsuburaya Productions' First Subscription Platform, TSUBURAYA IMAGINATION, Starting Today in Japan!
A brand-new mini-series, SEVENGER FIGHT, will be released together with the start of Tsuburaya Productions' first subscription streaming service, "TSUBURAYA IMAGINATION," in Japan! This subscription platform starts today as part of the celebration of the Ultraman series' 55th Anniversary and represents a new era of entertainment in the Ultraman universe.
■A New Tokusatsu Mini-series: SEVENGER FIGHT
The new tokusatsu mini-series Sevenger Fight begins today, featuring the beloved robot Sevenger as the protagonist! Composed of 10 episodes, each approximately 5 minutes long, Sevenger Fight is a spin-off of the globally acclaimed TV series Ultraman Z and depicts events occurring between the episodes of Z.
Kiyotaka Taguchi, the main director and story composer of Ultraman Z, returned to hold the megaphone during the production of this mini-series. In addition, the main cast of the TV series also regathered to voice their roles as STORAGE members – or as commentators.
To many fans' surprise, Sevenger Fight is produced in a format extremely similar to the original Ultra Fight that began broadcasting in 1970, half a century ago. The original Ultra Fight was famous for its pro wrestling-like portrayal of Kaiju battles, and its high popularity at that time became one of the catalysts of the second "Kaiju Boom." Its style would later be inherited by another mini-series, Redman, which is itself famous enough to span across several media, including comic books that were even released in the US.
unexpected Kaiju and guest Ultra Heroes that have yet to be revealed! Stay tuned for information on the international release of the mini-series, which will be announced soon. Be sure to check it out when it reaches your region!
Comment from Director Taguchi Kiyotaka
When I was filming the "Sevenger vs Guigass" scene from Ultraman Z episode 3 at Mt. Iwafune, I joked about "how cool would it be if we could shoot an entire mini-series just with Sevenger fighting all those Kaiju whose costumes were made for stage shows!" – an idea which I was half serious about.
I felt the time had come when Tsuburaya Productions started to put up a new streaming platform and Shogakukan (the publisher for mainstream tokusatsu series, including Ultraman) was looking for new content that could be included in their Chozenshu collection books.
"Let's make Sevenger Fight a reality!"
To my surprise, nobody was against the idea. (Actually, it was Producer Junichiro Ashiki who fought hard to make this come true!)
The production proceeded at lightning speed, and the filming crew went back to Mt. Iwafune last November, even before the post-production of Ultraman Z was finished.
However, the mini-series will be more than just a parody to the original Ultra Fight. We took the spirit of the original, but our intention has always been to create something more, a combination of the original mood and the worldview that was established in Ultraman Z. We made it in real earnest.
Please grab a drink, sit back, relax, and enjoy!
SEVENGER FIGHT Information
Director: Kiyotaka Taguchi
Screenplay: Junichiro Ashiki
Starring (Voice) : Kohshu Hirano, Rima Matsuda, Hikari Kuroki, Takaya Aoyagi
No. of Episodes: 10
Release Platform: Ultra-Subscription TSUBURAYA IMAGINATION (#1~#7), ULTRAMAN Z Complete Works STORAGE Box (Published by Shogakukan) Bonus Feature Disc (#8~#10)
The international distribution of the series will be announced later.
中国大陆地区的网友可以通过腾讯视频、优酷土豆、天猫盒子等途径观看。
■What is TSUBURAYA IMAGINATION?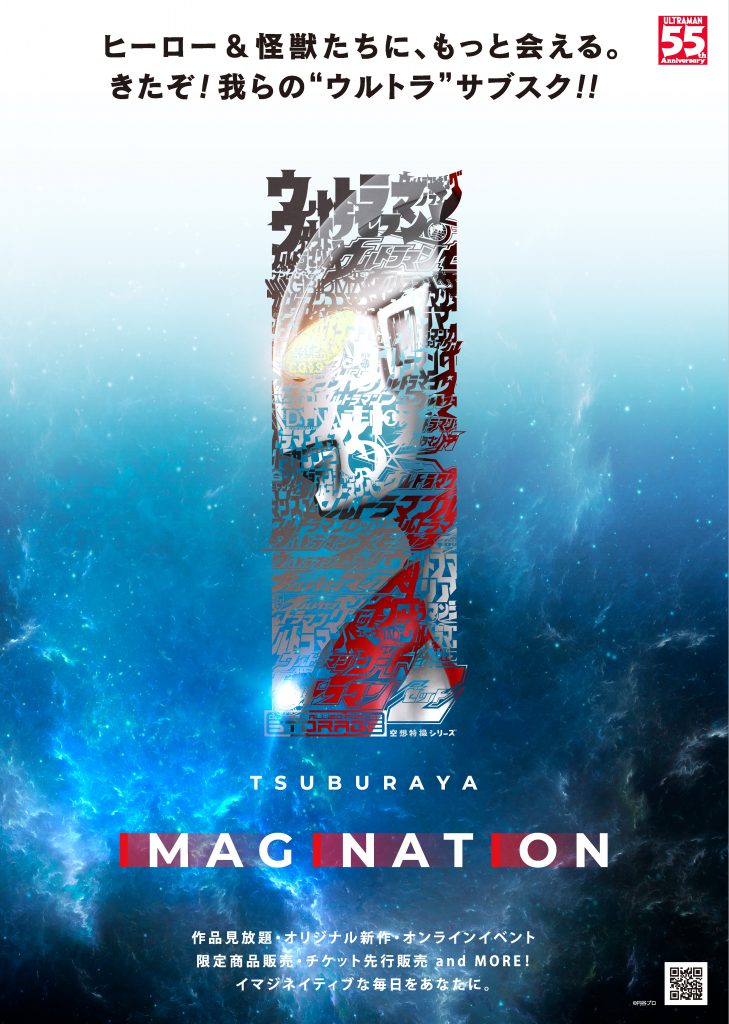 TSUBURAYA IMAGINATION is the first digital platform service released by Tsuburaya Productions, where you can watch the Ultraman series and other entertainment produced by Tsuburaya Productions on-demand.
Included in the initial line-up are a list of TV series and feature length films spanning over half a century, from ULTRA Q and ULTRAMAN in the 60s to the latest Ultraman Z, as well as tokusatsu TV series such as Operation! Mystery, Mighty Jack, and Mirrorman.
In addition, you can enjoy the Ultraman Z spin-off Sevenger Fight exclusively on the platform, watch the director's cut version of Ultra Galaxy Fight; The Absolute Conspiracy earlier than anywhere else, and enjoy the Japanese version of The Rise of Ultraman published by Marvel Comics, other columns, novels, and more.
Furthermore, the platform gives you access to services such as online events, exclusive products, and ticket pre-sales to fill your daily life with Imagination.
Official website; https://imagination.m-78.jp/
This is TSUBURAYA PRODUCTIONS' Official Global Website.
Official information of Ultraman, Kaiju, Movie, Anime, Comic books, Tokusatsu etc.
Discover the latest official news on the Ultraman series and other works by TSUBURAYA PRODUCTIONS