NEWS ARCHIVES
A Third Trailer and New Poster for SSSS.DYNAZENON, Starting April 2, is Released! The Summary of the Series and First Episode is Revealed!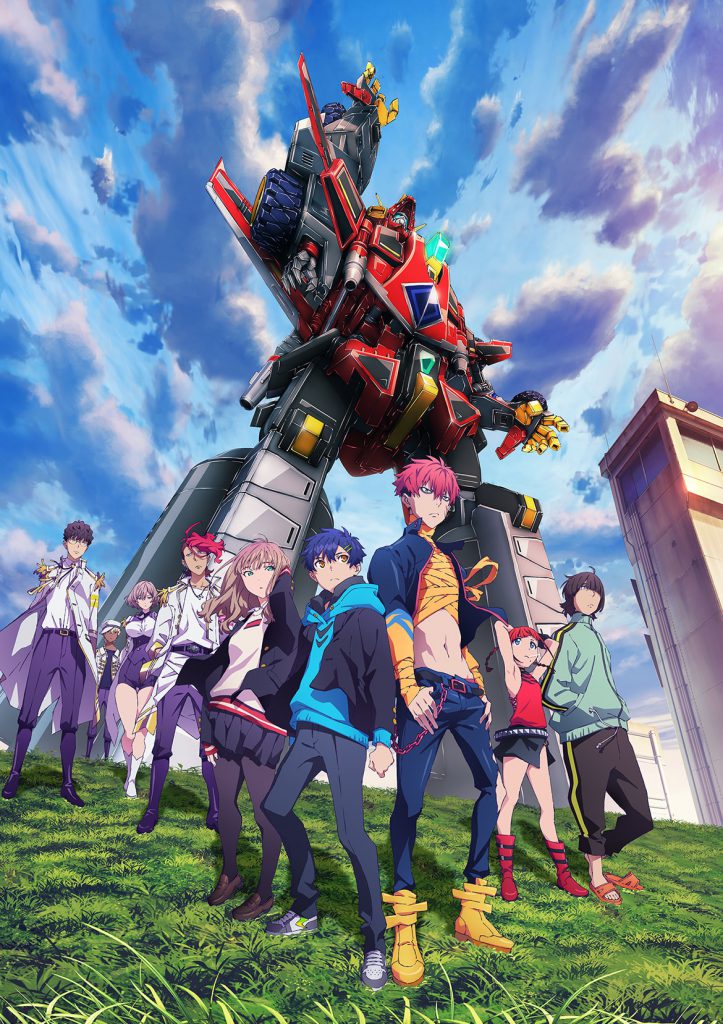 We are pleased to present a third trailer and a new key visual for SSSS.DYNAZENON, which will begin broadcasting on Friday, April 2!
The third trailer features the opening theme song by Masayoshi Oishi, "Imperfect". This energetic song sets a tone of excitement for the series!
In the new key visual, Dynazenon and other characters stand together on an embankment. The composition resembles the final poster of SSSS.GRIDMAN, a work from the same director, but a number of unique elements set it apart.
We are also releasing a summary and preview of the first episode of SSSS.DYNAZENON, "What's a Monster Tamer?" (*English title tentative.) Look forward to the broadcast!
Additionally, the cover art for Masayosi Oishi's theme song, "Imperfect," which goes on sale April 21, is also released.
Full versions of the opening theme, "Imperfect," and ending theme, "Strobe Memory," will be available on streaming sites at midnight on April 3.
Broadcast Overview
■Story
One day on his way home, a first-year student of Fujiyokidai High School named Yomogi Asanaka meets a mysterious man named Gauma who claims to be a "Monster Tamer." Suddenly, a Kaiju and a giant robot, Dynazenon, appear! Yume Minami, Koyomi Yamanaka, and Chise Asukagawa also happen to be passing by, and together with Yomogi they are caught up in a battle with the Kaiju.
■Episode 1: "What's a Monster Tamer?"
Yomogi promises his classmate Yume Minami that he will meet her after his part-time job. However, at the promised time he is met by Gauma, a mysterious man claiming to be a Monster Tamer that Yomogi met the day before.
■Broadcast Information
MBS: April 2 (Fri) 2:55am~
BS11: April 2 (Fri) 11:30pm~
Tokyo MX: April 2 (Fri) 10:00pm~
■STAFF
Original Story: GRIDMAN
Director: Akira Amemiya
Screenplays: Keiichi Hasegawa
Character Designer: Masaru Sakamoto
Second Character Designer: Mayumi Nakamura
DYNAZENON Design: Tsuyoshi Nonaka
Kaiju Design: Shinji Nishikawa,Yasushi Torisawa, Hiroshi Maruyama, Kiyotaka Taguchi, Hideo Okamoto, Ichirou Itano, Masayuki Gotoh
Heroic Animation Chief: Hiroki Mutaguchi
Mechanic Sequence Director: Gen Asano
Assistant Director: Yoshihiro Miyajima
3DCG Production: Graphinica,Inc.
3DCG Chief Director: Shinichi Miyakaze (Graphinica,Inc.)
3DCG Director: Kohzi Icikawa (Graphinica,Inc.)
Art Director: Taketo Gonpei
Color Design: Hitoki Takeda
Photography Director: Katsunori Shiradou (Graphinica,Inc.)
Editor: Masato Yoshitake (Graphinica,Inc.)
Music: Shiro Sagisu
Music Production: PONY CANYON
Sound Director: Fumiyuki Go
Sound Effects: Eiko Morikawa (Chura Sound)
Line Producer: Shunsuke Shida
Animation Producer: Yoshiki Usa
Animation Prodcution: TRIGGER
■Cast Information
Gauma: Daiki Hamano
Yomogi Asanaka: Junya Enoki
Yume Minami: Shion Wakayama
Koyomi Yamanaka: Yuuichirou Umehara
Chise Asukagawa: Chika Anzai
Juuga: Hiroshi Kamiya
Onijya: Yuma Uchida
Mujina: Ayaka Suwa
Sizumu: Koki Uchiyama
Inamoto-san: Mariya Ise
Mei: Azusa Tadokoro
Awaki: Jin Ogasawara
Nazumi: Gakuto Kajiwara
Ranka: Rio Tsuchiya
Kaneishi: Hikaru Tono
*Please note that the broadcast date and time may be subject to change.
Announcement of the brand-new animation SSSS.DYNAZENON
『SSSS.DYNAZENON』PV1
『SSSS.DYNAZENON』PV2
『SSSS.DYNAZENON』PV3
Official Website: https://dynazenon.net/
Official Twitter (Japanese): @SSSS_PROJECT
This is TSUBURAYA PRODUCTIONS' Official Global Website.
Official information of Ultraman, Kaiju, Movie, Anime, Comic books, Tokusatsu etc.
Discover the latest official news on the Ultraman series and other works by TSUBURAYA PRODUCTIONS