NEWS ARCHIVES
You Go! I Go! EXPO Go![ULTRA HEROES EXPO 2018 NEW YEARS FESTIVAL IN TOKYO DOME CITY]
It is an honor to present that we will be holding our "ULTRA HEROES EXPO" for the 3rd time at Tokyo Dome City. We are ready to amaze all of you like never before!
At the "Battle Stage" shows (5 shows a day), various Ultra Heroes including Ultraman Geed will appear on stage! Give your cheers to your favorite Ultra Hero. Don't miss our spectacular entertainment on the  "Battle Stage"!
Tatsuomi Hamada (as Riku Asakura), Yuta Ozawa (as Leito Igaguri) and Voyager (TAKERU & Chiaki Seshimo) will also be on the all stage.
Chihiro Yamamoto (as Laiha Toba), Mayu Hasegawa (as Moa Aizaki) and Pega will be appear on stage in daily rotation.
Takuya Negishi (as Hikaru Raido), Sho (as Kiyotaka Uji), Kensuke Takahashi (as Daichi Ozora) and Gai Kurenai (as Hideo Ishiguro) will join the show via video screen. New generation heroes will gather to help out Ultraman Geed!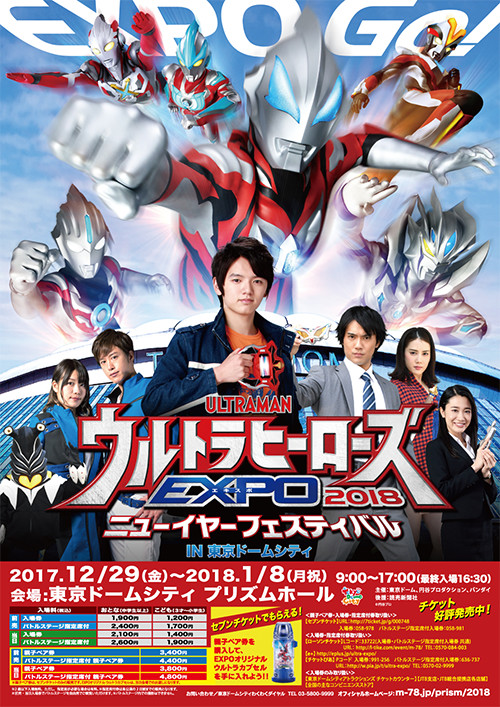 Performance Schedule
・Laiha – Dec.29, Jan.6, Jan.7 (3 days)
・Moa – Dec.30, Jan.4, Jan.8 (3 days)
・Pega – Dec.31 to Jan.3 (5 days)
In addition to the show, there will be a photoshoot with the Ultra Heroes and a department store with full of Ultraman goods that you must check out.
Don't forget to purchase the family pair ticket to get the Expo original goods, "Ultra Capsule"!
This is TSUBURAYA PRODUCTIONS' Official Global Website.
Official information of Ultraman, Kaiju, Movie, Anime, Comic books, Tokusatsu etc.
Discover the latest official news on the Ultraman series and other works by TSUBURAYA PRODUCTIONS