NEWS ARCHIVES
"ULTRA HEROES TAMASHII" Exhibition finally opens in Shanghai, China! Figures will be exhibited and Memento of The Exhibition Will Be Sold!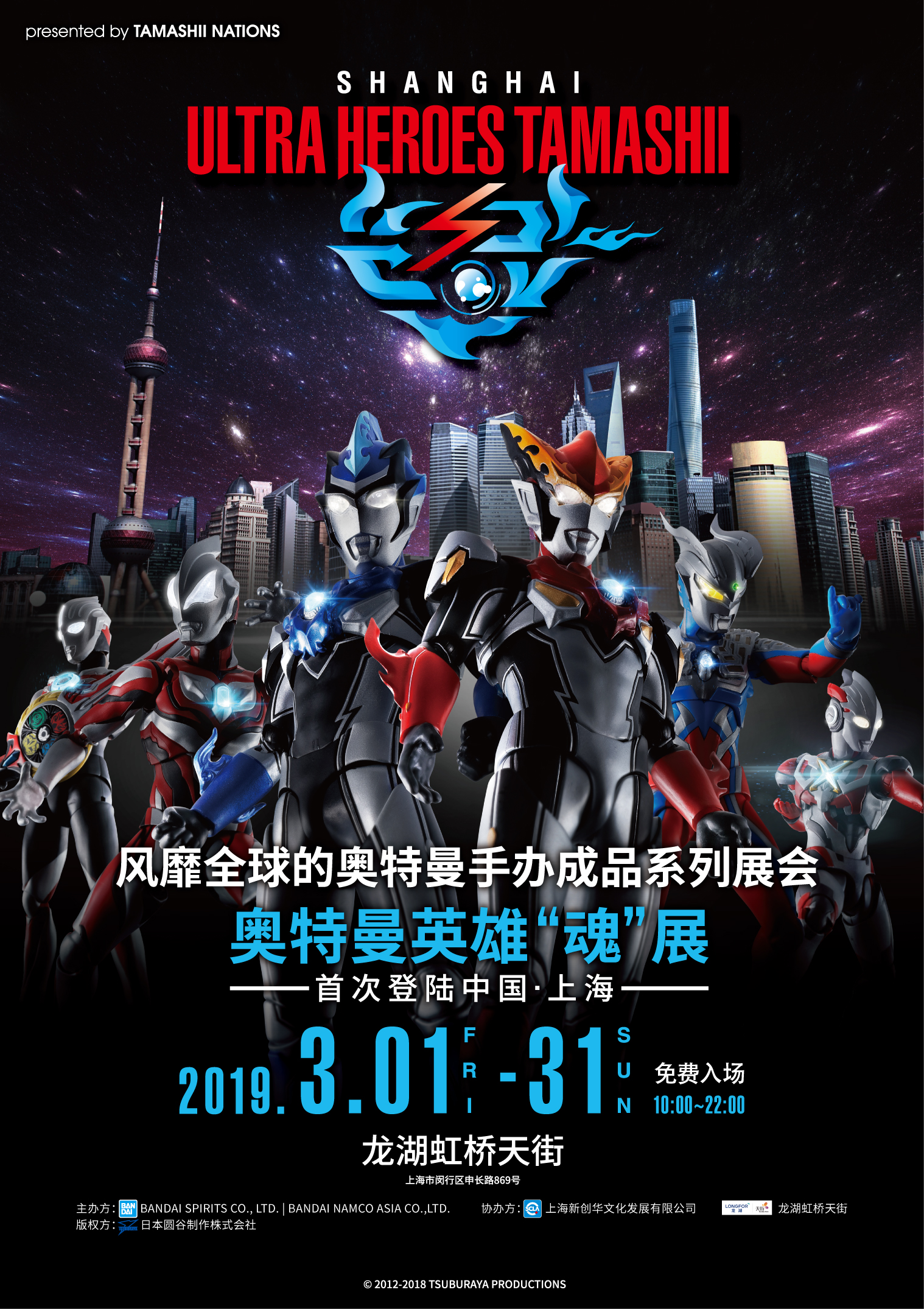 One of the most popular characters in China, "ULTRAMAN" will hold for the first time an "adult-targeted ULTRAMAN event." This "ULTRA HEROES TAMASHII" exhibition will be held in Shanghai from March 1st (Fri) – 31st (Sun).
Image of the venue
The two types of figures, "S.H.Figuarts" and "ULTRA-ACT", will be mainly exhibited.
"S.H.Figuarts" pursues the character representation by "movement", new interpretation, and "Super Modeling" which is realized by the combination of skilled craftwork and digital design, and challenges the limits of both the reproducibility and movability.
"ULTRA-ACT" are the figures that are the same size as kaiju sofvi (soft vinyl figures of monsters), and fully expresses the attractiveness of action figures.
In addition, a memento of the exhibition, as well as other souvenirs and catalogs, will be sold.
The memento of the exhibition
S.H.Figuarts
ULTRAMAN GEED Primitive
Price: RMB390 (with tax)
S.H.Figuarts
JUGGLUS JUGGLER
Price: RMB460 (with tax)
There will also be a special talk show event during the one month of exhibition period by the actors from "ULTRAMAN GEED" and "ULTRAMAN ORB". Don't miss it!
March 2nd (Sat) "ULTRAMAN GEED" Riku Asakura played by Tatsuomi Hamada
March 16th (Sat) "ULTRAMAN GEED" Leito Igaguri played by Yuta Ozawa
March 30th (Sat) "ULTRAMAN ORB" Jugglus Juggler played by Takaya Aoyagi
We hope to see you at the event!
Access & Hours
"ULTRA HEROES TAMASHII" Exhibition
Duration: Mar. 1st (Fri) 2019 ~ Mar. 31st (Sun)
Hours: 10:00 am – 10:00 pm (Admission Free)
Place: Longfor Shanghai Hongqiao Paradise Walking Shopping Mall(龙湖上海虹桥天街)
Address: No.869 Shenchang Road, Minxing District, Shanghai
上海市闵行区申长路869号龙湖上海虹桥天街
Host: BANDAI SPIRITS CO.,LTD/BANDAI NAMCO ASIA CO.,LTD
Supported By: SHANGHAI CHARACTER LICENSING ADMINISTRATIVE CO.,LTD
Licenser: Tsuburaya Productions Co., Ltd.
This is TSUBURAYA PRODUCTIONS' Official Global Website.
Official information of Ultraman, Kaiju, Movie, Anime, Comic books, Tokusatsu etc.
Discover the latest official news on the Ultraman series and other works by TSUBURAYA PRODUCTIONS