NEWS ARCHIVES
Anime "ULTRAMAN" New Trailer with Theme Song unveiled!
Intense battle scenes with aliens run with the theme song! The appearance of a new enemy!? Newest trailer of ULTRAMAN/SEVEN/ACE together is now unveiled!
"Once again, there was peace in the universe. But 'it' appeared 12 years ago…"
The newest trailer unveiled itself with a dark dialogue. Aliens appear one after another giving even more uneasiness.
"My name is Bemular… and I'm your very first enemy"
The trailer shows the many obstacles Shinjiro Hayata, now determined to live as ULTRAMAN, must overcome.The animations for Dan Moroboshi/SEVEN and Seiji Hokuto/ACE are also unveiled! What are they fighting for, and what are they trying to protect? Each one of their justice and the conflict that occur can be seen in the newest trailer. Many aliens who have not yet been introduced will also appear. Are they enemies or allies? The anticipated battle scenes of ULTRAMAN/SEVEN/ACE rises. At the end of the trailer, the heroine Rena is in great danger, and the color timer shines red! What does this mean?! What is going to happen to ULTRAMAN?!
The trailer is condensed with dynamic action scenes and portrayal of each character's emotions. This can only be done because of the 3DCG technology implemented with action capture technique.
The theme song by OLDCODEX "Sight Over The Battle" will also be unveiled with the newest trailer!!
Many photos of scenes are now unveiled with main characters that hold the key to the story!
Latest photos of scenes are also unveiled! The scenes include main characters Shinjiro Hayata, Dan Moroboshi, as well as the heroine Rena, Shinjiro's father former Ultraman Shin Hayata, Edo, and Bemular. All are important characters who hold the key to the story. In addition, photos of never seen alien also appear. Who is he?
★ Comic ULTRAMAN Vol. 13 to be sold from March 5th (Tue) in Japan
Translated editions scheduled to be released soon!Hong Kong story reaching its climax!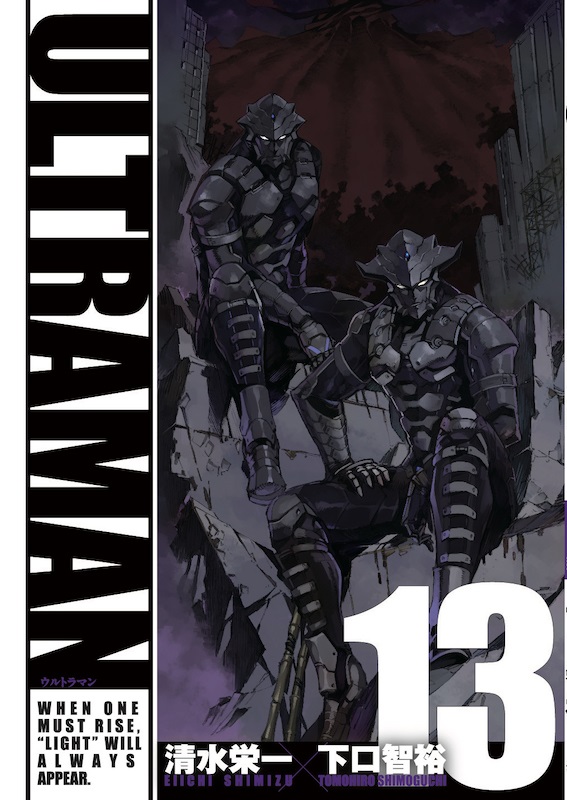 The battle between the Science Special Search Party and the Star Cluster Council has been set in Hong Kong.Shinjiro and Moroboshi, with their newest powers, encounter the Leo Brothers!With both teams well-matched, the future is unknown.

In the midst, the Star Cluster Council makes an emergency decision!
---
[Anime "ULTRAMAN" Details]
Will be released on Netflix worldwide from April 1, 2019
Title: "ULTRAMAN"
Original Story: Tsuburaya Productions, Eiichi Shimizu, Tomohiro Shimoguchi
(Serialized on  HERO'S monthly magazine)
Director: Kenji Kamiyama, Shinji Aramaki
Music: Nobuko Toda, Kazuma Jinnouchi
Studio: Production I.G. × SOLA DIGITAL ARTS
Cast: Shinjiro Hayata/Ryohei Kimura, Dan Moroboshi/Takuya Eguchi, Seiji Hokuto/Megumi Han, Shin Hayata/Hideyuki Tanaka
©TSUBURAYA PRODUCTIONS ©Eiichi Shimizu, Tomohiro Shimoguchi ©ULTRAMAN PRODUCTION CONSORTIUM
– Anime "ULTRAMAN" official website: http://anime.heros-ultraman.com/
– Official Twitter Account: @heros_ultraman
This is TSUBURAYA PRODUCTIONS' Official Global Website.
Official information of Ultraman, Kaiju, Movie, Anime, Comic books, Tokusatsu etc.
Discover the latest official news on the Ultraman series and other works by TSUBURAYA PRODUCTIONS