NEWS ARCHIVES
New series Ultra Galaxy Fight: The Absolute Conspiracy will be released this winter worldwide, in celebration to our official YouTube channel reaching 1 million subscribers!
Ultra Galaxy Fight is the first all-new series designed to be released online and distributed simultaneously worldwide in the 50+ year history of the Ultraman series. The first show in the series, Ultra Galaxy Fight: New Generation Heroes, started on YouTube in 2019. Since its premiere, the series has gained more than 40 million views within ten months and 100 million views in China. Our fans all over the world continue to enjoy the series, and thanks to their energetic support, the YouTube channel has reached over one million subscribers.
The eagerly awaited sequel to New Generation Heroes, titled Ultra Galaxy Fight: The Absolute Conspiracy, will begin simultaneous broadcasting on YouTube in the winter of 2020 to celebrate the channel reaching one million subscribers. Together, the ten episodes will add up to about ninety minutes in total and will be packed with profound drama and exciting action. Each episode will be released weekly in both Japanese and English dubbed versions.
■Ultra Galaxy Fight: The Absolute Conspiracy Outline
Release Date: Scheduled Winter 2020
Release Channel: ULTRAMAN OFFICIAL YouTube Channel
Release URL: https://www.youtube.com/tsuburaya
Appearing Characters:
Ultraman Zero, Ultraman Ribut, Ultraman Taiga, Ultraman Titas, Ultraman Fuma, Ultraman Z (Zett), Ultrawoman Grigio, Ultraman 80, Ultraman Max, Ultraman Mebius, Ultraman Hikari, Ultraman Great, Ultraman Powered, Ultraman Neos, Ultraseven 21, Ultraman Belial (Early Style), Absolute Tartarus, and more
Total Episodes: 10
Languages: Japanese (YouTube), English (YouTube), Chinese  (Chinese Simultaneous Broadcast Platform)
Subtitles: English (YouTube), Chinese (YouTube)
Official Website: https://m-78.jp/galaxy-fight/tac/
Director: Koichi Sakamoto
Screenplay: Junichiro Ashiki
Production: Tsuburaya Productions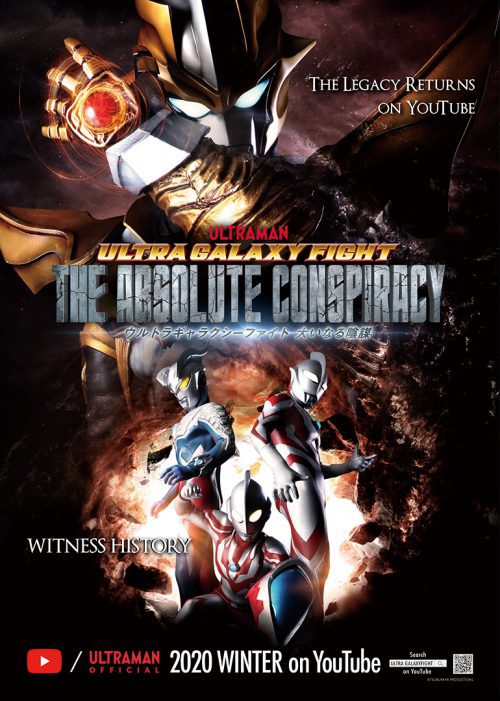 ■Story
Mysterious aliens and evil monsters that shouldn't exist are attacking!
Zero, Ribut, Taiga, Z (Zett), 80, Max, Mebius, Great, Powered, Grigio, and many more Ultra Heroes fight together to solve this mysterious case, which could end up affecting the whole universe. However, this is only the beginning! A conspiracy is underway – and stories are intersecting. What is the aim of the golden giant working in the shadows?!
While connecting to the TV series Ultraman Z as well, the new history of Ultraman begins!
■Highlights
① The stories lead to the now airing Ultraman Z.
The new series is set in the time after Ultraman Taiga The Movie: New Generation Climax, leading up to the beginning of the first episode of Ultraman Z (https://youtu.be/Uc5ZXlqX7NM), our newest TV series, now airing on TV Tokyo. By watching the series, fans will be able to enjoy an even bigger world of Ultraman Z.
② Legendary Ultra Heroes from the past series will appear!
Along with Ultraman Zero, Tiga, Titas, Fuma, and Z (Zett), many popular Ultras from different generations and worlds will appear. Stay tuned as we spin a story that transcends generations!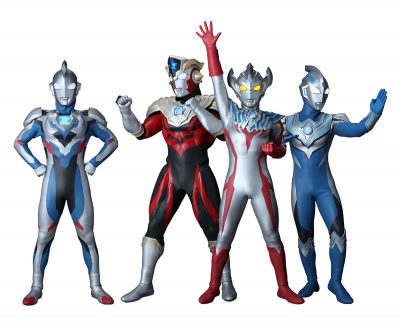 The Tri-Squad and Ultraman Z (Zett) appear!
Great, Powered, and Ribut, who fought in different corners around the glove, join together for the first time!
Belial fights in his former appearance before falling into darkness. But why?
③ A new character, the mysterious golden giant "Absolute Tartarus," descends!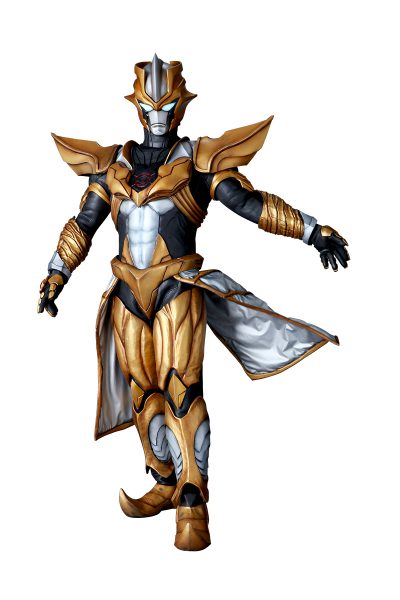 Opposite to Ultraman's silver color, this mysterious new character has gold around his body., He hides tremendous power and operates from the shadows. He seems to be interested in the Land of Light, but his real intentions are unknown…
■The amazing action directed by Koichi Sakamoto is a must-see! A special commentary video from the director is now available.
Koichi Sakamoto, who directed Ultra Galaxy Fight New Generation Heroes, will continue to be the man behind the megaphone for our newest series. He is well known for his work with popular hero and action series in the United States, both as a director and executive producer. In Japan, he directed Mega Monster Battle Ultra Galaxy: The Movie(2009),  which is the first of Ultraman Zero's many appearances, along with other Ultraman film and TV series. He has also had a hand in a number of other popular hero series and is a leading figure in action shows in Japan. The action scenes scattered throughout the show are his specialty and are a must-see. Please enjoy Director Koichi Sakamoto's commentary as he speaks about his passion for the newest series.
■A special video from Ultraman celebrating one million subscribers on our official YouTube channel!
To celebrate reaching one million subscribers, we have uploaded a special video to our ULTRAMAN OFFICIAL YouTube channel in which the Ultra Heroes thank all our fans around the world. Please stay tuned as the excitement continues with our newest series, Ultra Galaxy Fight: The Absolute Conspiracy.
This is TSUBURAYA PRODUCTIONS' Official Global Website.
Official information of Ultraman, Kaiju, Movie, Anime, Comic books, Tokusatsu etc.
Discover the latest official news on the Ultraman series and other works by TSUBURAYA PRODUCTIONS