NEWS ARCHIVES
A Weapon Set for threezero's 1/6 ULTRAMAN SUIT Ver7 (Anime Version) Starting Its Pre-orders!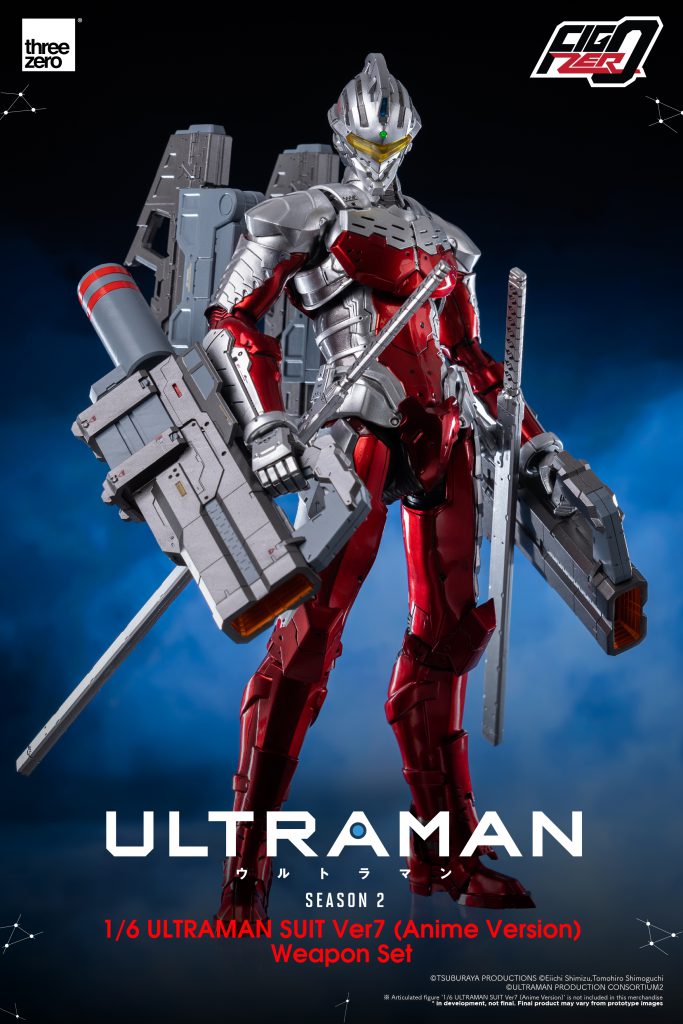 "threezero", a Hong Kong figure company known for high-end collectible figures has announced "FigZero 1/6 ULTRAMAN SUIT Ver7 (Anime Version) Weapon Set", a weapon set that can be combined with the initially released 1/6th scale action figure "1/6 ULTRAMAN SUIT Ver7 (Anime Version)" is based on the anime ULTRAMAN.
The included weapons are 2 pieces of large-sized Specium weapon "Wide Shot," 2 pieces of muti-purpose rifle "EX-Rifle," and 1 piece of additional Specium Sword for the two-sword fighting style. Furthermore, an articulated back weapon-rack for mounting the two EX-Rifles, a sheath for the additional Specium Sword, and an interchangeable right thigh armor for attaching the sheath are included.
Available for pre-order at threezero store (https://www.threezerohk.com/ja/product/seven-weapon-set/), threezero Tmall, and threezero worldwide distribution partners, starting 2022 March 18th, at 9:00am HKT. The figure will be priced at USD49 (Free shipping is available for some regions). Shipment is scheduled for 4th quarter of 2022.
* In development/Not final. Promotional images may differ from final version.
---
・Product name: FigZero 1/6 ULTRAMAN SUIT Ver7 (Anime Version) Weapon Set
・Retail price: 49 USD / 320 RMB / 390 HKD / 5580 JPY
・Shipping date: 4th quarter of 2022
・Booking site: https://www.threezerohk.com/product/seven-weapon-set/
This is TSUBURAYA PRODUCTIONS' Official Global Website.
Official information of Ultraman, Kaiju, Movie, Anime, Comic books, Tokusatsu etc.
Discover the latest official news on the Ultraman series and other works by TSUBURAYA PRODUCTIONS