NEWS ARCHIVES
Ultraman Trigger Episode Z Debuts on Ultraman Connection in Multiple Languages!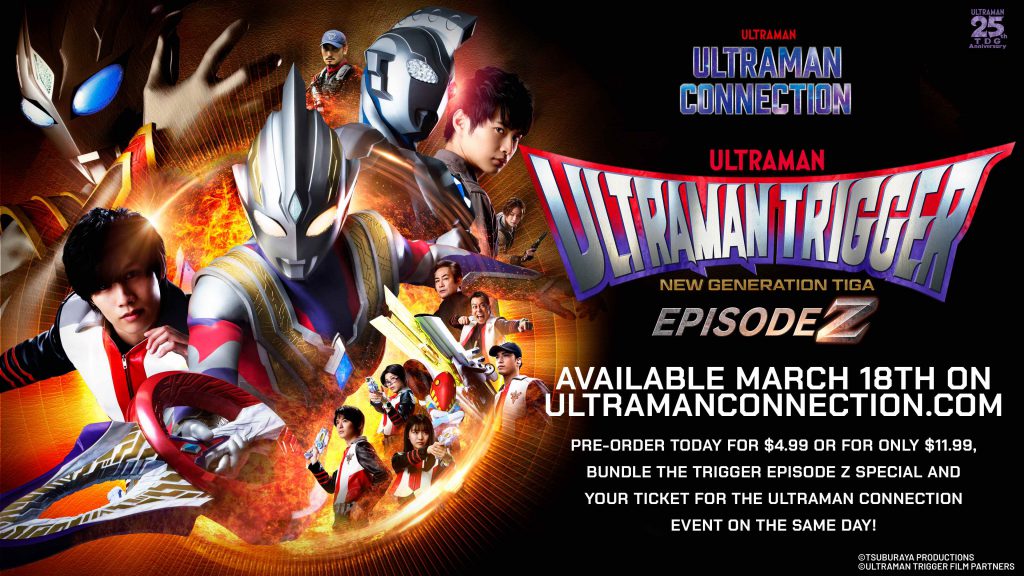 Fans around the world are gearing up for Ultraman Connection Watch Party: Ultraman Trigger Episode Z, on March 18th at 9 EST! However, many fans have expressed a desire to experience the special story in a format a bit closer to home. Well, Ultraman Connection faithful, we come today with excellent news: the Ultraman Trigger Episode Z VOD, including the copy you receive as part of the Watch Party bundle, will be available to fans in 9 different subtitle languages!
・English
・Thai
・Indonesian
・Malaysian
・Brazilian Portuguese
・South American Spanish
・Vietnamese
・Tagalog
・Korean
Fans who purchase the VOD will be able to watch it with subtitles in English, Thai, Indonesian, Malaysian, Brazilian Portuguese, South American Spanish, Vietnamese, Tagalog, and Korean. During the Watch Party event, though, our four guests, Raiga Terasaka, Kohshu Hirano, Runa Toyoda, and Shunya Kaneko, will be watching the massive special with English subtitles alongside fans, and answering questions from around the world posed by perennial Ultraman Connection superhost, Sean Nichols. In addition, during the show itself, the four guests will be reaching out to fans live through the Ultraman Connection chat!
Ultraman Connection Watch Party: Ultraman Trigger Episode Z includes the event itself, as well as a copy of the VOD for personal enjoyment, and is $11.99. Purchasing the VOD alone will cost $4.99 before the 18th, and $6.99 after the event. All purchases can be made [HERE], and purchase requires a FREE Ultraman Connection account. Don't miss this massive global premiere! And for more news regarding Ultraman Trigger, Ultraman Trigger Episode Z, and everything else Ultraman, stay close to Ultraman Connection!
This is TSUBURAYA PRODUCTIONS' Official Global Website.
Official information of Ultraman, Kaiju, Movie, Anime, Comic books, Tokusatsu etc.
Discover the latest official news on the Ultraman series and other works by TSUBURAYA PRODUCTIONS