NEWS ARCHIVES
Anime ULTRAMAN's Final Season Streams Worldwide on Netflix in 2023!
Today it has been announced that anime ULTRAMAN's final season (Season 3) will be streaming worldwide on Netflix in 2023.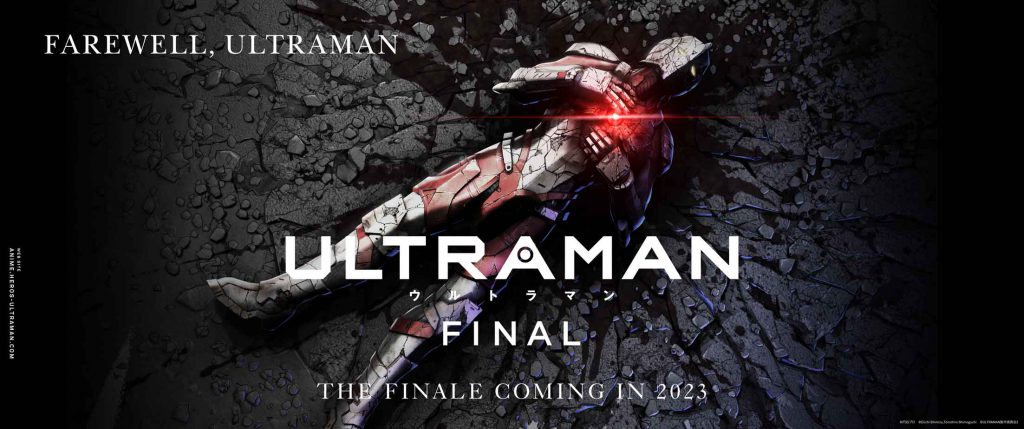 Together with today's announcement, a teaser trailer for the final season has been released! The impactful 20 second trailer will leave you speechless as you see ULTRAMAN as a broken suit, and the Color Timer on his chest flashing on and on alerting the dangerous situation.
The trailer features the Ultraman (1966) narrator Koji Ishizaka, once again calling out "Ultraman, get up!", as the sound of the Space Dinosaur Zetton, who's overwhelming strength defeated the original Ultraman, echoes faintly.
In the simultaneously released poster, the words "Farewell, Ultraman" feature below our fallen hero. We can only imagine what fierce finale put him there. The trailer ends with the mysterious words "This is another answer to Ultraman." Just what do that mean? What end awaits our hero? Stay tuned for more updates between now and 2023.
■The Latest Trailer
■Comments from Eiichi Shimizu and Tomohiro Shimoguchi, Authors of the ULTRAMAN comics
Thinking back, we've had a long run with anime ULTRAMAN, and now it's already the final season.
Season 2 introduced original story elements, but its story structure and heart are shared with the original. This is true of the final season, too.
How will this second Ultraman story come to a close? We're also excited to see how it turns out!
Eiichi Shimizu & Tomohiro Shimoguchi
■Related News
Anime ULTRAMAN Season 2 streaming now on Netflix
Title: ULTRAMAN Season 2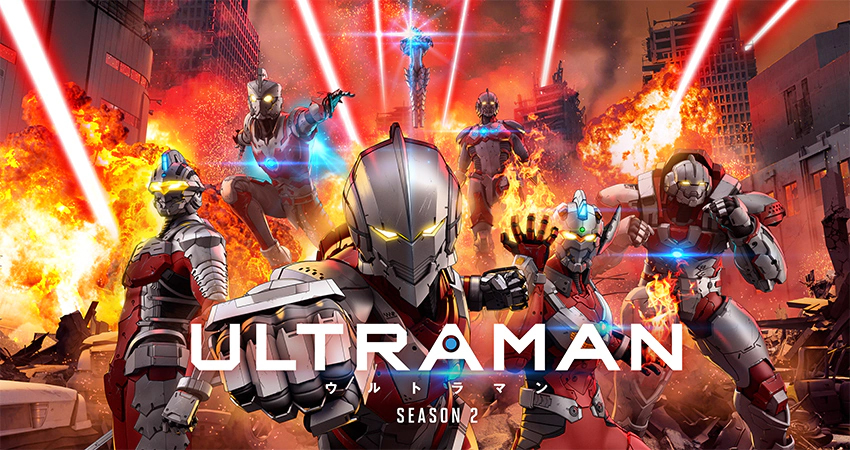 Episodes: 6 in total
Original Story: Tsuburaya Productions, Eiichi Shimizu & Tomohiro Shimoguchi (Serial Publication of Monthly Hero's)
Directors: Kenji Kamiyama & Shinji Aramaki
Music: Toda Nobuka & Kazuma Jinnouchi
Production: Production I.G & SOLA DIGITAL ARTS
Official Website: https://anime.heros-ultraman.com/
©TSUBURAYA PRODUCTIONS ©Eiichi Shimizu, Tomohiro Shimoguchi ©ULTRAMAN PRODUCTION
Introduction
A new chapter! Anime ULTRAMAN Season 2 is finally here! The story heats up with the 6 Ultra Brothers. Director duo Kenji Kamiyama and Shinji Aramaki take this story to a new level! After its 2019 Netflix debut, Anime ULTRAMAN received hit ratings, and won awards both in Japan and overseas.
In Season 2, the 6 Ultra Heroes inherit the spirit of the Legendary 6 Ultra Brothers – ULTRAMAN、SEVEN、ACE、ZOFFY、JACK、TARO – and gather around son of Ultraman Shinjiro Hayata to stop an alien plot on a galactic scale. Young photographer Kotaro Higashi gets entangled in the mysterious "Mass Disappearing Event" when he captures photographic proof that aliens are behind it. He and his girlfriend Izumi reach out to the SSSP… but an accident turns him into a superhuman with the supernatural ability to wield an immense flame.
Finally, a giant, familiar space weapon stands before our human-sized ULTRAMAN heroes…
This is TSUBURAYA PRODUCTIONS' Official Global Website.
Official information of Ultraman, Kaiju, Movie, Anime, Comic books, Tokusatsu etc.
Discover the latest official news on the Ultraman series and other works by TSUBURAYA PRODUCTIONS