NEWS ARCHIVES
The main casts of "Ultraman R/B" came together at the Ultraman Festival! Ultraman R/B (Ruebe) Special Night was held!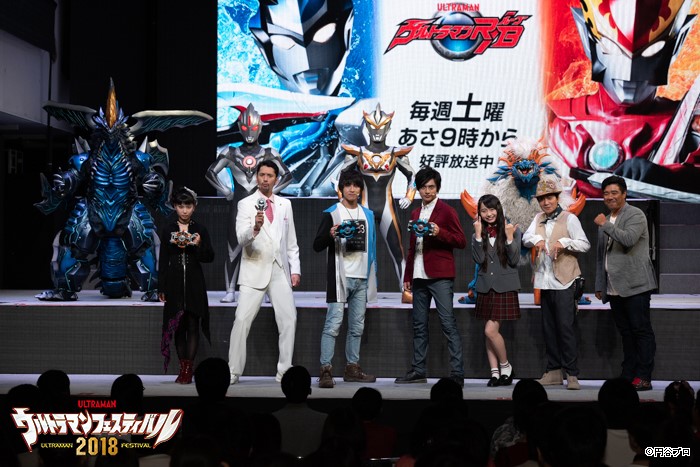 On August 25th (Sat), "Ultraman Festival 2018" at Ikebukuro Sunshine had a one-night-only special event "Ultraman R/B (Reube) Special Night."
The event was held during the closing hours of "Ultraman Festival".
Yuya Hirata who plays Katsumi Minato (Ultraman Rosso), Ryosuke Koike who plays Isami Minato (Ultraman Blu), Arisa Sonohara who plays Asahi Minato, Ginnojo Yamazaki who plays Ushio Minato, Motoki Fukami who plays Makoto Aizen, Ayane Kinoshita who plays Saki Mitsurugi, and the main director Masayoshi Takesue came on stage and held a talk show.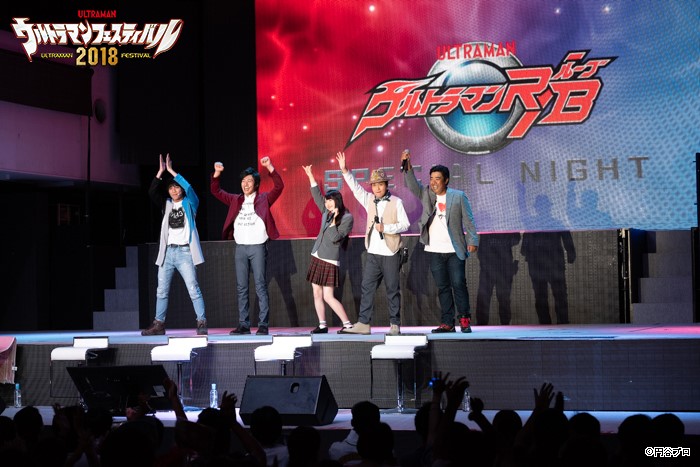 The event started with the main theme song "Hands", sang by all four of the Minato Family and Director Takesue!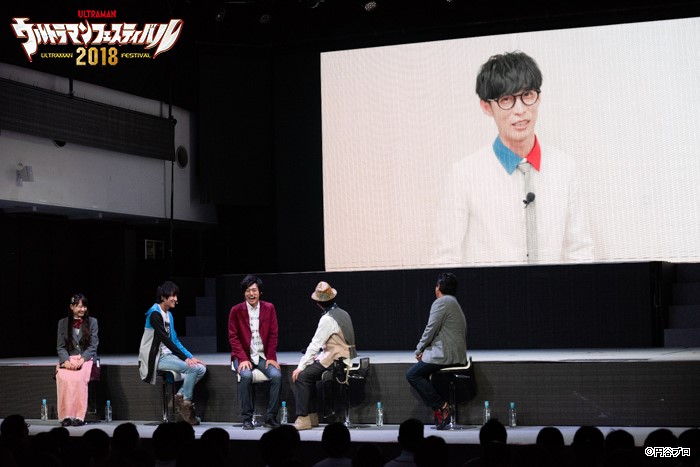 A video message from Masayoshi Oishi was displayed on the screen.
"This is the device made up after significant effort and struggle!"
Makoto Aizen, the "Evangelist of Love and Goodwill", declared as above and introduced DX Orb Ring Neo on the stage.
For more information about DX Orb Ring Neo, please visit: http://www.b-boys.jp/series/ultraman/item/detail/5698/
President Aizen summoned the four-legged monster Horoboros onto the stage!
President Aizen then transformed into Ultraman Orb Dark and battled against Horoboros!
"The world has been waiting for the true Ultraman legend, and it finally begins!!"
The newest main cast Saki Mitsurugi, played by Ayane Kinoshita, appeared on the stage! What is the item in her hand?
Director Takesue described that Saki Mitsurugi would be the key person of the latter half of the story, and Fukami said "Her eyes are so powerful and they looked as if they were about to take me in."
Audiences witnessed many rare shots that can be seen only at this special event!
With a loud roar, Kamisori Demaaga showed up on stage!
Katsumi and Isami transform into Ultraman Rosso and Ultraman Blu with the R/B Gyro and defeated Kamisori Demaaga!
This Kamisori Demaaga will appear in the later episodes of the TV series, so don't miss it!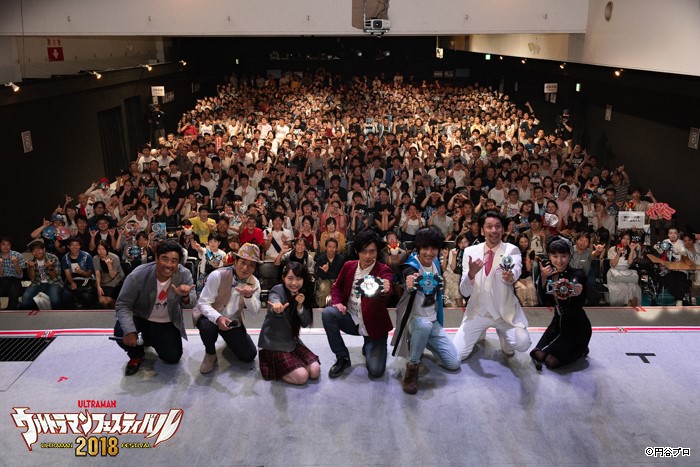 The casts and the director took a photo with the visitors in a "Happy pose" at the end of the talk show!
The event ended with a high-five section with the casts, and Ultraman gummi candies were given out by Asahi for every visitor!
And here are the comments from each cast.
Yuya Hirata:
We started shooting in cold March, and then we also fought against the extreme heat in summer. All the members and staff worked very hard every single day, so I'm very glad to be able to share "ULTRAMAN R/B" with all of you now.
I would love everyone to liven up "ULTRAMAN R/B" and I hope I will have a chance to get to see you in shows and various events in the future again!
Ryosuke Koike:
The show started in June, and this is my first time to appear in front of the audiences.
I was wondering how the viewers evaluate the show, but now I felt the "ULTRAMAN R/B passion" from you and realized the show is supported by a lot of people.
I hope everyone would continue supporting the Minato brothers and follow the growth of the family.
Arisa Sonohara:
Everyone seemed to be enjoying the show more than I have expected and I was so overwhelmed with happiness!
Half a year has passed since the shooting started, and I've felt very accomplished. However, the show is still ongoing and I am very excited to see everyone's reactions! Please stay in front of the TV on Saturday mornings at 9 am!
I hope everyone will cheer on Asahi as she keeps working hard!
Ginnojo Yamazaki:
I have been in love with Ultraman ever since the first "ULTRA Q" and "ULTRAMAN" series but I never thought I would be participating in the Ultraman series.
I hope this series would have a place in everyone's hearts.
Motoki Fukami:
Now I have become Ultraman, a hero that I have been watching since I was a child.
I never thought I would ever be Ultraman, at this age.
The era of Aizen has come!
Ayane Kinoshita:
I was very nervous, since I joined in the show from the middle part, but the cast and staff members were all very supportive.
Saki Mitsurugi is a difficult character to play, but I think I have acted her out well. I hope everyone would look forward to seeing her in the TV screen!
Director Masayoshi Takesue:
"ULTRAMAN R/B" will become more and more exciting! I hope all of you would continue to support us!
This is TSUBURAYA PRODUCTIONS' Official Global Website.
Official information of Ultraman, Kaiju, Movie, Anime, Comic books, Tokusatsu etc.
Discover the latest official news on the Ultraman series and other works by TSUBURAYA PRODUCTIONS