NEWS ARCHIVES
Brand New "Kaiju" World, Science Fantasy Kaiju no Sumika
A new world named "Kaiju no Sumika", which introduces the charisma of Kaiju from the past works, is coming to you soon. So what is it about?
■What is "Kaiju no Sumika"?
Monsters and aliens have appeared in the works of Tsuburaya Productions for numerous times.
From their actions, what were they trying to tell us…?
The answer to this question could lead to a solution of something bigger, something universal, something we humans need to take well care of.
"Kaiju no Sumika" is world set in a group of works that portrays those monsters and aliens not as enemies of any kind, but in their natural state.
"Kaiju no Sumika" will been seen from the perspective of a group of boys and girls who have landed in a mysterious world where Kaiju live together. In August 2019, a picture book will be published, and in November 2019 a high quality amazing experience-based attraction will open at Gallery AaMo of Tokyo Dome City.
■Science Fantasy Picture Book Kaiju no Sumika
Publication Date: Late August, 2019
Pages: 48
Size: Letter Size, Full Color
Price: TBD
Publisher & Original Story by: Tsuburaya Productions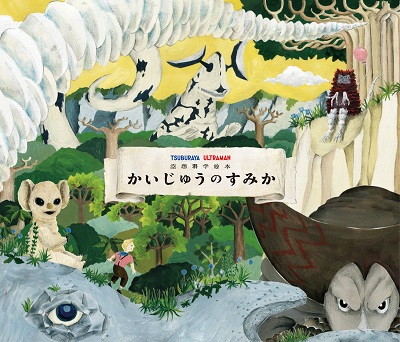 ■Experience Based Attraction Kaiju no Sumika
Duration: early November, 2019 – late January, 2020 (3 months period)
Place: Gallery AaMo, Tokyo Dome City
Address: 1-3-61 Koraku, Bunkyo-ku, Tokyo
Advance Ticket: To be sold from July 2019
General Ticket: To be sold from September 2019
With the analogue Tokusatsu technology and the newest digital technology, an experience-based attraction that revisits the charm of the "Kaiju" will open at Tokyo Dome City for a limited 3 months, starting this Autumn.
The attraction is not only for children and families, but also grown-ups who may not be fond of Kaiju, such as students, females, couples… Everyone could enjoy this fantastic high quality realistic entertainment experience.
Please stay tuned as we create an opportunity for everyone to come close to the "Kaiju" and find out new and facts about their habitat!
*More details will be announced soon.
[Introduction of the Original Story]
There's a secret place where humans haven't entered.
It's where Kaiju can live naturally and peacefully.
In the place that is cut off from any industrialization, time flows quietly without Kaiju having to fight against humans, but can just live normally with each other.
One day, an "Unbalance Zone" appears and opens a portal from this secret world to the human world.
At the same time, a portal also opens in the human world, where a boy unintentionally drove into it.
Away from his parents on a summer camp, the boy drifted through time and space, and landed into the world "Kaiju no Sumika".
He looked back, but the portal is closed.
This was the beginning of an adventure, where there is no way back…

This is TSUBURAYA PRODUCTIONS' Official Global Website.
Official information of Ultraman, Kaiju, Movie, Anime, Comic books, Tokusatsu etc.
Discover the latest official news on the Ultraman series and other works by TSUBURAYA PRODUCTIONS