NEWS ARCHIVES
Ryu Oyama arranged version of Dark Baltan
"threezero", a Hong Kong figure company known for high-end collectible figures has announced a fully articulated figure "threezeroX Ryu Oyama Dark Baltan". The original sculpt was made by Ryu Oyama, who is a famous modeler and character sculptor in Japan providing his works for the collectibles and videogames industries. The figure is 1/6th scale (approximately 36cm tall), and has 47 points of articulation.
It has a LED light-up feature in the eyes. It comes with 4 pieces of exchangeable claws (one pair of standard claws, one piece of small left claw, one piece of large right claw). Available for pre-order at threezero official website (https://www.threezerohk.com) and at threezero Tmall (https://threezero.tmall.com), starting 2019 November 11th, at 9:00am HKT. The figure will be priced at USD298 / HKD2340 / RMB2120, with worldwide shipping included. Shipment is planned for 2nd quarter of 2020.
* In development/Not final. Promotional images may differ from final version.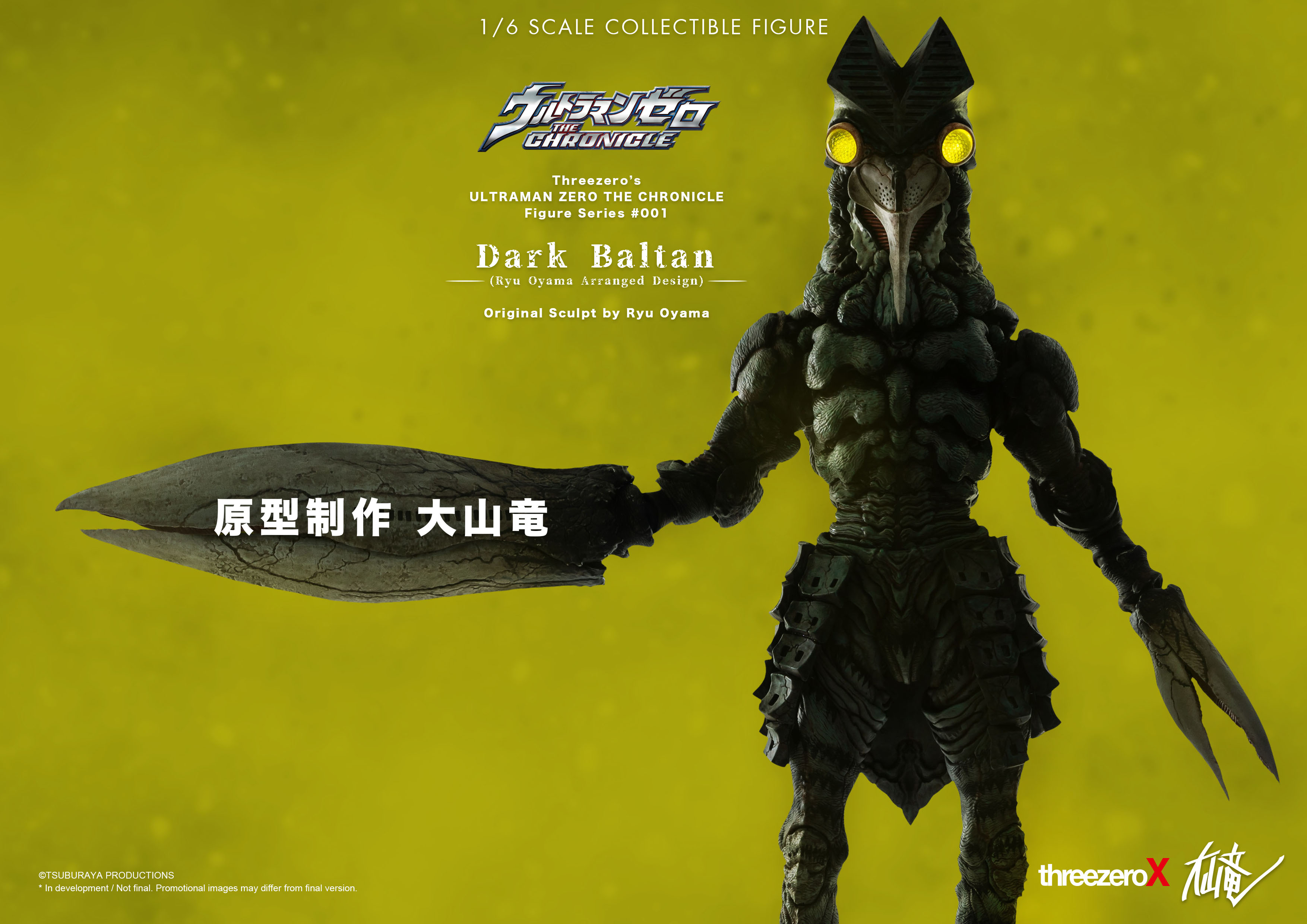 [Comment from the sculptor "Ryu Oyama"]
For this collaboration, I imagined this Dark Baltan as a "western style suit of armor". The silver clamps, the face, the slits at the mouth, and small holes (probably originally meant for suit actors to look outside) all linked to a suit of armor. Baltans are life forms more intelligent than humans, so perhaps its true form is more close to humans, or even looks more simple than humans, and thus its form that we know of such as the cicada-like face and large clamps could perhaps be something like what we call a space suit or a battle suit… That was the concept. Just like how we humans wear clothes in our daily life, Baltans are wearing something like clothes and battle suits. I imagined that this was the reason why there are many variants of Baltans seen in the Ultraman Series which all look slightly different. And in making the sculpt, since it was determined from the beginning to be an articulated figure, in order to have both the design and the articulation to coexist for the elbows and knees, I thought it would be most suited to arrange the design by imagining this as a suit of armor. If it was an un-articulated statue, I would have never came up with this idea. So this Dark Baltan design exists because it was a collaboration with threezero.
[Products Details]
Ryu Oyama arranged version of Dark Baltan
Price:USD298 / HKD2340 / RMB2120
Release date:2nd quarter 2020
Produced by:threezero
More information:https://www.threezerohk.com
©TSUBURAYA PRODUCTIONS
This is TSUBURAYA PRODUCTIONS' Official Global Website.
Official information of Ultraman, Kaiju, Movie, Anime, Comic books, Tokusatsu etc.
Discover the latest official news on the Ultraman series and other works by TSUBURAYA PRODUCTIONS