NEWS ARCHIVES
[Thank You] We have more than 1 million subscribers on the ULTRAMAN OFFICIAL YouTube Channel!
The power of light from our fans all over the world cheering on our beloved Ultraman, kaiju, and heroes has come together! Thanks to everyone's support, we now have more than 1 million subscribers on our ULTRAMAN OFFICIAL YouTube Channel.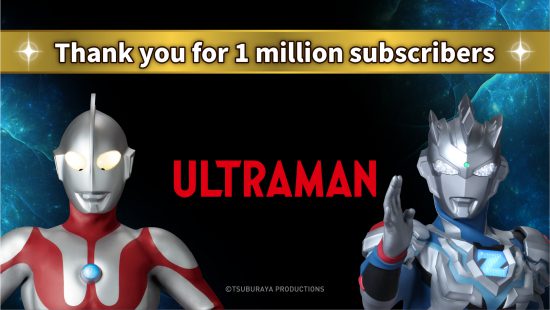 Ultraman Official YouTube Channel Hits 1 Million Subscribers
We will be uploading videos to the ULTRAMAN OFFICIAL YouTube Channel for fans of the Ultraman series all over the world to enjoy. Please stay tuned as we bring you fun and exciting content!
Supporting Fans Indoors With "Stay At Home With ULTRAMAN"
This program allows fans all over the world to enjoy "Ultra Science Fantasy Hour," crafted by Tsuburaya Productions over many years, at home. Each episode includes a message that we want to send to our fans in these uncertain times.
Ten carefully selected episodes and messages will be released on Tsuburaya's ULTRAMAN OFFICIAL YouTube channel weekly on Sundays at 10 am. When each episode premiers at 10 am, you will be able to chat with other fans in real-time while watching the episode. Each video will also be available until the end of the next month. (※The final episode will be available until the end of July.)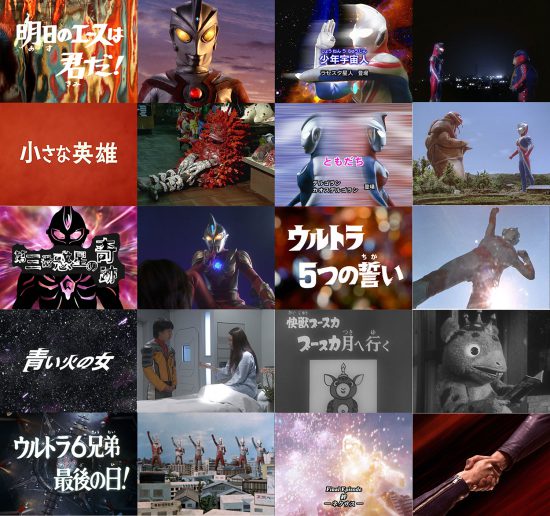 We hope you have a fun, relaxing, and exciting time in the world of Ultra Science Fantasy!
YouTube Exclusive Series ULTRA GALAXY FIGHT NEW GENERATION HEROES
In 2019, the newest Ultraman series was streamed only on YouTube, which was a first for Tsuburaya Productions. The series, set before ULTRAMAN TAIGA, brought the New Generation Heroes together for the first time.
Along with Ultraman Zero and Ultraman Ribut, the heroes come together to fight fiercely against the vicious Ultra Dark-Killer and the army of Darkness brought back by Ultraman Tregear.
Series Summary
A demon of darkness who goes by the name Ultra Dark-Killer has the power to create evil copies of Ultra warriors. Ultraman Zero and Ultrawoman Grigio fall into the hands of this villain!
To deal with the crisis, Ultraman Taro calls in the "New Generation Heroes," Ultraman Ginga, Ultraman Victory, Ultraman X, Ultraman Orb, Ultraman Geed, Ultraman Rosso, and Ultraman Blu. He also sends in Ultraman Ribut from the Galaxy Rescue Force as backup.
Let the battle between the "New Generation Heroes" and the "League of Darkness" begin!
Full Episodes of Ultraman Series Now Streaming
For a limited time only, many Ultraman series can be enjoyed on our YouTube channel, including ULTRAMAN CHRONICLE ZERO & GEED, airing on TV Tokyo every Saturday at 9 am, and ULTRAMAN 80, which marks its 40th anniversary on April 2nd, 2020.
Please subscribe to our channel to get notified whenever we upload a new video. We would like to thank you for your continued support of our Ultra Heroes!
Subscribe from below
This is TSUBURAYA PRODUCTIONS' Official Global Website.
Official information of Ultraman, Kaiju, Movie, Anime, Comic books, Tokusatsu etc.
Discover the latest official news on the Ultraman series and other works by TSUBURAYA PRODUCTIONS