NEWS ARCHIVES
First Series Ever to have an Online Event & Comments from Cast! ULTRAMAN Z (Zett) Airing from June 20th (Sat)!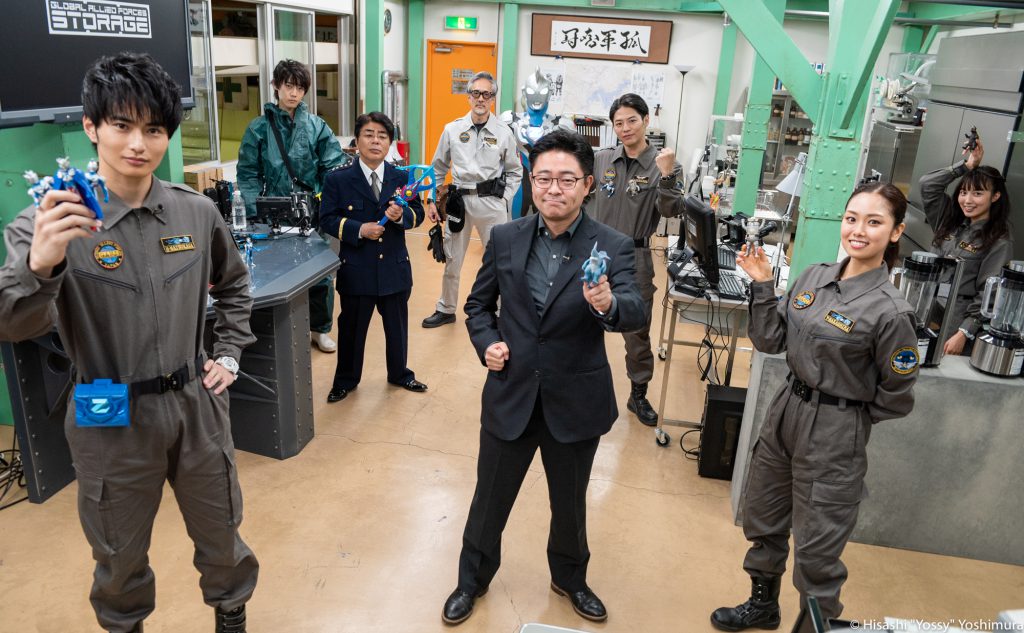 Our new TV series, Ultraman Z (Zett), will air Saturday mornings at 9 AM on TV Tokyo and other TXN Network channels in Japan starting from June 20th, 2020. On June 5th, we held an Ultraman Z event live online!
At the Ultraman Z online event, our main character Haruki Natsukawa (played by Kohshu Hirano), was joined by Yoko Nakashima (played by Rima Matsuda), Yuka Ohta (played by Hikari Kuroki), Shota Hebikura (played by Takaya Aoyagi), Shinya Kaburagi (played by Rihito Noda), Kojiro Inaba (played by Jun Hashizume), Director Kuriyama (played by Hisahiro Ogura), and our main director, Kiyotaka Taguchi.
The event was held with social distancing on the special set for the Anti-Monster Robot Unit "STORAGE," where the main characters including Haruki reside. Each actor and actress spoke about their excitement for the project and how the series was created while practicing social distancing at the same time.
Along with the cast members, Masaaki Endoh, who sings the opening theme song, and Nami Tamaki, who sings the ending theme, participated remotely. Ultraman Z also showed up in the event.
■ULTRAMAN Z Special Movie with English Subtitles available here!
■ULTRAMAN Z Premiere Online Event digest video available here!
Comments from Cast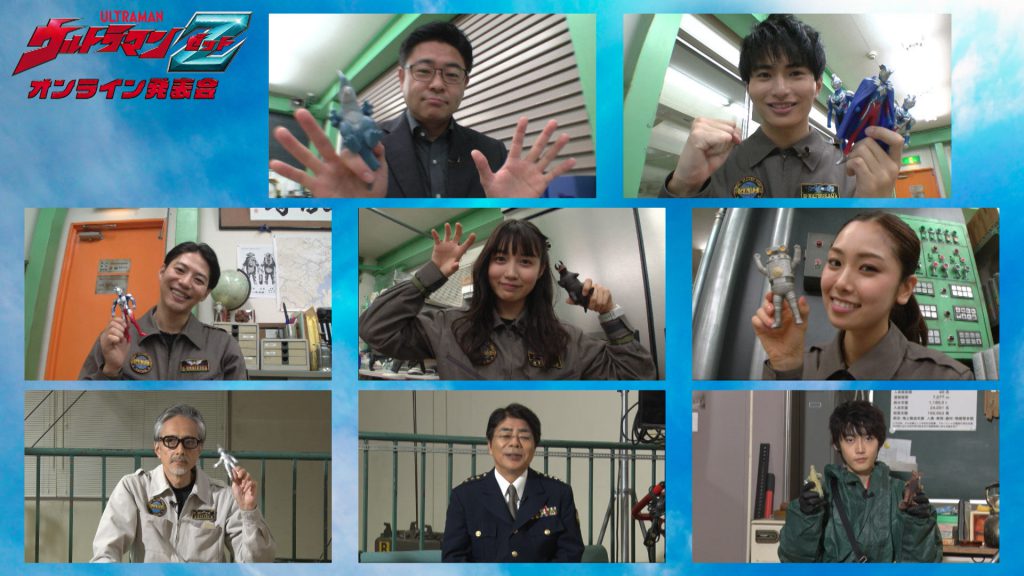 ●Kohshu Hirano (As Haruki Natsukawa)
I hope viewers will be excited to watch Z and Haruki grow along with each other.
Each cast member has a great personality. The series has an exciting story, great costumes, and so much to see, which I hope everyone will enjoy. Also, Haruki and Z are both passionate! VERY passionate! Let's cheer on the series together every Saturday morning!
●Rima Matsuda (As Yoko Nakashima)
While Yoko is an ace pilot, her regular personality is a little clumsy. I would love for everyone to enjoy this "gap" in Yoko's personality.
Ultraman Z is for sure going to be awesome and exciting. All of the cast members are very excited to be working on this series, so please stay tuned!
●Hikari Kuroki (As Yuka Ohta)
Seeing the special movie for the first time, I thought the scene with the sunset was beautiful and stunning.
Yuka has a lot of knowledge about Kaiju, so I hope everyone will pay more attention to Kaiju. Let's make every Saturday fun and happy for everyone!
●Jun Hashizume (As Kojiro Inaba)
I was filled with excitement when I saw Sevenger in action. I adore Sevenger, almost like my own child. His soft eyes are very similar to mine. I hope to spend time with everyone treasuring each moment.
Just as I was given hopes and dreams by Ultraman, I hope every child who watches Ultraman Z will grow up to be an adult who treasures their dreams.
●Takaya Aoyagi (As Shota Hebikura)
I wonder how everyone will view Hebikura as a captain, but as an ideal captain, I hope to play him as someone who has the same perspective as his team and not as someone who is demanding.
"STORAGE" has two teams. The Special Airborne Armor team and the maintenance team work very well together, and with that teamwork the shooting goes very smoothly. Even though the world is going through a very difficult time that affects every one of us, all of the staff and cast members are striving together as a team to keep this series moving forward. Please cheer us on as we race through until the end.
●Rihito Noda (As Shinya Kaburagi)
Please watch closely as Kaburagi becomes the host of a parasitic lifeform, and keep an eye out for all the cool costumes and gas mask.
I am getting excited as I realize the airdate for episode one is getting closer.
I have very high hopes that Ultraman Z will be an amazing series, and I can't wait to spend time together with everyone.
●Hisahiro Ogura (As Director Kuriyama)
Of course, Ultraman and the Kaiju are amazing, but there is a lot to keep an eye on within STORAGE.
I grew up watching Ultraman but was surprised that the other cast members also grew up with Ultraman. Please stay tuned and continue watching Ultraman. Ultraman is forever.
●Masaaki Endoh (Theme Song "GOSHOWA KUDASAI WARE NO NA WO! (Chant My Name!)")
I was very honored to be able to sing the opening song for this series, because I grew up watching Ultraman as a boy.
Since I used to cheer on Ultraman while singing the theme song, I created this series' opening song with the hope that children watching Ultraman Z will cheer him on while listening and singing to the song.
●Nami Tamaki (Ending Song "Connect the Truth")
I am very happy to be able to sing the ending song for Ultraman Z.
The ending song is fast and has power along with a sentimental melody, which expresses the main character's journey as he battles and struggles, but lives powerfully. I hope the viewers will listen to the song as they follow along with the story.
●Kiyotaka Taguchi (Main Director of Ultraman Z)
I worked with Kota Fukihara, our screenwriter who tragically passed away, two years ago on a midnight drama series. After that, I fell in love with his personality and his attitude towards work, and we became very good friends.
What we can do now in memory of him is strive to make the story of Ultraman Z the best it can be and dedicate this piece to him.
Because we are going through a difficult time, the cast and staff members are creating this series with as much enthusiasm and fun as possible. I think viewers can also feel this sense of enjoyment. I can't wait for this series to go on air so everyone will get to watch it.
Ultraman Z Series Overview
Broadcast Start Date: 6/20/2020 (Saturday)
Broadcast Time: Every Saturday from 9:00~9:30 AM
Broadcast Channel: TXN Network and others
Production Companies: Tsuburaya Productions, TV Tokyo, and Dentsu
Official Series Website (Japanese): http://ani.tv/ultraman_z/
Tsuburaya Global Corporate Website: https://en.tsuburaya-prod.co.jp/
Ultraman Galaxy (Official North American Website): https://ultramangalaxy.com/
Official Twitter: https://twitter.com/TsuburayaGlobal
Actors: Kohshu Hirano, Rima Matsuda, Hikari Kuroki, Takaya Aoyagi, Rihito Noda,
Jun Hashizume, Hisahiro Ogura, Tatsuomi Hamada, and others
Character Voices: Tasuku Hatanaka, Mamoru Miyano, Katsumi Fukuhara, and others
Main Director: Kiyotaka Taguchi
Theme Song: Masaaki Endoh, "GOSHOWA KUDASAI WARE NO NA WO! (Chant My Name!)"
Ending Song: Nami Tamaki, "Connect the Truth"
Music: Hijiri Anze
Summary:
Once, shards of evil called "Devil Splinters" were scattered across space, throwing the galaxy into chaos.
At that time, Ultraman Z, a new member of the Inter Galactic Defense Force who sought out Ultraman Zero as a mentor, comes down to Earth while chasing the ferocious space monster Genegarg. On Earth, the Anti-Monster Robot Unit "STORAGE" is formed to face down the monsters that appear on a daily basis. In his first battle, Z merges with Haruki Natsukawa, a new pilot of STORAGE. Together, they rise up to protect the peace!
However, behind the scenes the parasitic lifeform Celebro has set a terrifying plot into motion…
©TSUBURAYA PRODUCTIONS © ULTRAMAN Z PRODUCTION CONSORTIUM・TV TOKYO
This is TSUBURAYA PRODUCTIONS' Official Global Website.
Official information of Ultraman, Kaiju, Movie, Anime, Comic books, Tokusatsu etc.
Discover the latest official news on the Ultraman series and other works by TSUBURAYA PRODUCTIONS