NEWS ARCHIVES
Special Updates Unveiled for Anime ULTRAMAN Season 2! Introducing the New Character "Taro" (Voiced by Tatsuhisa Suzuki)
On March 2, 2020, the ULTRAMAN anime was named Best TV Anime at the 2020 VFX-Japan Awards, receiving positive reviews all over the world. The series also began airing on TV on April 12, 2020 and announced plans to make a second season.
We would like to reveal some Ultra-special updates for season 2, including the latest promotional video! In the video, we introduce the series' newest cast member, Tatsuhisa Suzuki. We have received enthusiastic comments from him, as he joined the series in season 1, singing the theme song in OLDCODEX.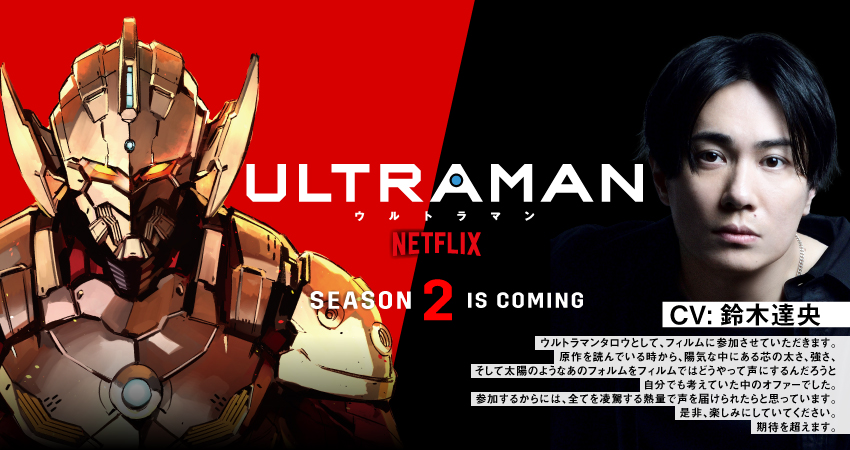 [Anime ULTRAMAN Season 2 Ultra-special Video Unveiled]
In the new promotional video, after a scene where ULTRAMAN, SEVEN, and ACE continue their fierce battles from season 1, a mysterious horned silhouette wreathed in flames appears with the lines, "I am Taro – Ultraman Taro!" delivered by voice actor Tatsuhisa Suzuki.
With the introduction of our newest character, "TARO," we have high hopes for season 2!
Netflix original anime series ULTRAMAN season 2 ultra-special updates
[Comment from New Cast Member Tatsuhisa Suzuki, the Voice of Ultraman Taro]
I will be joining the series as Ultraman Taro. While reading the original comic, I had wondered how they were going to breathe life into Taro, who has a charming personality, strong will, and vigor and burns like the sun, and that's when I got the offer.
Now that I have been cast, I hope that I can convey my burning passion through my voice. Please stay tuned. I am excited to exceed everyone's expectations.
[Anime "ULTRAMAN" Season 1 Details]
■Released on Netflix worldwide
Title: "ULTRAMAN"
Episodes: 13
Original Story: Tsuburaya Productions, Eiichi Shimizu, Tomohiro Shimoguchi (Serialized on HERO'S monthly magazine)
Director: Kenji Kamiyama, Shinji Aramaki
Music: Nobuko Toda, Kazuma Jinnouchi
Studio: Production I.G. × SOLA DIGITAL ARTS
Cast: Ryohei Kimura (Shinjiro Hayata), Takuya Eguchi (Dan Moroboshi), Megumi Han (Seiji Hokuto), Hideyuki Tanaka (Shin Hayata)
Opening Song: OLDCODEX "Sight Over The Battle"
TV Opening Song: OLDCODEX "Core Fade"
TV Ending Song: Void_Chords feat. Ryohei & Foggy-D "my ID"
Anime "ULTRAMAN" Official Website: http://anime.heros-ultraman.com/
Official Twitter Account: @heros_ultraman
ULTRAMAN Global Twitter Account: @TsuburyaGlobal
©TSUBURAYA PRODUCTIONS ©Eiichi Shimizu,Tomohiro Shimoguchi ©ULTRAMAN PRODUCTION CONSORTIUM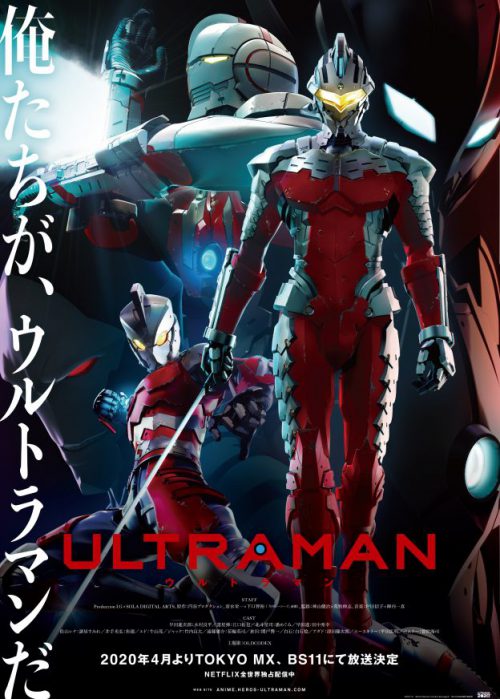 <Introduction>
There once was a Giant of Light who protected Earth from monsters and alien invasions. His name was Ultraman. He merged with Hayata, a member of the SSSP. Years have passed since he completed his mission and left Earth, and humans have enjoyed an age of prosperity. However, this peace was never more than an illusion…
Now, as Earth once again needs the power of the "Giant of Light," a hero who inherited the genes of Light appears. However, this hero is no a giant, but a regular high schooler with worries and troubles in a metallic powered suit.
This new hero is Shinjiro Hayata, the son of former Ultraman Shin Hayata. An exciting new story begins as he strives to become the next generation's Ultraman!
Ultraman first appeared on screens in 1966. Half a century later, in 2011, the manga ULTRAMAN (written by Eiichi Shimizu and Tomohiro Shimoguchi, serialized in Monthly HERO'S) was published. ULTRAMAN is focused on the world after Ultraman has left Earth. The story of ULTRAMAN follows the main character's struggles as the son of the previous hero, Ultraman, as he fights enemies in his powered armor. This storyline has gained many young fans and made the comic a huge hit, selling more than 3 million copies.
Director Kenji Kamiyama, known for directing Ghost in the Shell: Stand Alone Complex and Napping Princess, and director Shinji Aramaki, known for directing APPLESEED and Starship Troopers: Traitor of Mars, have teamed up for this project. Director Kenji Kamiyama is famous for his heavy-duty sci-fi storylines as well as his handling of human drama. Director Shinji Aramaki is one of the leading experts on full 3DCG anime movies, gaining attention from all over the world for his production of CG mechanic/gadget action. Now, these two outstanding creators have teamed up for the full 3DCG animation ULTRAMAN. Production I.G. and SOLA DIGITAL ARTS are working together to create an animation filled with dynamic motions, 3DCG of the Ultraman suit with amazing details, and motion capture technology of the actors put into the characters.
With the creation of the ULTRAMAN anime, Japan's legendary hero Ultraman has started a new chapter of history.
<Story>
There once was a Giant of Light who protected Earth from monsters and alien invasions. The Giant of Light has returned to his distant home world, vanishing from the memory of the Earthling who once housed his powers. Ultraman has now become a memory, and the Japan branch of the Science Special Search Party has closed, turning its headquarters into the Giant of Light Museum.
Shinjiro Hayata is a typical high schooler struggling with adolescence. However, he has started to realize that he is far from "normal" with his unusual strength and durability.
One day, Shinjiro finds out that his father Shin Hayata was Ultraman and meets aliens who are secretly living on Earth even after Ultraman has left. Shinjiro is one of the few who can wear the new Ultraman suit invented by Ide, an active member of the new secret Science Special Search Party.
"I have a favor to ask of you. I want you to be the next Ultraman."
The latest information can be found on the official website and twitter.
・Anime ULTRAMAN official website: http://anime.heros-ultraman.com/
・Official Anime ULTRAMAN Twitter Account: @heros_ultraman
・Ofiicial Ultrraman Global Twitter Account: @TsuburayaGlobal
[Comic ULTRAMAN Details]
Written By: Eiichi Shimizu, Tomohiro Shimoguchi (Linebarrels of Iron and more)
Published By: HERO'S INC., Monthly Comic Magazine "HERO'S"
Series: Volume 15, sold from April 3rd, 2020 / HERO'S Comic (Shogakukan Creative)
ULTRAMAN Official Website: https://heros-ultraman.com/
Official Twitter Account: @heros_ultraman
©TSUBURAYA PRODUCTIONS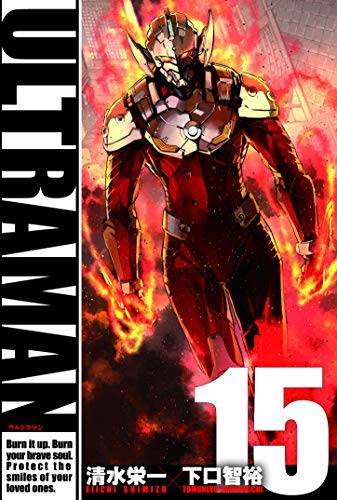 This is TSUBURAYA PRODUCTIONS' Official Global Website.
Official information of Ultraman, Kaiju, Movie, Anime, Comic books, Tokusatsu etc.
Discover the latest official news on the Ultraman series and other works by TSUBURAYA PRODUCTIONS