NEWS ARCHIVES
《AOV》X《ULTRAMAN》collaboration confirmed! Oct.27「ULTRAMAN」officially releases in AOV.
The popular Anime series ULTRAMAN streaming on Netflix is coming to AOV in a new collaboration that will introduce tons of exclusive in-game activities. Play as ULTRAMAN as you fight alongside your teammates in this exciting new update!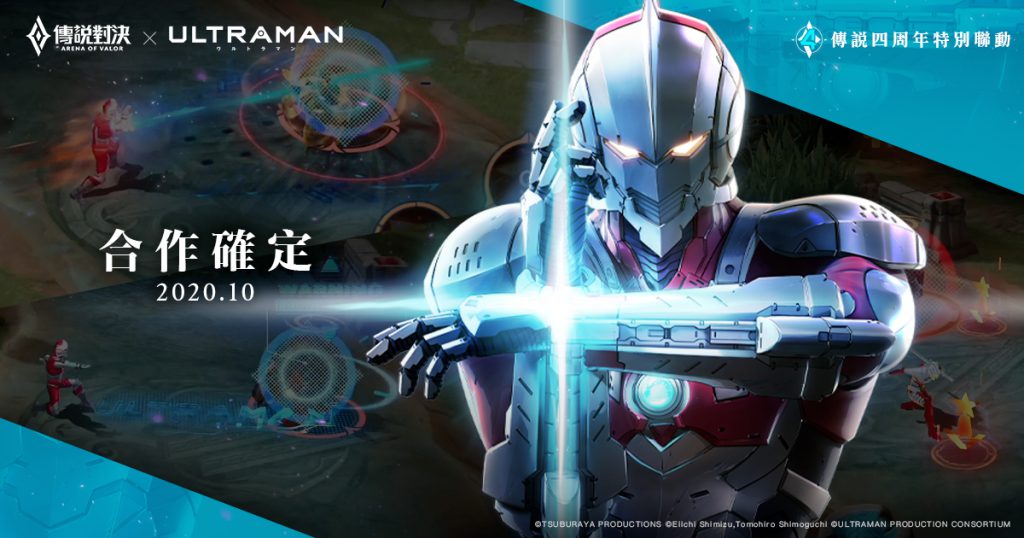 An《AOV》X《Ultraman》collaboration is coming soon!
    ULTRAMAN arrives in AOV, keeping the peace on the battle field In the Netflix original series ULRAMAN, Shinjiro, the son of Shin Hayata, has to protect the Earth from devastation by aliens. After training and testing his limits again and again, Shinjiro fights alongside his teammates for the sake of Earth and all of humanity. Now, ULTRAMAN is coming to AOV with brand-new powers and other surprises. Look forward to all-new collaboration skins and UI resources. There's plenty to get excited about!   (link to the collaboration confirmation video on Youtube)
*For more details on the collaboration, please go to AOV's fan page.
*Please see the official page for accurate information. All rights reserved to Garena.
  《AOV》official page:https://moba.garena.tw/ 。 《AOV》official fan page:click   Download: iOS:click Google Play:click APK:click
This is TSUBURAYA PRODUCTIONS' Official Global Website.
Official information of Ultraman, Kaiju, Movie, Anime, Comic books, Tokusatsu etc.
Discover the latest official news on the Ultraman series and other works by TSUBURAYA PRODUCTIONS