NEWS ARCHIVES
Thank You for Chanting His Name! Join Our Giveaway Campaign on Twitter and Facebook to Get Ultraman Z Merchandise!
"Chant My Name!"
This year, fans from all around the world has gathered under the call after Ultraman Z started simulcasting on ULTRAMAN OFFICIAL YouTube channel.
With our official ULTRAMAN Global Twitter account (@TsuburayaGlobal) reaching more than 10,000 followers since its launch in February, as well as countless thoughts and reviews each week tweeted with the official hashtag #ChantMyNameZ, we are starting an exclusive giveaway of Ultraman Z merchandise to thank our fans outside Japan who have been chanting the name of Ultraman Z!
The giveaway event will start on December 26 on Tsuburaya Productions' official global social medias, including the ULTRAMAN Global Twitter account and the newly debuted Facebook account.
A total of eighteen participants will be selected to receive the hottest merchandise from our latest series, Ultraman Z, including the transformation item Ultra Z Riser, the talking weapon Beliarok, highly popular Special Airborne Armors Sevenger, Windom, King Joe STORAGE Custom, and much more!
Entering is easy! First, make sure you're following the official ULTRAMAN Global accounts on either Facebook or Twitter. When the campaign post goes live, simply retweet with comment including your thoughts on Ultraman Z if you are on Twitter, or like and comment with your thoughts on the series if you are on Facebook.
Spanning through the term of three weeks, prizes will change on both platform each week. It is possible to enroll on all three terms throughout both platforms, but each participant can only win once. The winner will be chosen by staff from Tsuburaya Productions, so get your voices loud and let us know what you like about the show!
If you haven't already followed us on Twitter and Facebook yet, now's the time to do so! Don't miss this chance to get your hands on the ultra-cool Ultraman Z goodies, and stay up-to-date with all of the latest Ultraman news!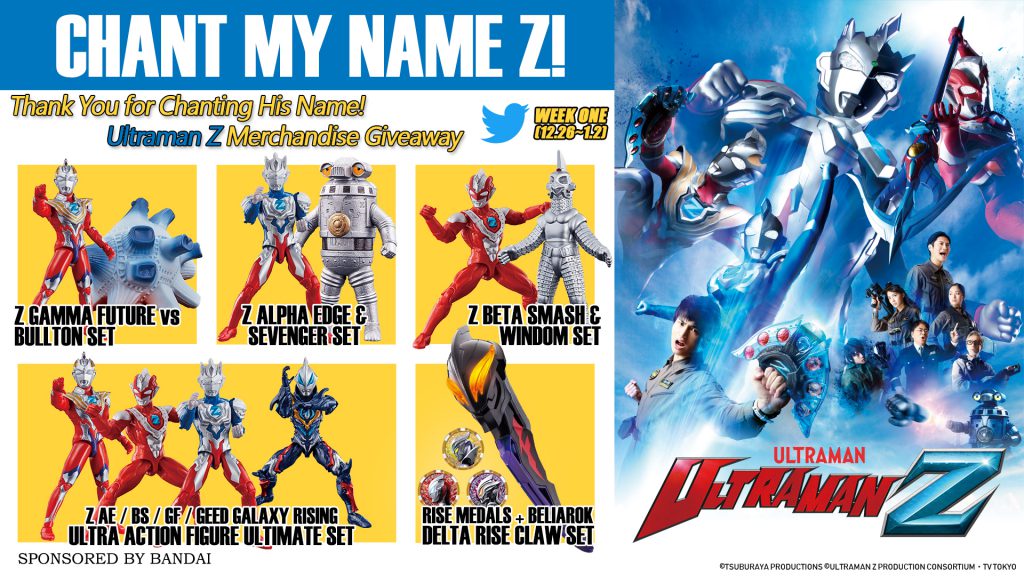 Campaign Details
Term: Week One (12.26-1.2), Week Two (1.2-1.9), Week Three (1.9-1.16)
Platform: Twitter & Facebook
Prizes: Prizes vary each platform and term. Please make sure to check out at the beginning of each week.
Requirements (Twitter):
-Follow ULTRAMAN Global
-Retweet with comment including your thoughts in English on Ultraman Z
-Currently residing outside Japan
Requirements (Facebook):
-Follow ULTRAMAN Global
-Like and comment including your thoughts in English on Ultraman Z
-Currently residing outside Japan
*Winners will be chosen simultaneously after Week Three is over, and notification will be sent through direct messages. The winner must live outside Japan to claim the prize.
Terms & Conditions: Participants will need to agree our Privacy Policy.
Sponsored by BANDAI
About Ultraman Z
When shards of evil called "Devil Splinters" are scattered across space, the galaxy is thrown into chaos. At the same time, Ultraman Z, a new member of the Inter Galactic Defense Force who sought out Ultraman Zero as a mentor, comes down to Earth while chasing the ferocious space monster Genegarg. On Earth, the Anti-Monster Robot Unit "STORAGE" is formed to face down the monsters that are appearing on a daily basis. In his first battle, Z merges with Haruki Natsukawa, a new pilot of STORAGE. Together, they rise up to protect the peace!
However, behind the scenes the parasitic lifeform Celebro has set a terrifying plot into motion…
This is TSUBURAYA PRODUCTIONS' Official Global Website.
Official information of Ultraman, Kaiju, Movie, Anime, Comic books, Tokusatsu etc.
Discover the latest official news on the Ultraman series and other works by TSUBURAYA PRODUCTIONS