NEWS ARCHIVES
TSUBURAYA CONVENTION 2021 SPECIAL PROGRAM Official Report!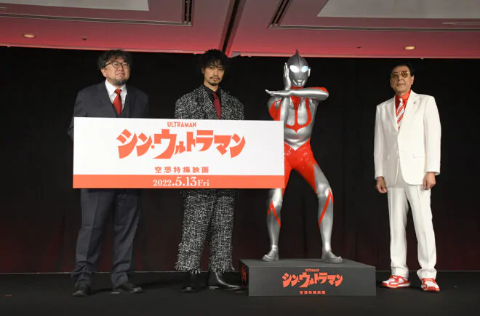 On Monday, December 13th, "TSUBURAYA CONVENTION 2021 SPECIAL PROGRAM" was held to showcase the future and vision of Tsuburaya Productions, introducing our 2022 line-up releasing both domestically and internationally alongside many esteemed guests.
Opening: A Greeting from Tsuburaya Production's Takayuki Tsukagoshi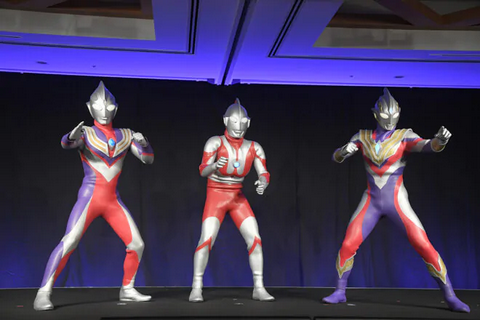 The event opened spectacularly with Ultraman, Ultraman Tiga, and Ultraman Trigger taking the stage.
Takayuki Tsukagoshi (Tsuburaya Production Chairman and CEO) greeted attendees personally: "We decided to hold this special program because we wanted to tell our fans about our upcoming projects as soon as possible. This event will allow you to enjoy Tsuburaya's past, present, and future, so I hope you'll stay until the end.".
After which several upcoming titles were introduced, including: the CG animated feature Ultraman, an Ultraman Geed spin-off comic Another Gene, immersive live-action show Into The Story, the Hero Project, and more.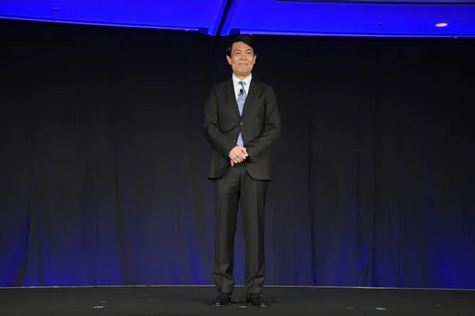 CG Animated Feature Film Ultraman
The CG animated feature film Ultraman is a CG animation work between Tsuburaya Productions and Netflix, and is being directed by Shannon Tindle and John Aoshima.
Through a video message played at the event, Shannon shared his love and passion for the Ultraman series.
"What I wanted to do was marry my love for Ultraman with personal things that I had experienced. And so the story grew out of that and I had this original idea for a story inspired by Ultraman. What we've been able to produce already with our art department and their story department, with our editorial teams with our previous teams, and also our studio partner Industrial Light and Magic, has been incredible. Many of the folks on our Ultraman team are massive Ultraman fans and have been Ultraman fans since they were little kids. It's really been a dream come true from start to finish and I can't wait to show you more."
Co-Director John Aoshima also made a moving statement to Ultraman fans.
"I am here today as part of something unique and special that I get to bring a level of love (for Ultraman) from the past, and package that as a new form of Ultraman in the movie. And let me just say when the film was greenlit, I was ecstatic. I know we don't have much to show this time but everyone's working really hard. We have great partnerships with really passionate fans from Industrial Light and Magic. They're working up some really cool eye candy for you guys, and so we hope to share that very soon."
Another Gene
Another Gene is the first title of the project to expand the Ultraman universe into different ways of storytelling.
It is a Tsuburaya Imagination Original comic drawn by Artist Unit Gurihiru, who fans of the Marvel Comic Ultraman series should be familiar with, and the story will be based on the TV Series Ultraman Geed.
The comic will be available in 2022 exclusively on Tsuburaya Imagination. Similarly, an interview with the comic's artists Gurihiru will be available on Tsuburaya Imagination from December 17th (Friday).
Immersive Live-Action Project

Into The Story
The immersive live-action show Into The Story is an entertainment project by Tsuburaya Imagineering, which aims to provide an entirely new kind of live-action show immersion with the latest technology.
It aims to deliver an interactive story that cannot be attained through conventional filmmaking or live-action shows, and promises to deliver a narrative that will connect individuals from around the world.
Into The Story official website
 "https://intothestory.m-78.jp/" (in Japanese only)
A Tsuburaya Imagination Original Movie
Ultraman Trigger Episode Z
The next announcement was that a Tsuburaya Imagination Original movie Ultraman Trigger Episode Z would be releasing March 18th, 2022 with a same-day release in theaters in Japan.
Outside Japan, Ultraman Trigger Episode Z is set to be available on Ultraman Connection.
Following the movie reveal, the event hosted guests staring in the movie; Raiga Terasaka (as Kengo Manaka), Kohshu Hirano (as Haruki Natsukawa), and Yuichi Nakamura who plays the new captain Ryuichi Tokioka.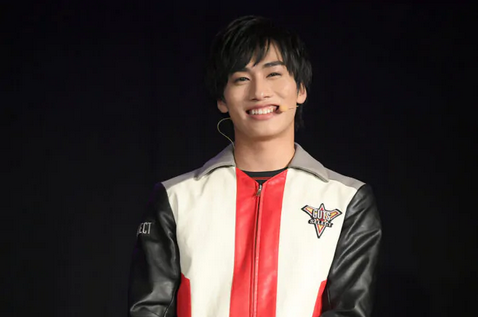 On being asked how they felt about the movie production and being cast in it, Raiga Terasaka shared the following with his familiar catchphrase and trademark energy "I've been dying to talk about the movie, so I hope you're excited to hear more! Smile, smile!"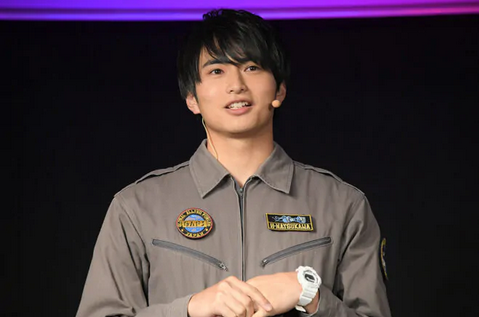 Following Raiga, Kohshu Hirano commented "I expected everyone here to be all 'Smile, Smile!' like Raiga, but I was surprised to see many down-to-earth people here too (said jokingly)".

Yuichi Nakamura also gave a greeting following his debut to the Ultraman franchise "I will be playing the new captain Ryuichi Tokioka. I hope you'll give me your support.", said with a stern expression befitting of the new captain.
On being asked how he felt when he first heard he will be staring in the movie, Raiga Terasaka shared his gratitude to the fans "This movie is only being made because of the support from all of the fans. I am incredible grateful to all of you."
Kohshu Hirano also asserted his strong feelings about the movie "Ultraman Z (Zett) hasn't got its own movie, so I hope to use this as an opportunity to leave my mark in the franchise, however small."
Yuichi Nakamura also shared his fiery passion about his Ultraman debut "It still hasn't hit me, even attending this event feels like some kind of enormous prank (he laughed). I am very honored to be able to add my name to Ultraman's history."
Kohshu Hirano gave one additional statement about how "(In today's PV release) Ultraman Z's eyes had gone red, and you may be wondering why? But all I ask is that you wait and find out".
Similarly Yuichi Nakamura followed Hirano's comment with his own about becoming the new captain of Kengo's team GUTS-Select, raising excitement and intrigue for the movie "As for what becomes of Captain Tatsumi, and just what kind of role with the new captain have to play? Well, I hope you are excited to see those events for yourself."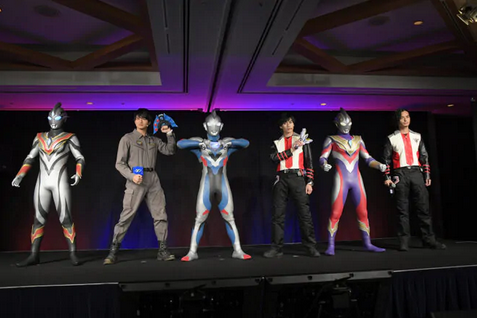 Anime ULTRAMAN Season 2
The original hit comic written by Eiichi Shimizu and Tomohiro Shimoguchi was adopted into anime on Netflix in 2019, and the domestic and internationally award-winning production's second season is almost upon us.
Ryohei Kimura, who plays protagonist Shinjiro Hayata, was introduced as a special guest, at which point the teaser poster of the "6 Ultra Warriors". On seeing it on the big screen, Mr. Kimura responded "Isn't that so cool?!!"
This was followed by video messages from directors Kenji Kamiyama and Shinji Aramaki, with their comments raising expectations for the new series. Kenji Kamiyama said "(Season 2 is) looking to be even more interesting than the first season. There's more action, more ULTRAMAN allies come onto the scene, and I'm confident the story developments will have you hooked. Please look forward to Season 2."
His comment was followed by Shinji Aramaki's "All our staff are coming together and working hard, so there won't be long to wait (until it's done). The differing qualities of the six ULTRAMAN heroes combine to deliver a season brimming with action."
Next was a visual of Season 2's antagonist, Alien Pedant, along with the announcement that he would be voiced by Junichi Suwabe. Mr Kimura assured fans that he was perfect for the role by remarking on the recording, saying "I had no idea who would be playing Alien Pedant, but when I read the script, I remember thinking it had to be someone with an evil-sounding voice. When I finally heard his voice, I mean it in a good way that he really made me angry (he joked)."
After which the ULTRAMAN Suit, SEVEN Suit, and never-before-seen ACE Suit took to the stage, causing an emotional Mr. Kimura to exclaim "It's my first time to see them too! How cool are they?! It's even more impressive when there's three of them!" after which he composed himself and continued, closing with "Thank you for waiting. All of us are also excited for Season 2, so I hope all those viewing today's event now feel the same! Please wait just a bit longer."
A large-scale event to celebrate the launch of Season 2 will be held on April 10th, 2022.
Stay tuned for more details.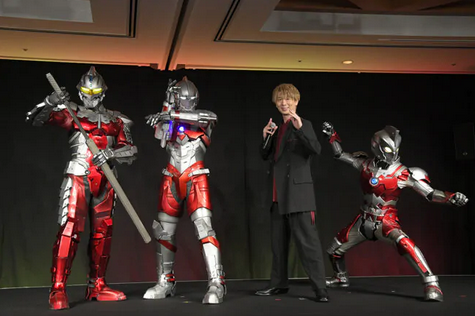 "GRIDMAN x DYNAZENON" New Theatrical Film (TDB) Adaptation
A movie adaptation of "GRIDMAN x DYNAZENON" (tentative title) was also announced.
Continuing his role from SSSS.GRIDMAN and SSSS.DYNAZENON, director Akira Amemiya took the stage to introduce the new title "I'd like to give my thanks for being invited to this memorable TSUBURAYA CONVENTION. The staff from both previous titles have all come together again, and we are all working hard on production."
He then took a moment to reflect on both SSSS. GRIDMAN and SSSS.DYNAZENON and share his thoughts.
"I'm also surprised. I expected this to end with the first series, but due to the backing from the fans we were gifted another title and we're all extremely thankful. The majority of the staff are returning to the team, so I believe fans of the previous style will certainly enjoy it" he remarked. After which, Gridman and Dynazenon took to the stage for the first ever photo shoot with both characters side-by-side. In closing Director Amemiya was asked to address the fans "Since it's a movie release, come to see it on opening day or the opening weekend! That will be greatest support I can think of (he said laughing)."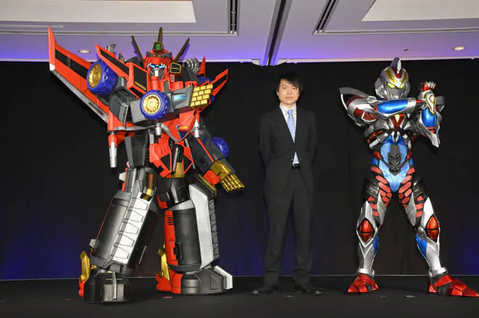 Kaiju Decode Project
Kaiju Decode is an original animation in joint production with Tsuburaya Productions and Toei Animation.
Koichi Noguchi, Producer of Toei Animation, was joined on-stage by Tsuburaya Productions' own producer Masahiro Onda to share the latest information about the project.
Mr. Noguchi took the stage wearing a VR headset to speak about their new system "It was mentioned on the official homepage, but (the VR images) are free to access, so I hope you'll try it at home"
Mr. Onda followed with "The setting it really detailed, but for people to see our work, and appreciate the world we created is very humbling.", showing his confidence after the project was picked up in 9 international film contests, and won awards in 4 despite the challenges involved in VR and Metaverse world building.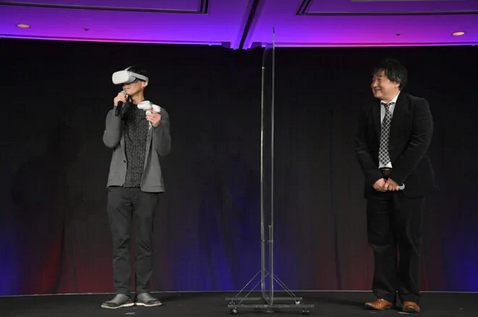 Mr. Noguchi continued "We created 8 videos and decided to try and submit them to some film festivals, but then we were overjoyed to see them winning awards." sharing his joy in Kaiju Decode's international recognition.
Following the remarks, they revealed an image of Kaiju Uku, and Mr. Onda explained how he came to the name. "I took the name from the Ryukyu language of Okinawa. It symbolizes the story of a girl and a monster coming to understand one another.", simultaneously sharing a hint about the storyline.
Mr. Noguchi closed their session with an exciting final address "We are producing Kaiju Decode not just in Japan, but working internationally, such as with teams in San Francisco and Los Angeles. This project seeks to blend the original story with VR animation, and expand upon it, so I really hope you will check it out!
With Mr. Onda rounding up with "Please look forward to seeing more natural fusions of both new and established Tsuburaya Kaiju".
Film Shin Ultraman
The release date for long-awaited "Shin Ultraman" film was finally announced to be May 13th (Friday) 2022.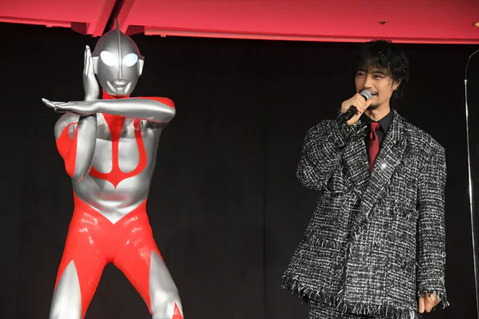 Takumi Saitoh, "the man to become Ultraman" and the movie's protagonist took to the stage with Director Shinji Higuchi. Saitoh greeted the audience "Two years ago, Director Higuchi and I announced the movie. Since then there was the pandemic and so much else, so we are incredibly pleased to finally announce the movie's release date".
Asked about the release date, he joked "I feel I've waited too long already, but I'm sure the director and his team still have a lot to do, so…", to which Director Higuchi jokingly replied "It was like he took me aside to say have it done by this date!" He continued his joke while also sharing a look into the film's development. "I kept feeling like 'It's not done! No matter how much I do it's not finished!', so by making the announcement today it feels like we have a final deadline that we can't work beyond."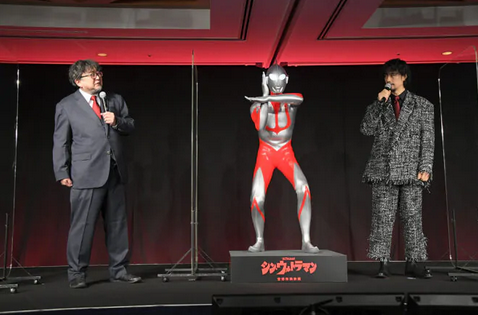 When asked to comment on the teaser poster he added "The stick in the middle is what you use when you're in trouble (he laughed). No, that's the Beta Capsule. The muddled thing beside it is a dog tag. The name of Saitoh's character, Shinji Kaminaga, is inscribed on it", giving a surprise reveal of the protagonist's name.
In response, Saitoh replied "The only thing I was told it was OK to reveal was that name (to laughs from the crowd). I'm relieved that I will finally go from being the vague character "The man who becomes Ultraman", to actually having a name (to more laughter)".
A new unreleased trailer revealed a scene with Ultraman firing a Spacium beam.
Mr. Saitoh followed the trailer with a cryptic comment "It's the first time I've seen it. I thought it was a bit short, but I also think showing any more would be too revealing. But I think some fans will be able to glean a big hint from this trailer".
Following this, the pair were joined on stage by special guest Bin Furuya, the original Ultraman suit actor. Replying to Saitoh's comment of the trailer, he laughed and said "It was too short and I didn't really get anything", and followed by revealing how the iconic pose came to be: "When we discussed the pose we spent maybe 2 to 3 hours alone, but it was a pose that we all decided on together".
In closing, Director Higuchi spoke addressing both Mr. Furuya and the crowd "We are working hard to make a movie that was worth the wait. As someone who grew up watching Mr. Furuya's fantastic work, I hope I can pass along the same experience I had to the next generation".
After which Mr. Saitoh closed the event by expressing his strong feelings for the movie " Shin Ultraman is constantly evolving. It's been a long time since I first saw Ultraman go to the next level, but I also still feel like I'm evolving alongside it. I believe this movie is one that will show a great deal of respect to those honorable members who began Ultraman's history with the original series."
The next TSUBURAYA CONVENTION coming in 2023
The event closed with an announcement that the next TSUBURAYA CONVENTION will be held in 2023.
A full recording of this year's event will be available for free on Tsuburaya Imagination from December 17th (Friday) 7 PM, and an edited version will be released on the ULTRAMAN OFFICIAL YouTube Channel.
ULTRAMAN CONNECTION
https://www.ultramanconnection.com/
YouTube: Official Ultraman Channel
This is TSUBURAYA PRODUCTIONS' Official Global Website.
Official information of Ultraman, Kaiju, Movie, Anime, Comic books, Tokusatsu etc.
Discover the latest official news on the Ultraman series and other works by TSUBURAYA PRODUCTIONS