NEWS ARCHIVES
Spectacular Art from The Mystery of Ultraseven Revealed by Marvel Comics!
On Friday morning, Marvel Comics revealed three key pages from Ultraman: The Mystery of Ultraseven #1 on their website (Marvel.com). The Mystery of Ultraseven is the latest comic book miniseries to come out of the landmark collaboration between Tsuburaya Productions and Marvel Entertainment.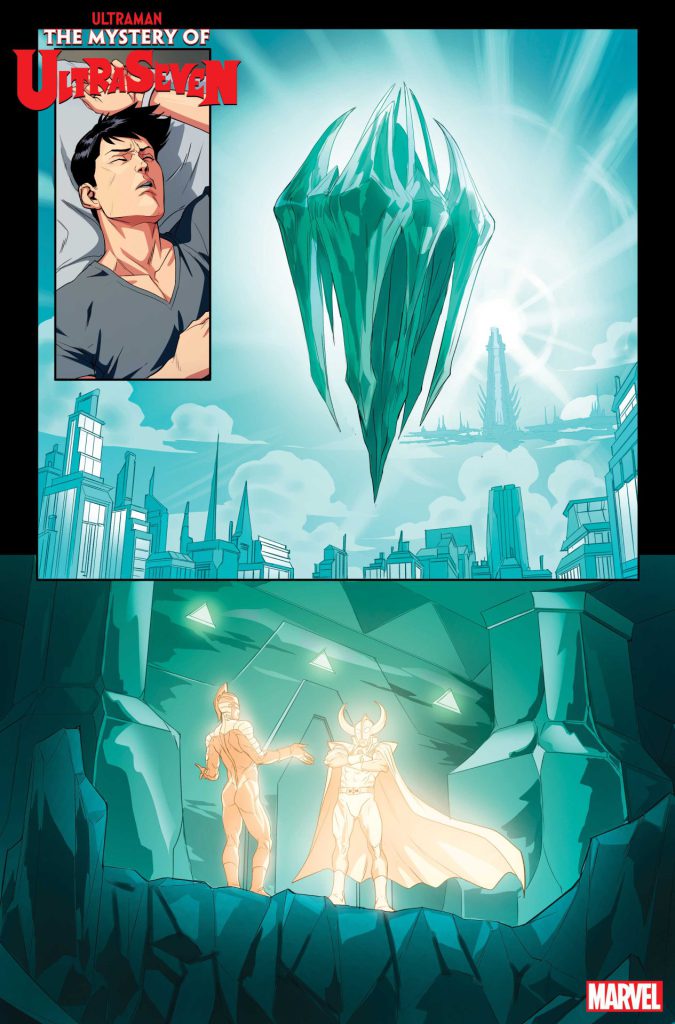 The unlettered pages featured spectacular artwork by popular Italian artist Davide Tinto and reveal a quartet of major surprises for fans of the Ultraman franchise. The first page depicts the Land of Light, home world of the Ultras in Nebula M78. The design is beautifully realized from the Mega Monster Battle Ultra Galaxy: The Movie and the Ultra Galaxy Fight series, including the symbolic Plasma Spark Tower in the background.
On that same page, we can also see the spectral form of none other than Father of Ultra, Top Commander of the Inter Galactic Defense Force and ostensibly the lead of all Ultras. In the panel, Ultraseven seems to be pleading his case to Father of Ultra. This is the first time we have seen the character in the comics published by Marvel Comics.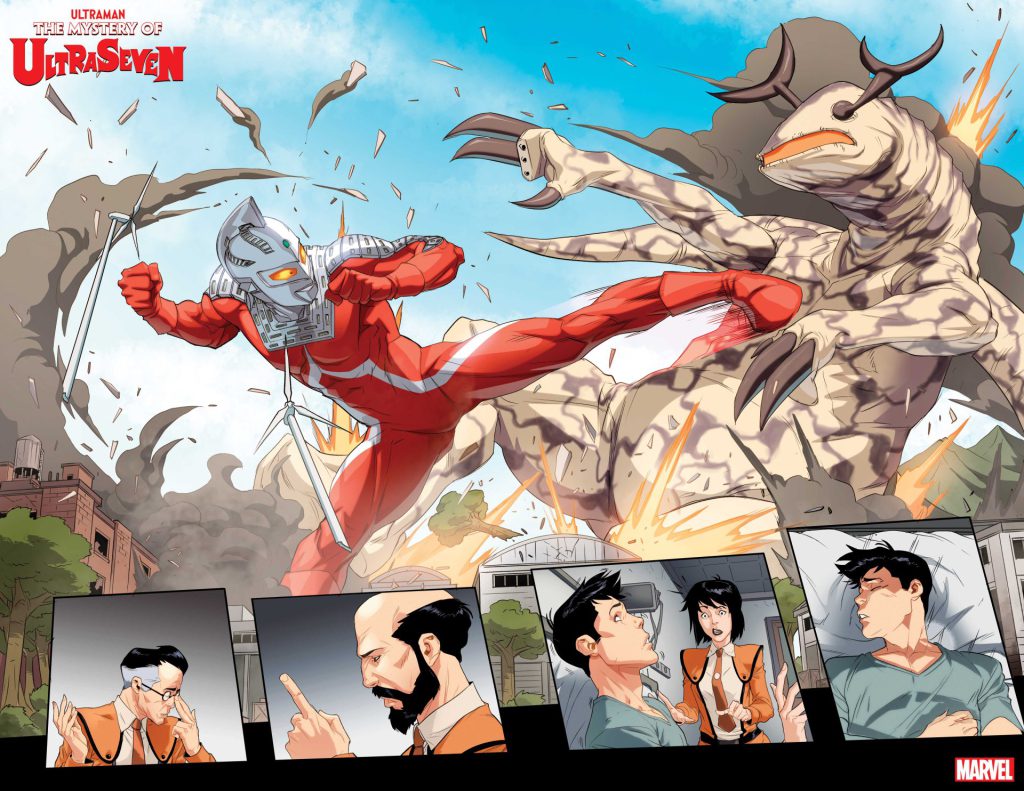 The second page boasts a titanic battle between Ultraseven and one of his greatest Kaiju foes, Eleking. With huge claws on both hands, the appearance is closer to its Ultraman Max counterpart. We glimpsed Eleking in the E.J. Su artwork for the cover of this issue, but nothing can prepare us for the visceral quality of this clash!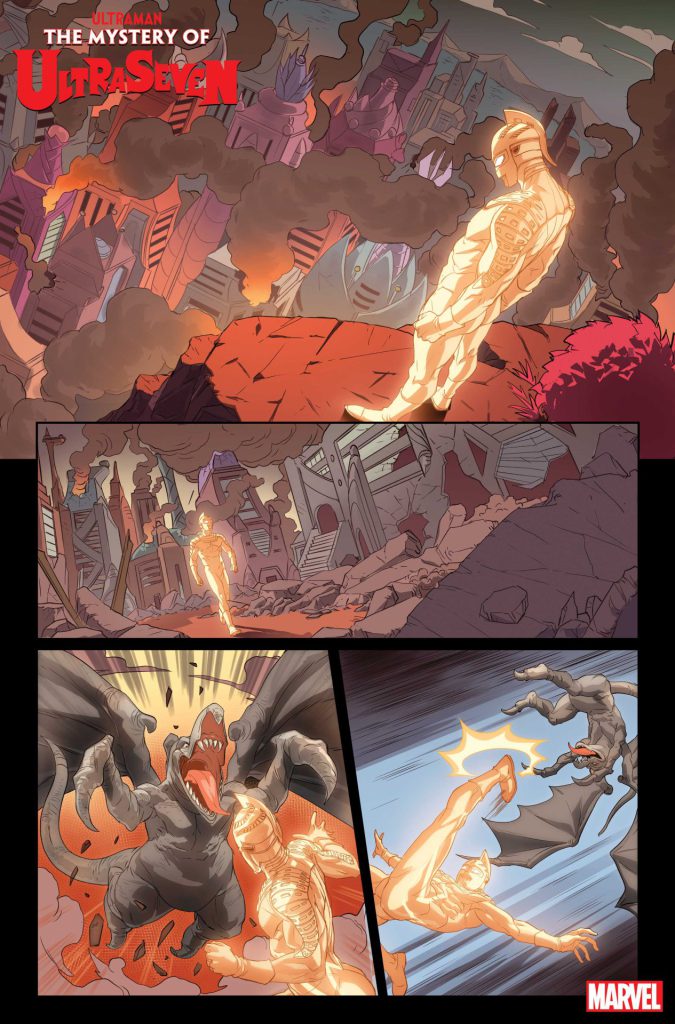 The third page seems to take us back to the Kaiju Limbo that was introduced in previous Marvel Ultraman series. It seems we will be diving deeper into the secrets behind the pop culture icon's fascinating mythology in an adventure that will thrill longtime fans of the global phenomenon and welcome Ultraman newcomers.
To boot, there is a surprise attack on Ultraseven by the winged Kaiju, Aron. The monster first appeared in the Ultraseven TV series, a minion of the Alien Guts meant to test Seven's powers.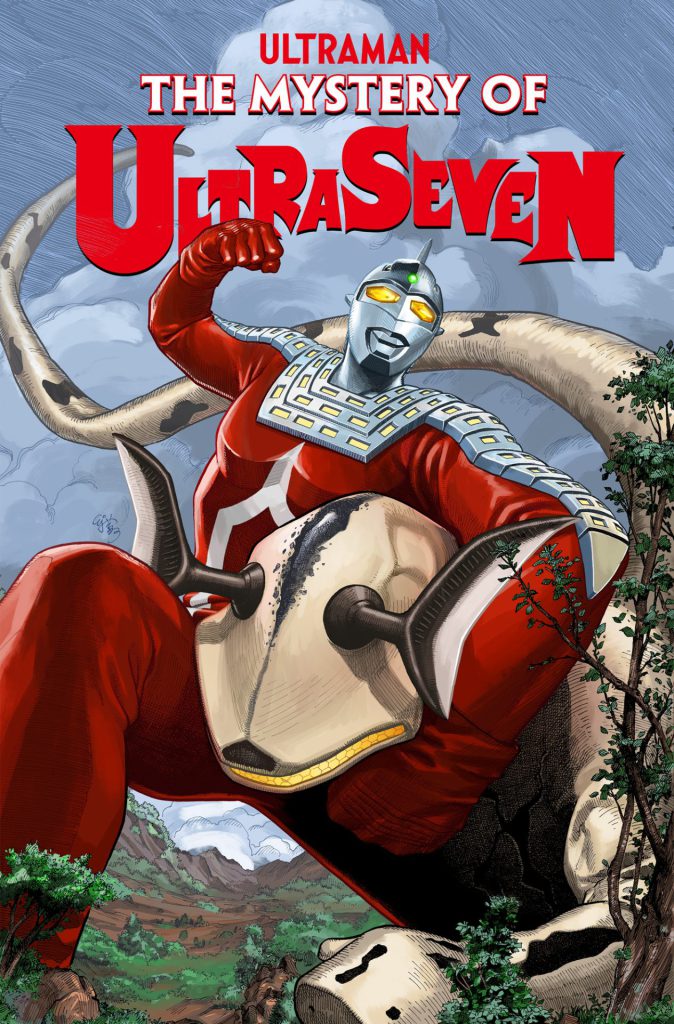 Ultraman: The Mystery of Ultraseven #1, on sale August 17, will be a double-sized issue (the first of five) written by Kyle Higgins and Mat Groom. The issue will also feature an additional story spotlighting Ultra Q, as well as more fun with the instructional Kaiju Steps by Gurihiru. You can grab these comics and more digitally or at your favorite local comic book shop.
Please follow us on Twitter and Facebook for more information!
This is TSUBURAYA PRODUCTIONS' Official Global Website.
Official information of Ultraman, Kaiju, Movie, Anime, Comic books, Tokusatsu etc.
Discover the latest official news on the Ultraman series and other works by TSUBURAYA PRODUCTIONS