NEWS ARCHIVES
New Poster for Anime ULTRAMAN's Final Season Revealed at NYCC!

ULTRAMAN's final battle begins!
Final season will be released Spring 2023.
New poster by Eiichi Shimizu and Tomohiro Shimoguchi revealed!
On October 6th at  the New York Comic Con 2022, the largest pop culture event in the East Coast, creators of the ULTRAMAN comics are invited to show at the panel. Eiichi Shimizu and Tomohiro Shimoguchi talked about the latest news, including the revelation of a new poster, and appealed to the fans all over the world.
The new poster was drawn by Shimizu and Shimoguchi, the creators of the ULTRAMAN comics, showing ULTRAMAN standing in the backlight, giving a sense of eeriness and fragility.
The poster is accompanied by a catch copy stating "Farewell, Our –", foreshadowing the chaotic climax of the series.
Director Kamiyama, who has a tremendous reputation worldwide for his profound science fiction settings and multi-layered human drama storytelling; Director Aramaki, who is the leading director of full CG animation films around the world is also highly valued for his action direction of CG mechanical gadgets—What will be the conclusion of the ULTRAMAN anime directed by the two world-class creators!?
Please look forwar to more information, as we prepare for the release next spring!
ULTRAMAN Final Season Overview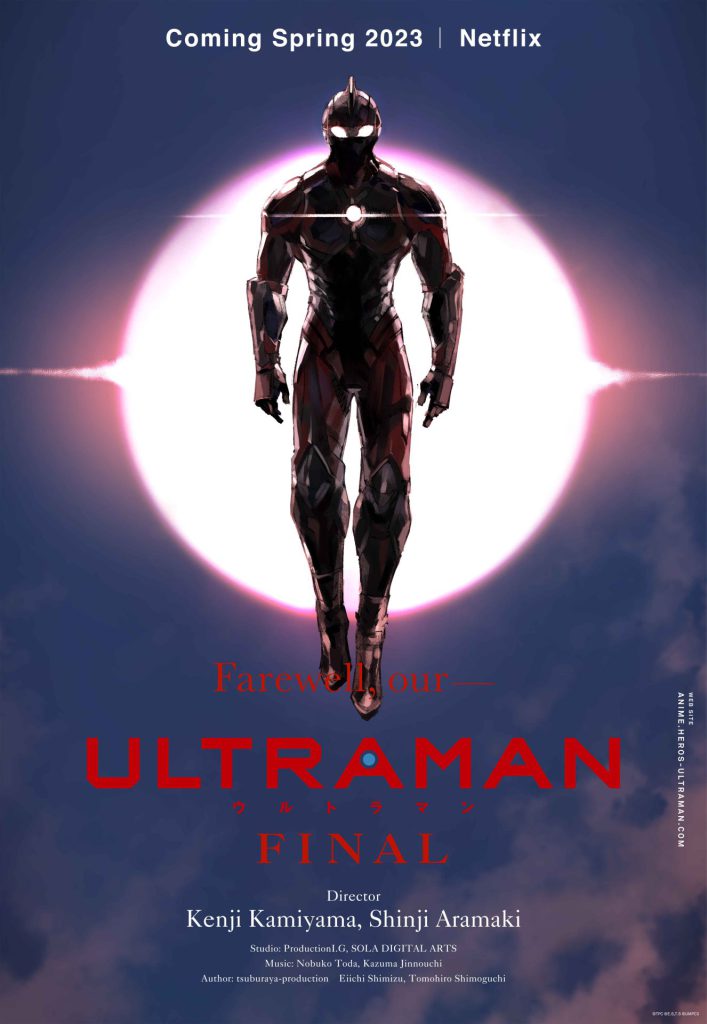 ■Streamed on Netflix, next spring.
・Title: ULTRAMAN FINAL
・Original Works: Tsuburaya Productions, Eiichi Shimizu and Tomohiro Shimoguchi (Comiplex/ Hero's)
・Directed by: Kenji Kamiyama and Shinji Aramaki
・Music by: Nobuko Toda and Kazuma Jinnouchi
・Production: Production I.G and SOLA DIGITAL ARTS
・Official Website: https://anime.heros-ultraman.com/
©TSUBURAYA PRODUCTIONS ©Eiichi Shimizu, Tomohiro Shimoguchi ©ULTRAMAN PRODUCTION CONSORTIUM3
<Anime ULTRAMAN Season 2 Outline>
■ Available for streaming on Netflix worldwide.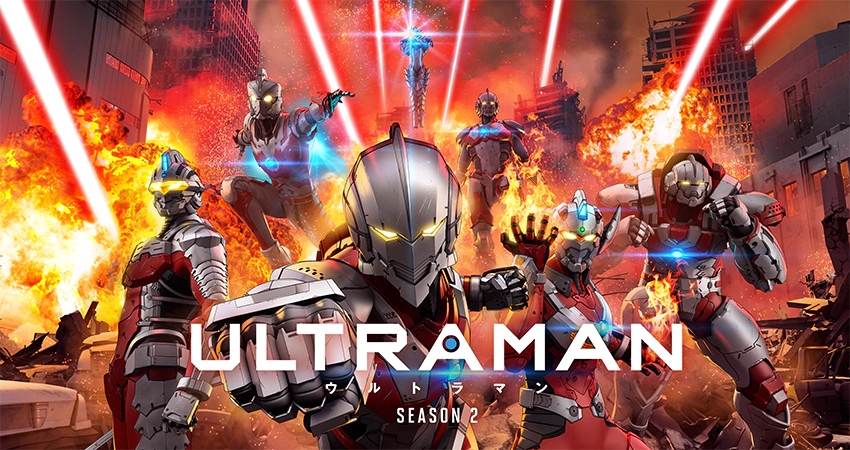 Title: ULTRAMAN Season 2
Episode: 6 in total
Original Story: Tsuburaya Productions, Eiichi Shimizu & Tomohiro Shimoguchi (Serial Publication of Monthly Hero's)
Directors: Kenji Kamiyama & Shinji Aramaki
Music: Toda Nobuka & Kazuma Jinnouchi
Production: Production I.G & SOLA DIGITAL ARTS
Official Website: https://anime.heros-ultraman.com/
©TSUBURAYA PRODUCTIONS ©Eiichi Shimizu, Tomohiro Shimoguchi ©ULTRAMAN PRODUCTION CONSORTIUM2
<Introduction>
Season 2 of this series is now set for a global release in 2022, only on Netflix.
The series centers on the son of Ultraman, Shinjiro Hayata, and the six heroes (ULTRAMAN, SEVEN, ACE, ZOFFY, JACK, TARO) who carry on the tradition of the legendary 6 Ultra Brothers. Together, they face the schemes of aliens on a cosmic scale.
Kotaro Higashi, a young photographer, encounters a mysterious missing persons case. He takes a photo proving that it was the work of aliens and brings it to the SSSP with his girlfriend Izumi. However, a certain incident transforms him into a superhuman with incredible fiery superpowers.
Then, a massive cosmic weapon appears before the human-sized ULTRAMAN… 
<Anime ULTRAMAN Season 1 Outline>
■Available for streaming on Netflix worldwide.
Title: ULTRAMAN
Episode: 13 in total.
Original Work: Tsuburaya Productions, Eiichi Shimizu & Tomohiro Shimoguchi (Serial Publication of Monthly HERO'S)
Directors: Kenji Kamiyama & Shinji Aramaki
Music: Toda Nobuka & Kazuma Jinnouchi
Production: Production I.G & SOLA DIGITAL ARTS
CAST:Shinjiro Hayato/Ryohei Kimura, Dan Moroboshi/Takuya Eguchi, Seiji Hokuto/Megumi Han, Shin Hayata/Hideyuki Tanaka, Rena Sayama/Sumire Morohoshi, Mitsuhiro Ide/Ken Uo, Edo/Shigeru Ushiyama, JACK/Ryota Takeuchi, Yosuke Endo/Eiji Hanawa, Kurata/Hirokazu Sekido, Shiraishi/Minoru Shiraishi, Adad/Kenjiro Tsuda, Ace Killer/Hiroaki Hirata, Bemular/Kaiji Soze
Opening Song: OLDCODEX "Sight Over The Battle"
TV Broadcast Opening Song: OLDCODEX "Core Fade"
TV Broadcast Ending Song: Void Chords feat. Ryohei & Foggy-D "my ID"
Official Website: https://anime.heros-ultraman.com/
©TSUBURAYA PRODUCTIONS ©Eiichi Shimizu, Tomohiro Shimoguchi ©ULTRAMAN PRODUCTION CONSORTIUM
[Anime ULTRAMAN Season 1 Details]
Released on Netflix worldwide from April 1, 2019 (On local platforms in China from April 2, 2019)
<About Comics ULTRAMAN>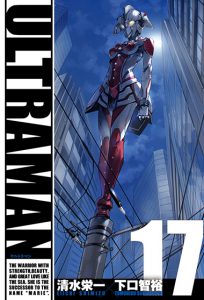 Authors: Eiichi Shimizu & Tomohiro Shimoguchi (of Linebarrels of Iron, etc.)
Publisher/Serialisation:  HERO'S, INC. / Monthly HERO'S
Standalone Comics: Chapter 17 currently on-sale / HERO'S Comics (published by Shogakukan Creative)
ULTRAMAN Official Site: https://heros-ultraman.com/
Official Twitter Account: @heros_ultraman
©TSUBURAYA PRODUCTIONS
This is TSUBURAYA PRODUCTIONS' Official Global Website.
Official information of Ultraman, Kaiju, Movie, Anime, Comic books, Tokusatsu etc.
Discover the latest official news on the Ultraman series and other works by TSUBURAYA PRODUCTIONS