NEWS ARCHIVES
Tomokazu Seki makes a Guest Appearance in ULTRAMAN BLAZAR Episode 3!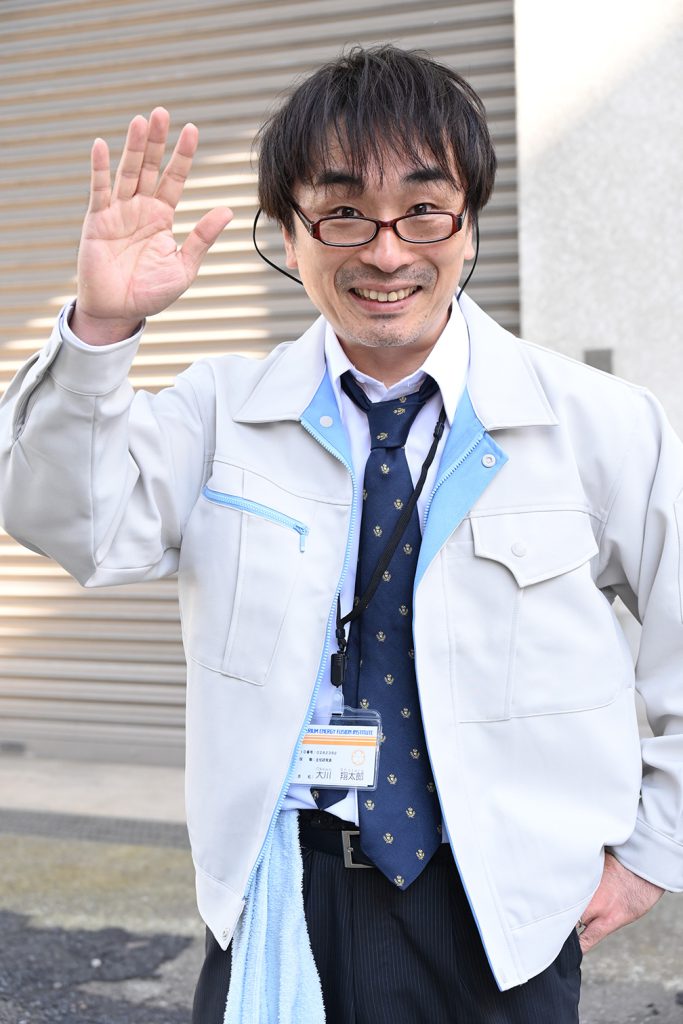 Every Friday at 5 PM JST, the latest news about the new TV series Ultraman Blazar will be released! This series will start from July 8th 2023 JST. Please look forward to learning more about the series every week!
Information on the guest star making an appearance on episode 3, "The Name is Earth Garon," has been revealed. This episode is scheduled to air on July 22nd. 
This episode depicts the operations of the Special Kaiju Reaction Detachment, SKaRD, which with Yasunobu joining has finally assembled all of its members. It also features the very first attack by the Special Tactical Armored Kaiju, Earth Garon.
Liquid teaterium is a revolutionary energy source developed from years of research, and now the storage tanks for this all over the world are mysteriously getting emptied overnight! SKaRD, believing that the cause is by a kaiju, sends Emi undercover to the Teaterium Energy Fusion Institute to investigate.
Tomokazu Seki plays Mr. Okawa, the physicist at the research center. It is no secret that Seki is a huge fan of tokusatsu heroes. Not only is he a very popular voice actor well known for works that includes Tsuburaya Productions', but he is also an actor, theater company leader, singer and writer as well.
A special digest trailer was released on June 12th JST where you had a sneak preview of his appearance. (https://youtu.be/EF0H6sCUCWE)
For those who have missed it please take a look at the digest again!
Guest Star: Tomokazu Seki
Comment
My name is Tomokazu Seki, and I will be appearing in Ultraman Blazar!
This time, I am not only doing the voice, but also acting.
I was able to experience shooting that I could not have experienced otherwise. I am a big fan of Ultraman, so I was very moved!
You can actually catch a glimpse of me in the latest trailer, so please try to look for me!
Please stay tuned to see how my part is related to the story!
Agency
Atomic Monkey
Profile: Agency Profile
Official Social Media
Twitter: https://twitter.com/seki0908
Instagram: https://www.instagram.com/sekitomokazu/
Ultraman Blazar Series Outline
First Broadcast: July 8, 2023 (Saturday) JST
Broadcast Slot: Every Saturday from 9:00 a.m. to 9:30 a.m. JST
Broadcast Channels: The TV Tokyo Network and others
Production: Tsuburaya Productions, TV Tokyo, Dentsu Inc.
Copyright Notice: ©TSUBURAYA PRODUCTIONS ©ULTRAMAN BLAZAR PRODUCTION CONSORTIUM・TV TOKYO
Official Series Website: https://ani.tv/ultraman_blazar/ *Japanese only   
Official Ultraman Website: https://m-78.jp/blazar/ *Japanese only   
Official Global Twitter: https://twitter.com/TsuburayaGlobal
Cast: Tomoya Warabino, Himena Tsukimiya, Hayate Kajihara, Konomi Naito, Yuki Ito, Masaya Kato / Tomokazu Seki (Episode 3 Guest Star) and others
Lead Director: Kiyotaka Taguchi / Directors: Takanori Tsujimoto, Kazuhiro Nakagawa, Tomonobu Koshi, Masayoshi Takesue, Ryuta Miyazaki
Main Screenwriter: Keigo Koyanagi / Screenwriters: Keigo Koyanagi, Jun Tsugita, Taiki Yamazaki, Sumio Uetake, Junichiro Ashiki, Takao Nakano, Toshizo Nemoto
Story Composers: Keigo Koyanagi, Kiyotaka Taguchi
Opening Theme Song: "Bokura no Spectra" Hiroshi Kitadani / Ending Theme Song: "BLACK STAR" MindaRyn
©TSUBURAYA PRODUCTIONS ©ULTRAMAN BLAZAR PRODUCTION CONSORTIUM・TV TOKYO
This is TSUBURAYA PRODUCTIONS' Official Global Website.
Official information of Ultraman, Kaiju, Movie, Anime, Comic books, Tokusatsu etc.
Discover the latest official news on the Ultraman series and other works by TSUBURAYA PRODUCTIONS