NEWS ARCHIVES
8 Days Left Until ULTRAMAN BLAZAR! The Countdown Starts! Pre-Release Special on July 1st!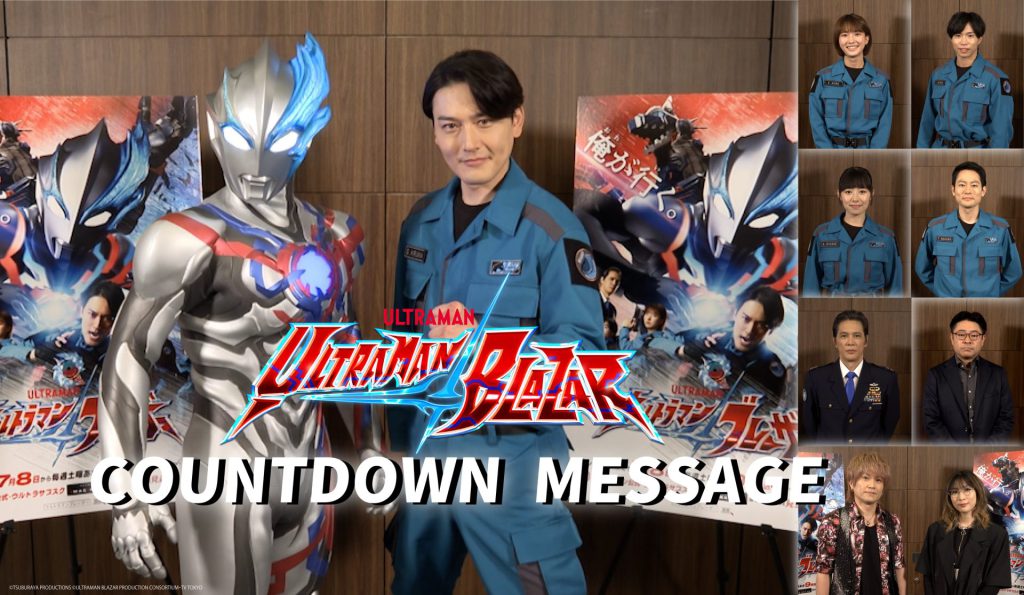 Every Friday at 5 PM JST, the latest news about the new TV series Ultraman Blazar was released. Now with only 8 days until the show starts, a countdown video will be released everyday from the main casts, song artists, and the directors. The first message will be from Main Director Kiyotaka Taguchi.
On July 1st, the Pre-Release Special of Ultraman Blazar will be released! The Pre-Release Special features Ultraman Blazar, a Giant of Light who came from a blazar in a faraway galaxy shrouded in a brilliant light, and the SKaRD members who fight with him along with their weaponry. Watch the Pre-Release Special trailer, and get ready for July 1st!
Ultraman Blazar Series Outline
First Broadcast: July 8, 2023 (Saturday) JST
Broadcast Slot: Every Saturday from 9:00 a.m. to 9:30 a.m. JST
Broadcast Channels: The TV Tokyo Network and others
Production: Tsuburaya Productions, TV Tokyo, Dentsu Inc.
Copyright Notice: ©TSUBURAYA PRODUCTIONS ©ULTRAMAN BLAZAR PRODUCTION CONSORTIUM・TV TOKYO
Official Series Website: https://ani.tv/ultraman_blazar/ *Japanese only   
Official Ultraman Website: https://m-78.jp/blazar/ *Japanese only   
Official Global Twitter: https://twitter.com/TsuburayaGlobal
Cast: Tomoya Warabino, Himena Tsukimiya, Hayate Kajihara, Konomi Naito, Yuki Ito, Masaya Kato / Tomokazu Seki (Episode 3 Guest Star) and others
Lead Director: Kiyotaka Taguchi / Directors: Takanori Tsujimoto, Kazuhiro Nakagawa, Tomonobu Koshi, Masayoshi Takesue, Ryuta Miyazaki
Main Screenwriter: Keigo Koyanagi / Screenwriters: Keigo Koyanagi, Jun Tsugita, Taiki Yamazaki, Sumio Uetake, Junichiro Ashiki, Takao Nakano, Toshizo Nemoto
Story Composers: Keigo Koyanagi, Kiyotaka Taguchi
Opening Theme Song: "Bokura no Spectra" Hiroshi Kitadani / Ending Theme Song: "BLACK STAR" MindaRyn
©TSUBURAYA PRODUCTIONS ©ULTRAMAN BLAZAR PRODUCTION CONSORTIUM・TV TOKYO
This is TSUBURAYA PRODUCTIONS' Official Global Website.
Official information of Ultraman, Kaiju, Movie, Anime, Comic books, Tokusatsu etc.
Discover the latest official news on the Ultraman series and other works by TSUBURAYA PRODUCTIONS