NEWS ARCHIVES
New TV Series ULTRAMAN NEW GENERATION CHRONICLE Airing from January 5th (Sat), 2019 in Japan! Simulcasting Starting in China!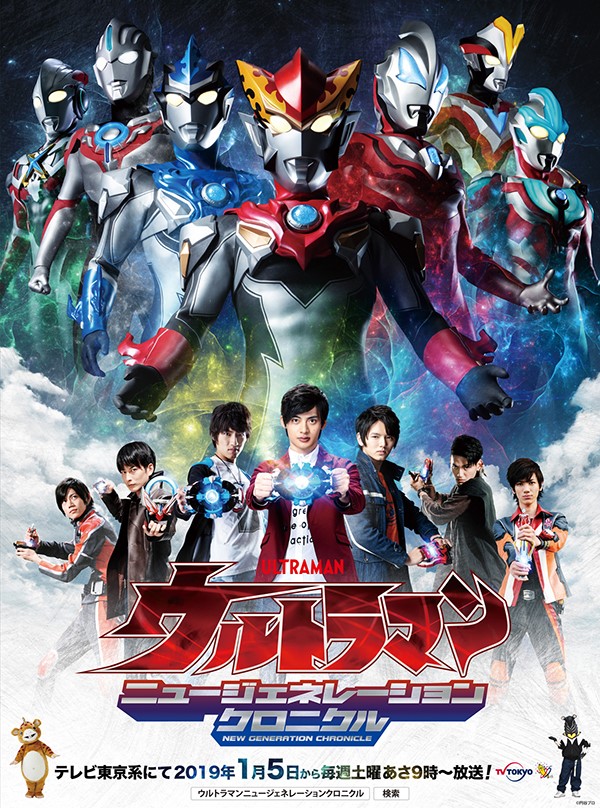 Produced by Tsuburaya Productions, ULTRAMAN NEW GENERATION CHRONICLE will be airing on TV Tokyo from January 5th (Sat), 2019 every Saturday from 9:00 am.
At the same time, simulcasting will start in China on the streaming platform Tencent(腾讯视频) and Mango TV(芒果TV)! It will be broadcasted in both Japanese with Chinese subtitles and Chinese voice over. Ultraman fans in China, please make sure not to miss this broadcast!
Broadcasting Platform
Update Date and Time: January 5th (Sat) 2019, every Saturday from 10:00 am (CST)
---
ULTRAMAN NEW GENERATION CHRONICLE
---
In the new show, selected popular episodes from both the TV shows and movies started from ULTRAMAN GINGA (2013) to the now airing ULTRAMAN R/B (Ruebe) will be broadcasted! In addition, there will be other must-see contents, such as re-edited highlight episodes focusing on new aspects.
The show will be navigated by Friendly Monster Booska (voiced by Miina Tominaga), who joined the ULTRAMAN series for the first time in ULTRAMAN R/B, and Pega (voiced by Megumi Han), the Alien Pegassa boy who acted as Riku Asakura's partner in ULTRAMAN GEED (2017). Alongside the introduction of the episodes, their fun and enjoyable talk with also be worthy of watching.
Among the selected episodes, ULTRAMAN GEED The Movie: Connect the Wishes! (2018) will be broadcasted dividedly, and a specially edited episode that introduces the 25 episodes of ULTRAMAN R/B (Ruebe) will be broadcasted to celebrate ULTRAMAN R/B The Movie: Select! The Crystal of Bond, which premieres on March 8th (Fri), 2019.
Tatsuomi Hamada, who played Riku Asakura, and other special guests who are associated with the selected episodes will be appearing on the show.
Please stay tuned as the new generation Ultra Heroes Ultraman Ginga, Victory, X, Orb, Geed, Rosso, and Blu, save the earth!
Outline of Show
Program Title: ULTRAMAN NEW GENERATION CHRONICLE
Broadcasting Network: 6 stations on TV Tokyo
On-Air Date: January 5th (Sat), 2019
Japan Broadcasting Time: Every Saturday 9:00 am to 9:30 am
Production: Tsuburaya Productions
Official Website: http://ani.tv/ngc/
This is TSUBURAYA PRODUCTIONS' Official Global Website.
Official information of Ultraman, Kaiju, Movie, Anime, Comic books, Tokusatsu etc.
Discover the latest official news on the Ultraman series and other works by TSUBURAYA PRODUCTIONS