NEWS ARCHIVES
Ultraman Neos, Zero, and Orb appeared at the concert of Asian mega-band, "Mayday". They came to the rescue after Dark Baltan attacked the venue.
On December 26, 2017, during "Mayday Life Tour" in Taiwan, Dark Baltan suddenly attacked the concert venue. As the stadium went into an uproar, Ultra Heroes Ultraman Neos, Zero and Orb rushed to the scene, taking everyone by surprise, and driving out Dark Baltan in fine style.
After saving the concert, Ultra Heroes joined forces with "Mayday" to get the place rocking more than ever!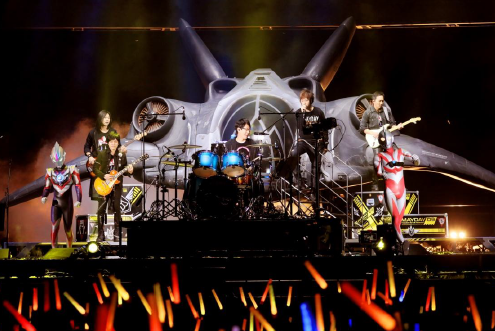 B'IN MUSIC
"Mayday" is a popular band that has won the "Golden Melody Award" (Taiwan's equivalent to the Grammys) for Best Musical Group four times. And now, Ultraman Neos appears in the music video for the song, "Life of Planet", off their new album. Capturing spectacular footage of the battle with Dark Baltan on the main streets of Taipei, the video is generating a lot of buzz.
It's the first time for an Ultra Hero to appear in a foreign artist's music video, with special effects for the battle scenes with powerful villain, Dark Baltan, created by Tsuburaya Productions.
The music video is directed by Muh Chen, who has worked with "Mayday" and many other artists. The superhero theme was decided on from the planning stage. Muh Chen and "Mayday" vocalist, Ashin, met to work out the story, enthusiastically discussing their love for Ultraman.
All five members of "Mayday" have been fans of Ultraman series since childhood, and Muh Chen is also a huge fan of the distinctive special effects. After a whole night of actively exchanging ideas with each other, the two agreed to make Ultraman the protagonist of the video. They had many meetings, and the filming took place in both Japan and Taiwan.
To film the battle scene between Ultraman Neos and Dark Baltan, traffic was blocked off on Xinyi Road, one of Taipei's main streets. A 1:1 scale version of Ultraman Neos'(58m tall) color timer (1.9m in diameter) was created, all to carry out the world's first collaboration between a gigantic Ultra Hero and an overseas artist!
 B'IN MUSIC
Watch the "Mayday" music video featuring Ultraman Neos below.
This is TSUBURAYA PRODUCTIONS' Official Global Website.
Official information of Ultraman, Kaiju, Movie, Anime, Comic books, Tokusatsu etc.
Discover the latest official news on the Ultraman series and other works by TSUBURAYA PRODUCTIONS