NEWS ARCHIVES
Ultraman Decker Finale: Journey to Beyond Will Debut on Ultraman Connection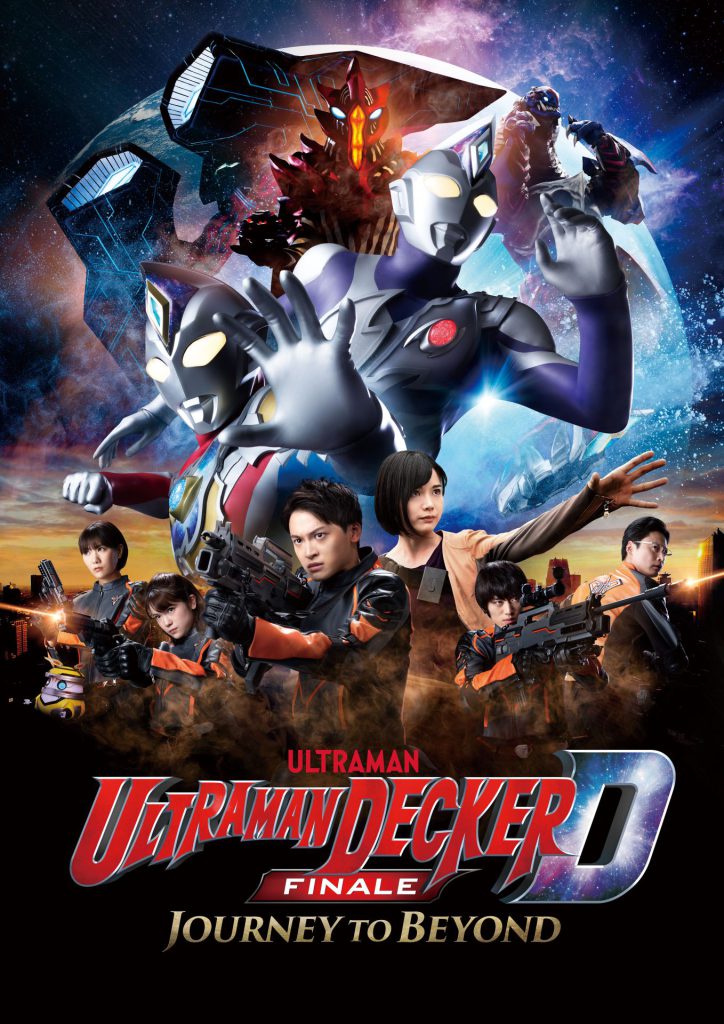 It was announced at the Ultraman Connection Live Holiday Special 2022 that Ultraman Decker Finale: Journey to Beyond will be available to fans all over the world on Ultraman Connection (Japan and mainland China excluded).
Ultraman Decker Finale: Journey to Beyond will premiere as a transactional video on demand (TVOD), on the global fan hub for all Ultraman related contents, in early 2023. Viewing will cost US $6.99. 
The TV series Ultraman Decker currently airs in Japan on the TV Tokyo Network every Saturday at 9 AM (JST),  as the show begins leading up to its climactic end in January 2023.
You can prepare for the movie by catching up the latest episodes of Ultraman Decker on the ULTRAMAN OFFICIAL YouTube Channel, or ad-free, on Ultraman Connection.
■Ultraman Decker Finale: Journey to Beyond 
Premiere Date
February 22nd, Wednesday, 2023
Synopsis
A peculiar sound echoes through the sky. Those who hear it faint, and eventually vanish. 
Expert team GUTS-Select investigate but are met with attacks from an alien army and a pitch black mobile fortress, Zorgaus, piloted by Professor Gibellus who seeks to rule the skies of Earth. As Kanata and crew find themselves in trouble, a mysterious woman who knows Gibellus suddenly appears. The woman, Dinas, possesses a mysterious power. With her "duty to protect," Dinas and GUTS-Select work together to foil the evil scheme, but a barbaric "Emperor Beast" appears and casts a shadow over the events. Kanata, Dinas, and GUTS-Select begin an all-out battle to decide the fate of the Earth and entire galaxy!
Cast
Hiroki Mastumoto, Yuka Murayama, Nobunaga Daichi, Sae Miyazawa, Masaya Kikawada, and Kayano Nakamura
Voice Only: Hiroshi Tsuchida, Seki Tomokazu, and Takeo Tomoharu
Staff
Executive Supervisor: Takayuki Tsukagoshi
Director: Masayoshi Takesue
Screenplay: Toshizo Nemoto
Chief Producer: Tsugumi Kitaura
Producer: Yusuke Okamoto
Cinematography: Satoshi Murakawa
Lighting: Atushi Ogasawara
Recording: Ichiro Hoshi
Art: Taro Kiba
Editing: Yosuke Yafune
Casting: Kazuma Shimada 
Action Choreography: Daisuke Terai
VFX: Tomoaki Miwa
Music: Kenichiro Suehiro/Masahiro Tokuda
Theme Song: Hironobu Kageyama
Production:ULTRAMAN DECKER FILM PARTNERS 
Film Distribution: Bandai Namco Film Works & Tsuburaya Productions Co., Ltd.
Opening Theme
Sora no Kanata he (Beyond the Sky)
Performed by: Hironobu Kageyama
Written by: Hironobu Kageyama
Composed by: Hironobu Kageyama
Arranged by: NANA KAGEYAMA
CD Sales Information
Release Date: Feb 22nd (Wed) 2023
Retail Price: ¥1,300 / ¥1,430(incl. tax)
Sales and Distribution: Bandai Namco Music Live
TVOD Streaming Information 
TSUBURAYA IMAGINATION within Japan.
Ultraman Connection.com within Ultraman Connections internationally. (Japan and China excluded).
$6.99
Copyrights
©TSUBURAYA PRODUCTIONS ©ULTRAMAN DECKER FILM PARTNERS
This is TSUBURAYA PRODUCTIONS' Official Global Website.
Official information of Ultraman, Kaiju, Movie, Anime, Comic books, Tokusatsu etc.
Discover the latest official news on the Ultraman series and other works by TSUBURAYA PRODUCTIONS