NEWS ARCHIVES
ULTRAMAN R/B the Movie: Select! The Crystal of Bond enters its grand finale! The baton is now passed on to the new hero Ultraman Taiga!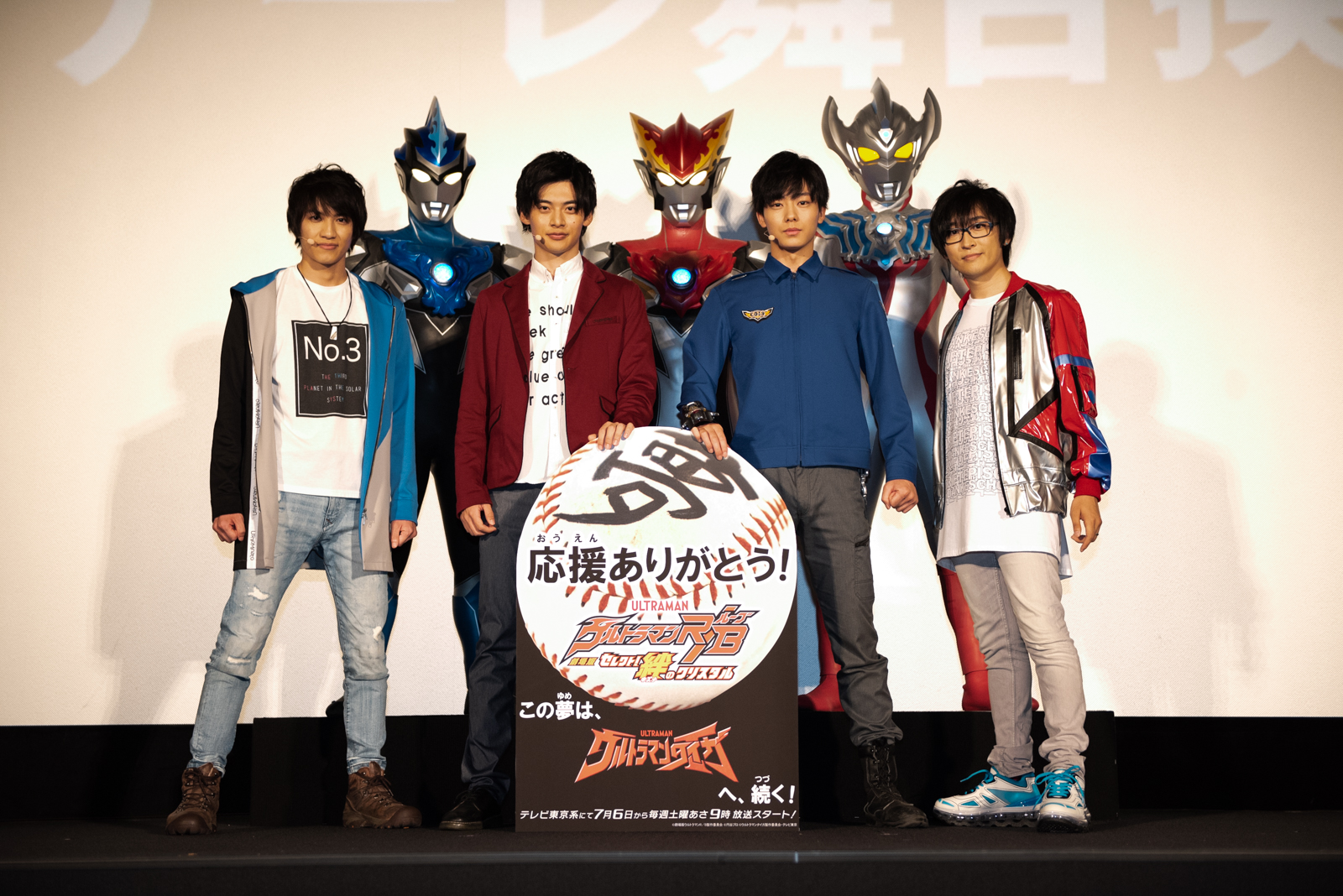 On June 22 (Sat), 2019, ULTRAMAN R/B the Movie: Select! The Crystal of Bond held a grand finale and cheering format showing event at United Cinema Toyosu.
Front: Ryosuke Koike, Yuya Hirata, Yuki Inoue, Takuma Terashima
Back: Ultraman Blu, Ultraman Rosso, Ultraman Taiga
---
The Grand Finale of ULTRAMAN R/B the Movie: Select! The Crystal of Bond
---
ULTRAMAN R/B was completed with ULTRAMAN R/B the Movie: Select! The Crystal of Bond. The series now ending, a grand finale and cheering format showing event was held. To thank all the fans who had cheered them on the past year, of course the two, Yuya Hirata who played Ultraman Rosso and Katsumi Minato, and Ryosuke Koike who played Ultraman Blu and Isami Minato had appeared.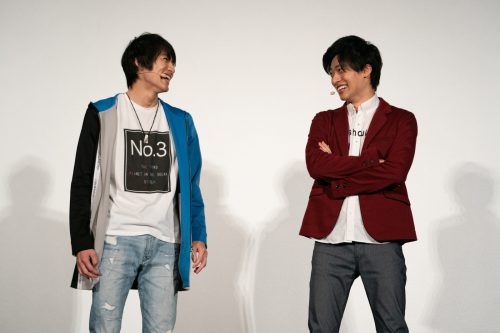 The Minato brothers who made their new step forward to make their dreams come true in the series, exchanged "dream baseballs" which included messages to each other about the past year and their future.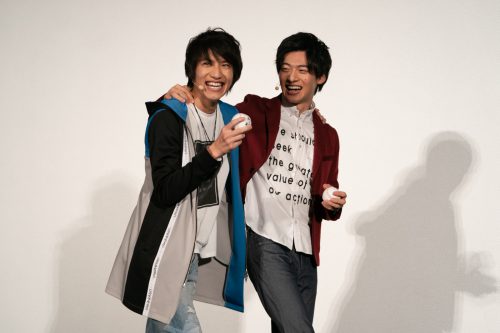 Now the Minato brothers becoming the "senior" Ultraman finally met Yuki Inoue who will be playing the main character Hiroyuki Kudo in ULTRAMAN TAIGA, starting from July 6th (Sat).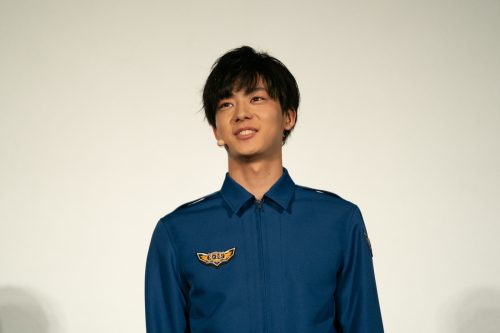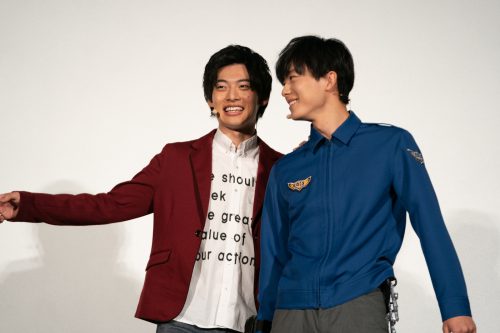 In addition, Takuma Terashima, who will be singing the new ULTRAMAN TAIGA theme song "Buddy, steady, go!", joined the event.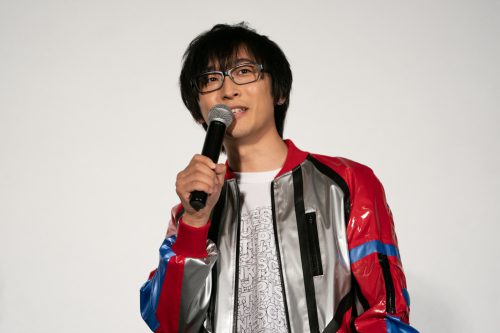 During the event, Katsumi gave a jacket with messages written to the new hero Hiroyuki, while Isami gave a sweatshirt with messages written to Takuma Terashima.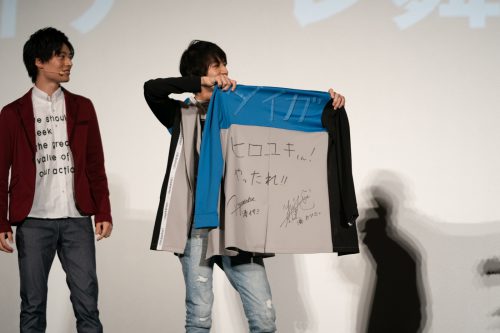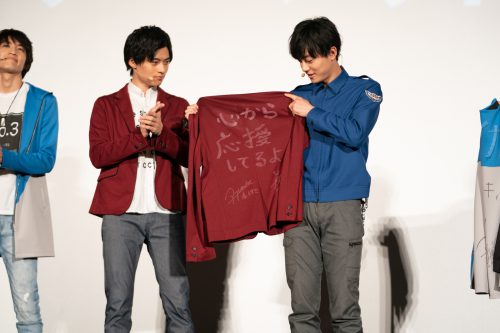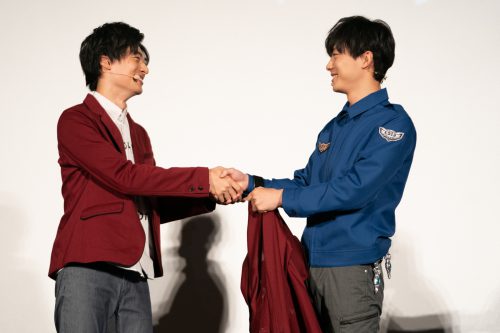 An event special transformation scene was presented!
"Color me with your power! Ruebe!"
"Element of Fire! Crimson Flame!"
"Element of Water! Azure Ocean!"
"Hero of light, Taiga! Buddy go, Ultraman Taiga!"
With the power of the fans, the miracle of the three Ultra Heroes appearance was made!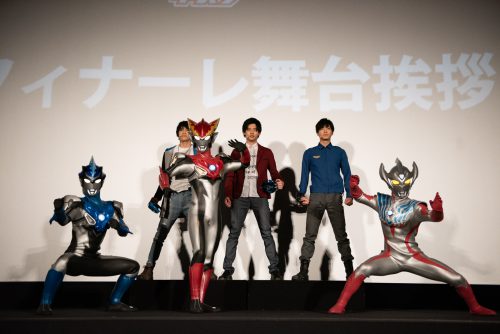 ● Yuki Inoue/Playing Ultraman Taiga, Hiroyuki Kudo
Since I had been watching the whole ULTRAMAN R/B series, I am so honored to meet brother Katsu and brother Isa. Also, I am overjoyed to be able to be in this historical moment of the ULTRAMAN series being passed down.
In ULTRAMAN TAIGA, Hiroyuki grows the bonds between his teammates in E.G.I.S, and of course with Taiga as the story goes on. I would love to create this series with everyone like Hiroyuki and will strive my best.
● Takuma Terashima/Singer of ULTRAMAN TAIGA's theme song
I had the opportunity to write the lyrics to the theme song and heard many stories from Taiga about his friendship. In the lyrics, I had implemented these emotions and as well as expressing the non-obvious emotions. I am very eager for everyone to listen to this song.
I'm excited for Taiga and Hiroyuki to create a strong bond like his "seniors" and would love for everyone to stay tuned for what kind of story ULTRAMAN TAIGA will be plotting.
● Ryosuke Koike/Played Ultraman Blu, Isami Minato
Of course, I was scared and nervous in the beginning, but with everyone's support, I was able to come this far.
We had become Ultraman from just normal backgrounds, but we had fought with all our might to protect our family and city.
I know that each and everyone has their emotion of wanting to protect their loved ones, and it is such an important emotion that I would not want anyone to forget.
Because of the support and voices of cheering on from all the fans, we were able to fight through. Please make sure to support Taiga and all the Ultra Heroes with your strong cheers!
Thank you for all your support this past year!
● Yuya Hirata/Played Ultraman Rosso, Katsumi Minato
First of all, thank you so much for all your support this whole year.
As an actor, I had my own ambitions of becoming better and succeeding, but I had received a letter from a fan saying "I was able to find my way of life because of R/B. R/B has given me hope." I just felt something that can't be said in words, but I knew that acting was to give hope to people.
R/B is now making its grand finale, but I will always be Katsumi Minato, Ultraman Rosso, ULTRAMAN R/B, a member and the eldest son of the Minato Family. This will never change. Even after everyone grows up, even after 10, 20, and 30 years, I will always be Katsumi Minato. I would love for everyone to remember even just a little bit, of the emotions one had felt watching ULTRAMAN R/B.
For me, the Minato Family is forever a family! Thank you so so much.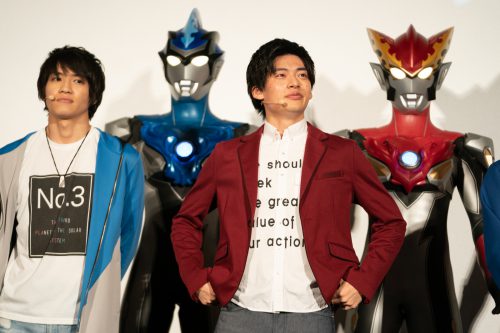 The event closed with everyone saying the phrase "Color me with your power! Ruebe!"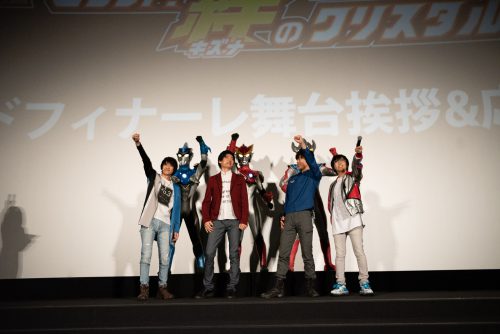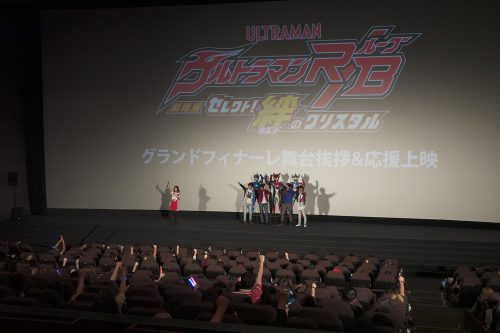 Please stay tuned as the Minato brothers walk towards their dreams, and Ultraman Taiga, the son of Ultraman Taro, and main character Hiroyuki Kudo make their appearance!
This is TSUBURAYA PRODUCTIONS' Official Global Website.
Official information of Ultraman, Kaiju, Movie, Anime, Comic books, Tokusatsu etc.
Discover the latest official news on the Ultraman series and other works by TSUBURAYA PRODUCTIONS