NEWS ARCHIVES
The story for all three chapters of Ultra Galaxy Fight: The Absolute Conspiracy is revealed! Meet the cast of Japanese voice actors!
We, Tsuburaya Productions are now presenting the release date, Japanese voice actors, additional appearing characters, and chapter summaries for Ultra Galaxy Fight: The Absolute Conspiracy, a work commemorating the ULTRAMAN OFFICIAL YouTube channel reaching one million subscribers.
Ultra-popular voice actor Junichi Suwabe will make his first appearance in the Ultraman series portraying the mysterious new character Absolute Tartarus. In addition, Hatsunori Hasegawa, who played Ultraman 80's protagonist Takeshi Yamato, will return for the 40th anniversary of the series to play the voice of Ultraman 80.
In this series, Ultra Heroes who are popular with multiple generations worldwide join the battle one after another, making the ensemble piece that fans have dreamed of a reality. This three-chapter story spins a tale across the ages, even linking with Ultraman Z, which is currently airing to rave reviews. The series will begin on Sunday, November 22, 2020, with new installments planned to release on YouTube each week at 10 AM (JST) worldwide. Look forward to it!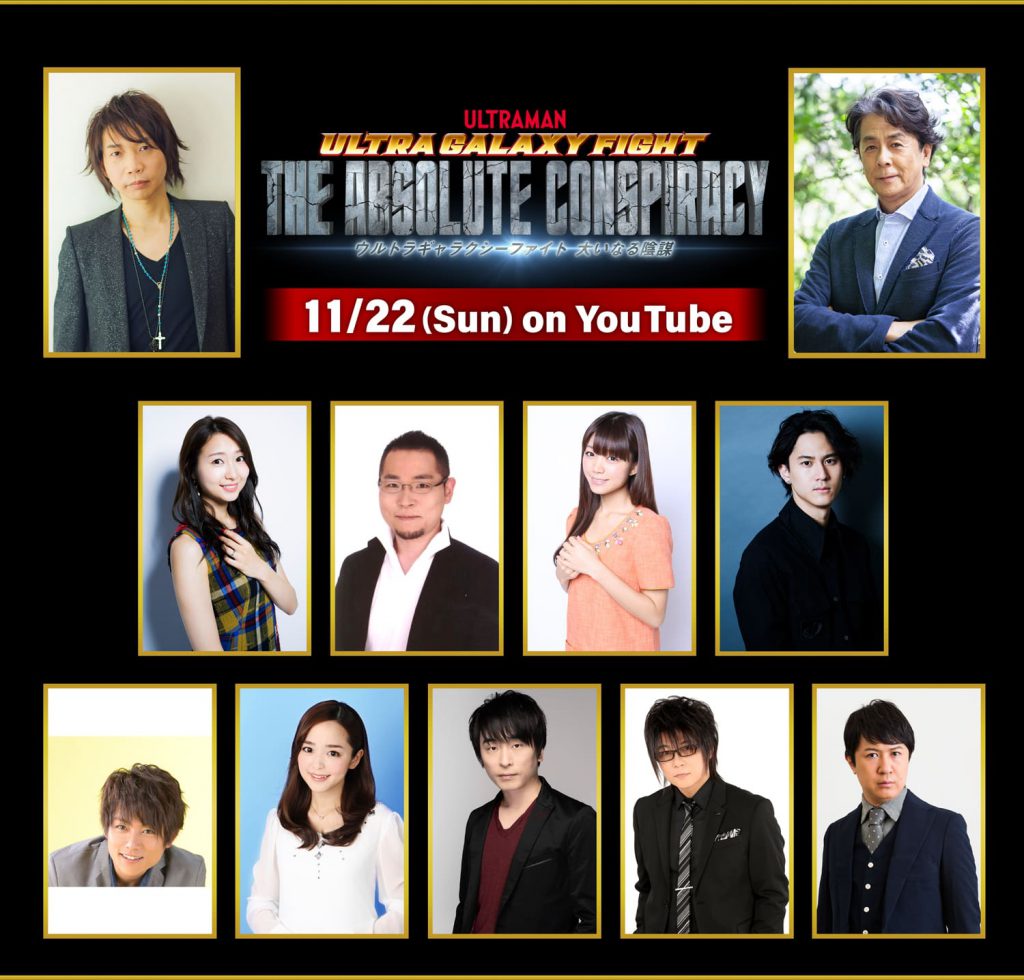 ■Comment from Junichi Suwabe, who plays the mysterious
Who is the new character "Absolute Tartarus?"
A mysterious being hiding a terrifying power who plots behind the scenes, Absolute Tartarus's body is colored gold in contrast to Ultraman's silver. He seems to be interested in the Land of Light, but his true goal is a mystery. He continually carries out ominous operations behind the scenes in various eras. Tartarus wields a mysterious ability called "Narak."
<Comment from Junichi Suwabe>
I'm Junichi Suwabe, the voice of Absolute Tartarus.
To be able to be a part of the Ultraman series, which I've been familiar with since I was a kid… It's very emotional! Personally, my favorites are Ultraseven, with its socially aware taste, and Ultraman Leo, which had the shocking development of annihilating MAC. I'm part of the generation that was traumatized by Silverbloome.
While recording this series, my eyes got hot as I saw each successive Ultraman appearing one after another. I think it's inevitable that people of all ages will be able to enjoy this series. Who could the mysterious golden giant be? What does he want? Please look forward to it!
■Comment from Hatsunori Hasegawa, returning 40 years after
Who is "Ultraman 80?"
An Ultraman who believed that origin of monsters was the wicked hearts of human beings, Ultraman 80 saved the hearts of children as a junior high school teacher in order to cut them off at the source. After leaving Earth, he was admitted as one of the Ultra Brothers. He chases after Leugocyte, who attacked Yullian on Planet Kanon, and catches a glimpse of part of a galactic incident.
<Comment from Hatsunori Hasegawa>
I was honestly surprised when I received the offer to play the voice of Ultraman 80, but since it was a request from the reliable Director Sakamoto, I was delighted to accept it.
When I received the script, I felt nostalgic because it had been so long since I was involved.
While recording, for the dubbing at that time Ultraman 80's lines weren't in Takeshi Yamato's voice, so the recording this time was very fresh.
It's been a long time since Ultraman 80's appearance. I'm thankful for the longstanding support, and I hope for your continued support.
■Introducing additional characters and voice actors
Successive Ultras appear one after another! The dream ensemble becomes reality.
The diverse characters that will adorn the story and their fantastic cast of voice actors has been decided. Appearing in live-action for the first time since Mega Monster Battle: Ultra Galaxy (2009) are the Father of Ultra / Ultraman Ken (voiced by Hajime Iijima), the Mother of Ultra / Ultrawoman Marie (voiced by Suzuko Mimori), and Zoffy (voiced by Shunsuke Takeuchi).
Additionally, Ultraman Cosmos (voiced by Taiyo Sugiura) will be joined by Ultraman Justice (voiced by Megumi Han), who is appearing in an original video production for the first time in 17 years since Ultraman Cosmos vs. Ultraman Justice: The Final Battle (2003).
Originally appearing live on stage, the powerful Space Fear-Demon Zett (voiced by Tomokazu Sugita) will have his first appearance in a film production, standing in the way of Ultraman Z and Ultraman Taiga.
Moreover, Ultraman Great (voiced by Tomokazu Seki) and Ultraman Powered (voiced by Toshiyuki Morikawa), who made a splash by appearing in the special promo video, will appear together for the first time. Ultra Heroes who are popular with multiple generations worldwide join the battle one after another, making the ensemble piece that fans have dreamed of a reality. Look forward to this story that unfolds across the ages!
■The long-awaited release date has been decided! We are also releasing the outline for the story, spanning 3 chapters!
Chapter 1:
This is the story of Galaxy Rescue Force's elite Ultraman Ribut's days as a Civilization Guardian. Together with Ultraman Max, Ribut senses a strange presence on a certain planet… However, it's a trap set by an enemy seeking revenge. Max defends Ribut, putting himself in danger! At the same time, Ultraman 80 and Yullian are attacked by Leugocyte.
This is just the beginning of the "Absolute Conspiracy!" Who is Absolute Tartarus, the mysterious golden giant working behind the scenes? Will Ribut be able to save Max and put an end to this enemy's threat?
Chapter 2:
A long time ago, in the era of the Great Ultra War that occurred tens of thousands of years ago… While a ferocious battle was unfolding between Alien Empera's monster army and the Land of Light, Ultraman Ken (later the Father of Ultra) and Ultraman Belial gave battle without yielding. While they were heroes who fought together, Belial was unable to accept the distance growing between them as Ken was appointed captain of the Inter Galactic Defense Force and won the heart of Ultrawoman Marie (later the Mother of Ultra). He began to seek even more power, behaving more and more recklessly…
At that moment, the golden giant Absolute Tartarus appeared and whispered, "Don't you want to change your fate?"
Chapter 3:
After crushing Grimdo, Taiga and the Tri-Squad endeavored to train across the galaxy, only for "the one who controls Zetton," the Space Fear-Demon Zett, to appear before them and attack! In the face of attacking Zettons summoned by the fear-demon Zett, the Tri-Squad finds themselves in a desperate situation with no way out!
Ultraman Zero and the others come forward with new countermeasures to oppose Absolute Tartarus, the golden giant pulling the strings behind the scenes. The newest member of the Inter Galactic Defense Force, Ultraman Z (Zett), joins his reliable senior Ultraman Mebius to face down this absolute conspiracy…!
■Ultra Galaxy Fight: The Absolute Conspiracy Outline
Release Date: November 22nd 2020 Every Sunday from 10:00AM
Release Channel: ULTRAMAN OFFICIAL YouTube Channel
Release URL: https://www.youtube.com/tsuburaya
Appearing Characters:
Ultraman Zero, Ultraman Ribut, Ultraman Belial (Early Style),
Ultraman Taiga, Ultraman Titas, Ultraman Fuma,
Ultraman Z (Zett), Ultrawoman Grigio, Ultraman 80, Yullian,
Ultraman Max, Ultraman Mebius, Ultraman Hikari,
Ultraman Great, Ultraman Powered, Ultraman Neos, Ultraseven 21,
Ultraman Ken, Ultrawoman Marie, Zoffy,
Ultraman Cosmos, Ultraman Justice,
Space Fear-Demon Zett,
Absolute Tartarus, and more
Character Voices (Japanese ver.): :
Mamoru Miyano, Wataru Komada, Yuki Ono, Takuma Terashima, Satoshi Hino, Shota Hayama, Tasuku Hatanaka, Arisa Sonohara, Haruka Tomatsu, Jun Fukuyama, Keiichi Nanba, Hajime Iijima, Suzuko Mimori, Shunsuke Takeuchi, Taiyo Sugiura, Megumi Han, Kazuya Nakai, Tomokazu Seki, Toshiyuki Morikawa, Tomokazu Sugita, Hatsunori Hasegawa, Junichi Suwabe and more
Total Episodes: 10 / Trilogy
Languages: Japanese (YouTube), English (YouTube), Chinese  (Chinese Simultaneous Broadcast Platform)
Subtitles: English (YouTube), Chinese (YouTube)
Official Website: https://m-78.jp/galaxy-fight/tac/
Official Teaser Trailer: https://youtu.be/plWK8pDCms8
Director: Koichi Sakamoto
Screenplay: Junichiro Ashiki
Production: Tsuburaya Productions
©TSUBURAYA PRODUCTIONS
This is TSUBURAYA PRODUCTIONS' Official Global Website.
Official information of Ultraman, Kaiju, Movie, Anime, Comic books, Tokusatsu etc.
Discover the latest official news on the Ultraman series and other works by TSUBURAYA PRODUCTIONS