NEWS ARCHIVES
Ultraman Chronicle Z: Heroes' Odyssey Will Run on YouTube with English subtitles!
Tsuburaya Productions will broadcast its new series, ULTRAMAN CHRONICLE Z: HEROES' ODYSSEY, on the ULTRAMAN OFFICIAL channel on YouTube starting this Saturday morning at 9:30 AM (JST). The series, which will reference both Ultraman Tiga and Ultraman Z (Zett) as it recaps the heroes' adventures, is now announced to run with English subtitles on the YouTube channel.
Known as the landmark of the "Heisei Ultraman Series," ULTRAMAN TIGA began broadcasting in 1996 and will celebrate its 25th anniversary next year. ULTRAMAN TIGA is still immensely popular to this day, and is affectionately called by the name "TDG" together with its following series ULTRAMAN DYNA (1997) and ULTRAMAN GAIA (1998). It continues to shine as one of the cornerstones of the current Ultraman series.
Additionally, the highly popular series ULTRAMAN Z (Zett) has received glowing reviews since its broadcast in June. The children of the "TDG" generation have become parents themselves, and with their children welcomed as new fans, the second and third generations are enjoying the show together.
With ULTRAMAN TIGA and ULTRAMAN Z each representing the Heisei and Reiwa eras, the upcoming ULTRAMAN CHRONICLE Z: HEROES' ODYSSEY will recount what the Giants of Light have been through from a brand-new perspective.
To bridge the two vastly different worlds of ULTRAMAN TIGA and ULTRAMAN Z, Ultraman Zero (voiced by Mamoru Miyano), a hero who can go back and forth between parallel universes, will serve as the navigator of the new series. Son of Ultraseven, disciple of Ultraman Leo, and recently revealed as the master of Z, Zero will connect the tales of adventure of many different Ultra Heroes.
In the tradition of the various "Chronicle" series, footage from previous Ultraman series will be used to help tell the story.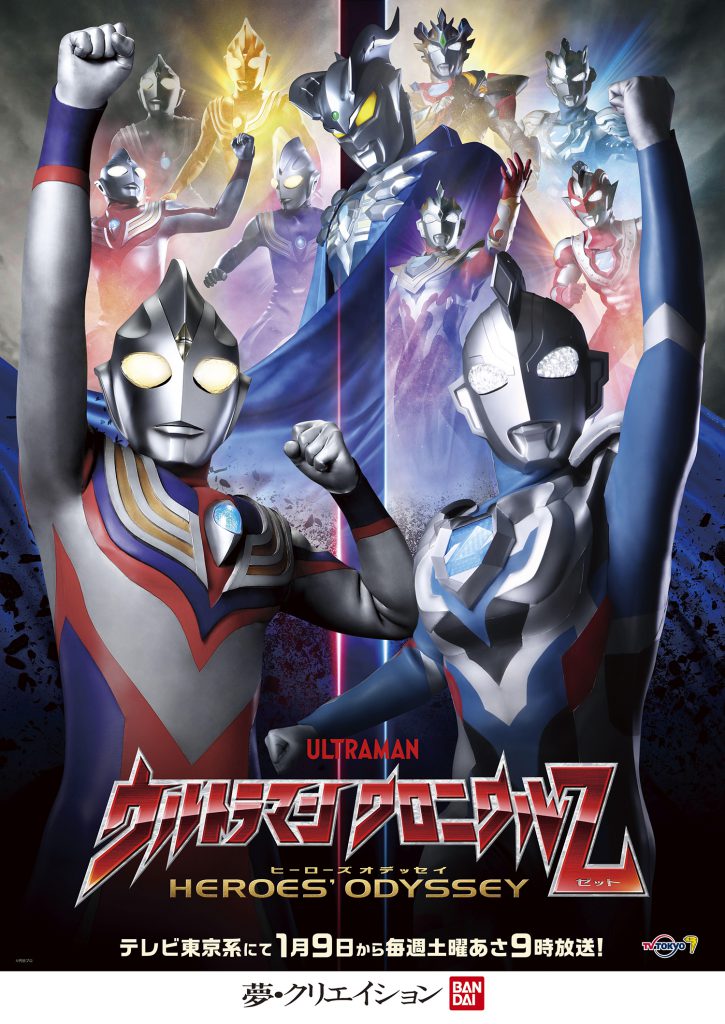 Broadcast Channel: TV Tokyo network 6 channels
Start Date Japan: January 9, 2021 (Saturday)
Broadcast Time Japan: 9:00~9:30 every Saturday
Producer: Tsuburaya Productions
Official Website: https://www.tv-tokyo.co.jp/anime/ucz/
This is TSUBURAYA PRODUCTIONS' Official Global Website.
Official information of Ultraman, Kaiju, Movie, Anime, Comic books, Tokusatsu etc.
Discover the latest official news on the Ultraman series and other works by TSUBURAYA PRODUCTIONS