NEWS ARCHIVES
Raiga Terasaka as Kengo Manaka aka Ultraman Trigger Returns in ULTRAMAN DECKER! Origin of the New "Ultra Dual Sword" Revealed!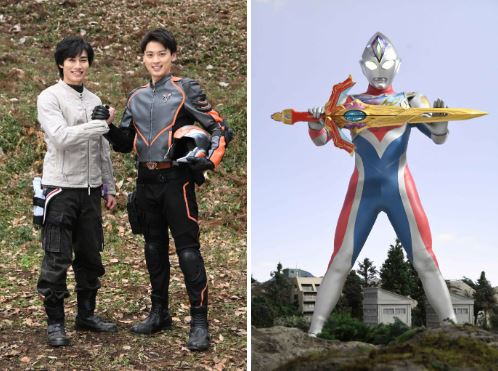 The new TV series Ultraman Decker begins broadcasting on the TV Tokyo Network in Japan from July 9th, 2022. Every Thursday at 5pm JST, we will be introducing you to the series' latest news, including the main cast members starring alongside Kanata Asumi, the protagonist played by Hiroki Matsumoto.
Kengo Manaka brought peace to the Earth as Ultraman Trigger and one of the original GUTS-Select members, suppressing the rampaging Eternity Core and defeating the three Giants of Darkness. Years before Ultraman Decker and Kanata took the baton. We are proud to announce that Kengo will be appearing as a guest in Ultraman Decker!
Kengo will of course be played by the star of Ultraman Trigger Raiga Terasaka, with his signature "Smile! Smile" you know and love.
We can now also reveal the secrets of the golden sword wielded by Ultraman Decker, the "Ultra Dual Sword." The Ultra Dual Sword was featured in the latest poster and digest trailer, both introduced in last week's online announcement event. As it happens, this sword is entrusted to Ultraman Decker by Ultraman Trigger as a symbol of their bond.
Ultra Dual Sword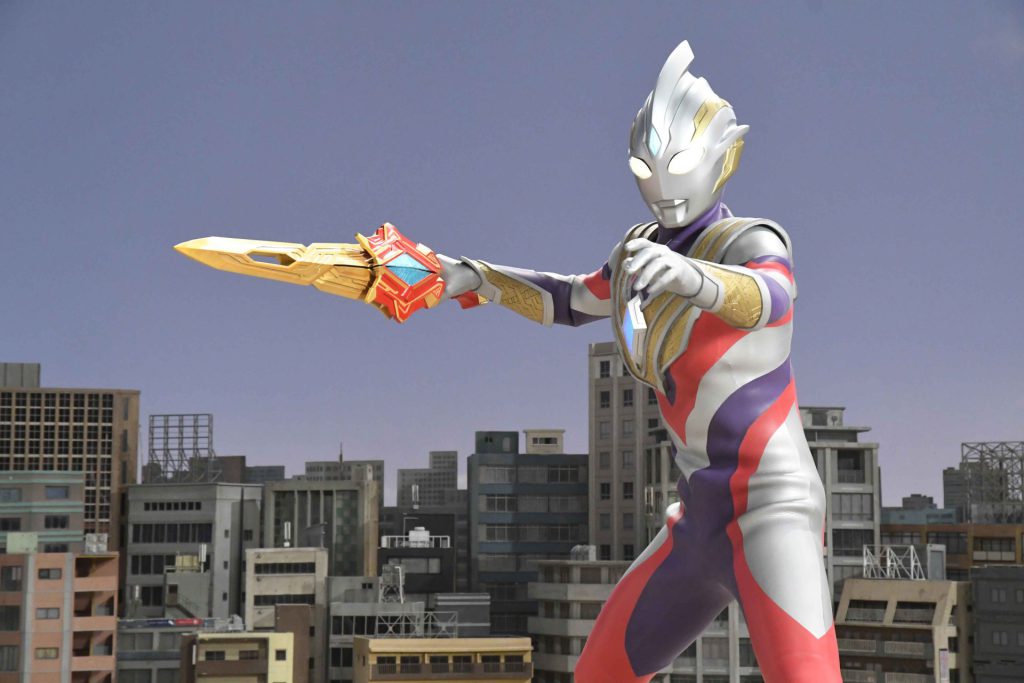 Kengo Manaka left Earth ten years ago after his battle against the Giants of Darkness. Now, he protects people from a new threat; Sphere! After obtaining a golden blade, the "Ultra Dual Sword", a vision of danger flashed through his mind. Taking the Ultra Dual Sword, now in the form of "Ultra Dual Key" in hand, Ultraman Trigger departs for Decker and the new members of GUTS-Select.
Kengo can summon the Ultra Dual Sword by equipping the Ultra Dual Key in his GUTS Sparklence. He can also attach the Ultra Dual Key to the sword's hilt and scan Ultra Dimension Cards to unleash various special attacks.
Expect to see more of the Ultra Dual Sword as it passes from Trigger to Decker, and from Kengo to Kanata.
Cast: Raiga Terasaka
Comment
I'm so, so happy to be back in front of all you amazing fans again, this time in Ultraman Decker! And this time I'm the senior member!
Thank you for the opportunity!!
With all his usual charm, Kengo shows his mentor side, and his own growth, too.
I've been given a very important role to play.
From Trigger to Decker…
I could really feel the Light connecting everyone together, it's incredible!
Please look forward to seeing Kengo again!!
May your future be full of beaming happiness! Smile♪ Smile♪
Affiliation
Fortune Entertainment Inc.
Profile (Japanese only): https://fent.jp/terasaka_raiga
Social Media Accounts
Twitter: https://twitter.com/M9_raiga
Instagram: https://www.instagram.com/M9_raiga/
Ultraman Decker Series Overview
First Broadcast: July 9th (Saturday) 2022
Broadcast Time: Every Saturday from 9:00-9:30 AM (JST)
Broadcast Channels: The TV Tokyo Network and others
Production: Tsuburaya Productions, TV Tokyo, Dentsu Inc.
Official Series Website: http://ani.tv/ultraman_decker/
Official Ultraman Website: https://m-78.jp/decker/
Official Global Twitter: https://twitter.com/TsuburayaGlobal
Official Global Facebook: https://www.facebook.com/tsuburayaglobal
Actors: Hiroki Matsumoto, Yuka Murayama, Nobunaga Daichi, Yu Koyanagi, Sae Miyazawa, Masaya Kikawada, Raiga Terasaka, and more
Voice Actors: Hiroshi Tsuchida, and more
Lead Director: Masayoshi Takesue/Series Compositors: Toshizo Nemoto, Junichiro Ashiki
Directors: Takanori Tsujimoto, Koichi Sakamoto, Tomonobu Koshi, Naoyuki Uchida, Kazuhiro Nakagawa, Kiyotaka Taguchi
Screenwriters: Takao Nakano, Jun Tsugita, Naoki Hayashi, Aya Satsuki, Yukinobu Tsuruta
Music: Kenichiro Suehiro, Masahiro Tokuda
Opening Theme: SCREEN mode / Ending Theme: Hironobu Kageyama
Copyright Notice: ©TSUBURAYA PRODUCTIONS ©ULTRAMAN DECKER PRODUCTION CONSORTIUM・TV TOKYO
This is TSUBURAYA PRODUCTIONS' Official Global Website.
Official information of Ultraman, Kaiju, Movie, Anime, Comic books, Tokusatsu etc.
Discover the latest official news on the Ultraman series and other works by TSUBURAYA PRODUCTIONS