NEWS ARCHIVES
Play the New Game ULTRAMAN: BE ULTRA and Become Ultraman Yourself!
An app game ULTRAMAN: BE ULTRA will be released in Japan this spring! The game is based on the popular series ULTRAMAN, airing worldwide on Netflix.
Please stay tuned for more news as we are preparing for our fans outside of Japan!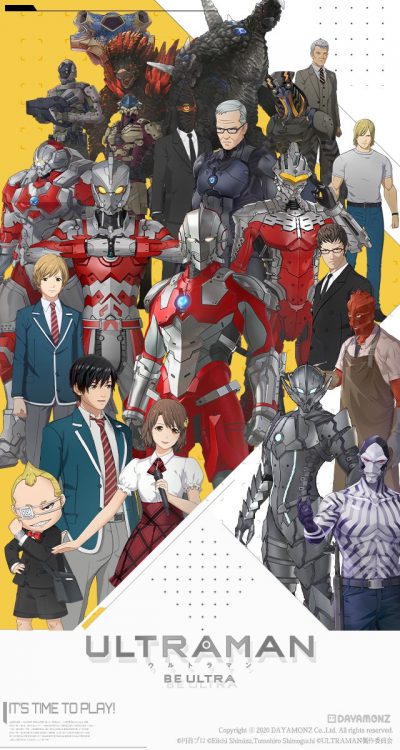 There are 3 modes in ULTRAMAN: BE ULTRA: The story mode which is based on the story of the anime ULTRAMAN, with QTE (Quick Time Event) added to create variation; a real-time battle mode where the player can combine their favorite characters to battle with other players 1vs1 or 2vs2; and the "Boss Raid" where maximum 3 players can play together to fight against the powerful boss.
Besides the story mode with QTE (Quick Time Event), 2vs2 team battle and "Boss Raid", the player can train and power up their characters, as well as listen to the new voices recorded by the voice actors from the anime ULTRAMAN. Players can fully enjoy the world of ULTRAMAN through this game.
The characters introduced in our previous article (https://en.tsuburaya-prod.co.jp/news/1761) will, of course, be joining, as well as our newly designed "ULTRAMAN SUIT ZERO" (a.k.a. the "ZERO SUIT") which was inspired by our long-loved hero Ultraman Zero ever since his first appearance 10 years ago!
■Game Detail
Title: ULTRAMAN: BE ULTRA
Genre: ULTRA Action RPG
Platform: iOS / Android
Japan Release Date: Spring 2020 (scheduled)
Global Release Date: TBD
Game Official Website (Japanese):https://game.heros-ultraman.com
Game Official Twitter: https://twitter.com/UltramanBeultra
Game Official YouTube Channel:https://www.youtube.com/channel/UCECrW1B19RGLd8rAZhkd_kw?view_as=subscriber
©TSUBURAYA PRODUCTIONS ©Eiichi Shimizu, Tomohiro Shimoguchi ©ULTRAMAN Production Committee
*The images were taken when the product was still under development. The actual design within the game may look different.
This is TSUBURAYA PRODUCTIONS' Official Global Website.
Official information of Ultraman, Kaiju, Movie, Anime, Comic books, Tokusatsu etc.
Discover the latest official news on the Ultraman series and other works by TSUBURAYA PRODUCTIONS