NEWS ARCHIVES
New TV Series ULTRAMAN BLAZAR SKaRD's Skilled Mechanic Announced! Hayate Kajihara as Yasunobu Bando!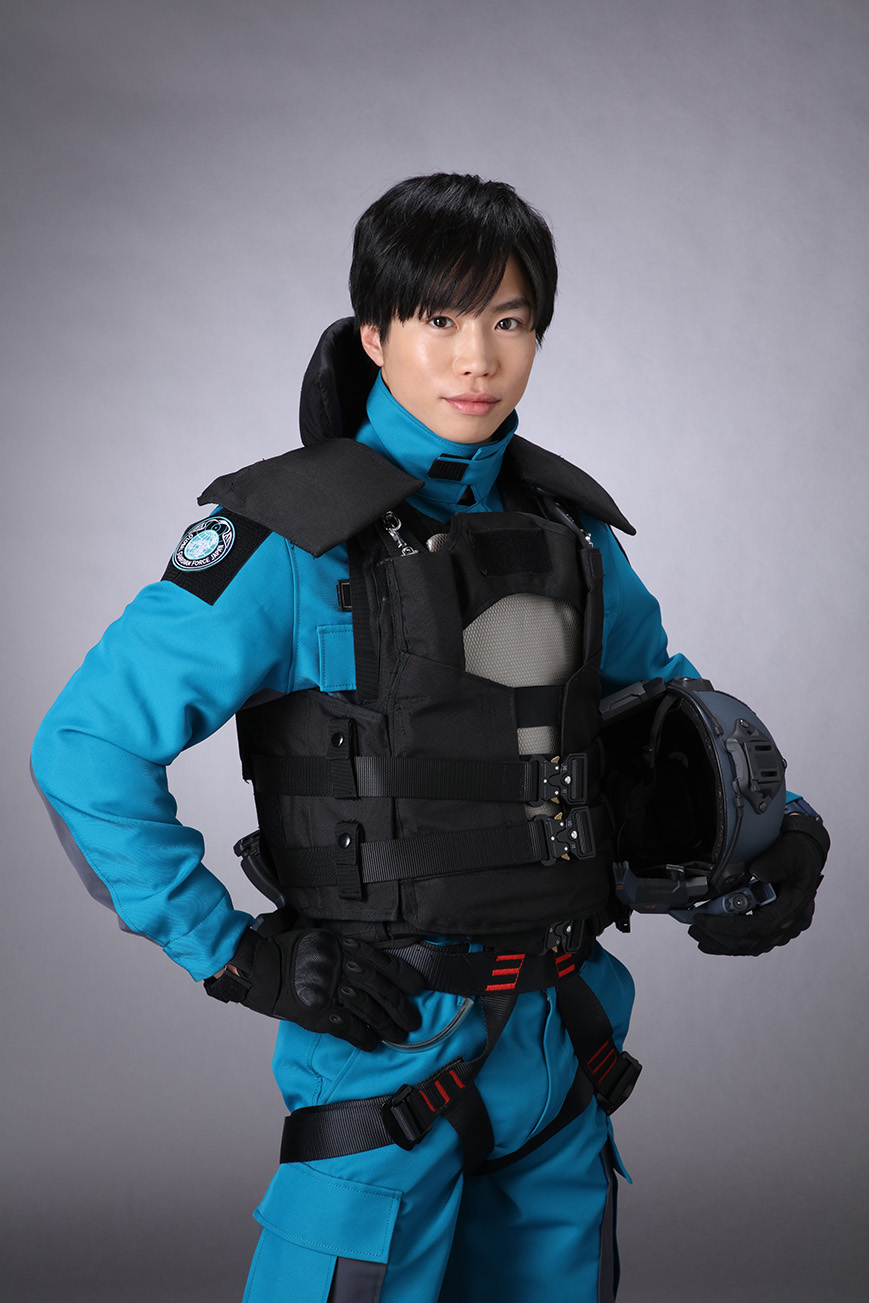 The new TV series, Ultraman Blazar, will start from July 8th 2023 JST! Every Friday at 5 PM JST, one of the main cast members starring alongside Captain Gento Hiruma, the protagonist played by Tomoya Warabino, will be announced.
The role of Bando Yasunobu, a skilled mechanic in the Special Kaiju Reaction Detachment, SKaRD, who also pilots the kaiju-type robot artillery, Earth Garon, will be played by the remarkable actor Hayate Kajihara. He aspired to become an actor after working as a suit actor while he was still in school. He has marked high scores on popular body competition shows and has won numerous awards in bodybuilding contests, surpassing the level of a mere hobby with his impressive physique. His excellent physical abilities has made him a popular actor in different fields spanning from theater, films to TV shows.
Yasunobu Bando (25 years old)
Yasunobu is a skilled mechanic who also took part in the development of Earth Garon. He is the pilot of Earth Garon and has a charming Kansai dialect. He was a pilot in the Global Guardian Force's transport corps before getting assigned to SKaRD. He keeps weapons and machinery well-maintained and secretly likes naming his favorite machines. His nickname for Earth Garon is "Earthy." Sometimes he might be too upfront and can make people feel uncomfortable, but he is a friendly and lovable character. His hobby is playing cat's cradle.
Cast: Hayate Kajihara
Comment
Hello!
My name is Hayate Kajihara andI will be playing the role of Yasunobu Bando, a member of the Special Kaiju Reaction Detachment, SKaRD. 
I am very happy to be cast in the Ultraman series, a show with rich history and something I watched growing up. One of my dreams as an actor has come true.
I will do my best to serve you all as a pilot who knows more about machinery than anyone else and absolutely adores Earth Garon!
I want to make sure to portray Yasunobu Bando as I would and I promise to pour everything I have into Ultraman Blazar to make it the best possible show.
Thank you for your support.
Agency
Yoshimoto Kogyo Co., Ltd.
Profile: Agency Profile
Official Social Media
Twitter: @kajikajihaya
Instagram: https://www.instagram.com/hayate_kajihara/
Ultraman Blazar Series Outline
First Broadcast: July 8, 2023 (Saturday) JST
Broadcast Slot: Every Saturday from 9:00 a.m. to 9:30 a.m. JST
Broadcast Channels: The TV Tokyo Network and others
Production: Tsuburaya Productions, TV Tokyo, Dentsu Inc.
Copyright Notice: ©TSUBURAYA PRODUCTIONS ©ULTRAMAN BLAZAR PRODUCTION CONSORTIUM・TV TOKYO
Official Series Website: https://ani.tv/ultraman_blazar/ *Japanese only   
Official Ultraman Website: https://m-78.jp/blazar/ *Japanese only   
Official Global Twitter: https://twitter.com/TsuburayaGlobal
Cast: Tomoya Warabino and others
Lead Director: Kiyotaka Taguchi / Story Composers: Keigo Koyanagi, Kiyotaka Taguchi
©TSUBURAYA PRODUCTIONS ©ULTRAMAN BLAZAR PRODUCTION CONSORTIUM・TV TOKYO
This is TSUBURAYA PRODUCTIONS' Official Global Website.
Official information of Ultraman, Kaiju, Movie, Anime, Comic books, Tokusatsu etc.
Discover the latest official news on the Ultraman series and other works by TSUBURAYA PRODUCTIONS